...If Plea Deals Aren't Reached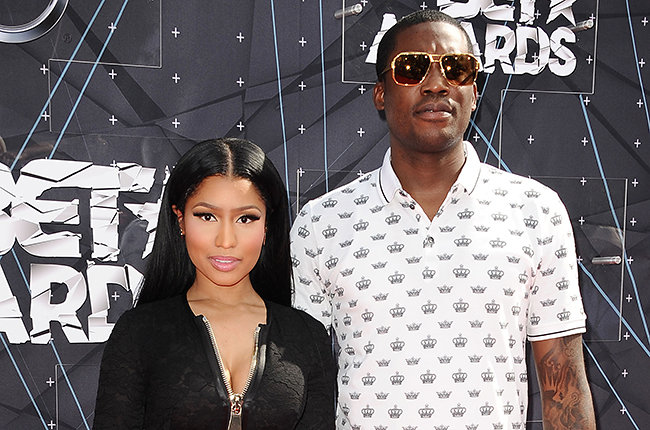 Nicki Minaj and Meek Mill




The life of rapper Nicki Minaj has been turned upside down. Her brother, Jelani Maraj, was arrested for raping and having sexual intercourse with a 12-year-old girl, in a case that she posted his bail, pending trial (Nicki Minaj's Brother Arrested For Raping 12-Year-Old And She Is Slammed For Baling Him Out). Her father, Robert Manaj, was arrested by police for drunk driving in another case, where she also posted his bail and hired an expensive attorney to represent him.

Nicki's boyfriend turned fiancé turned boyfriend again, rapper Meek Mill, was arrested for violating his probation, in repeatedly leaving the state of Pennsylvania without informing the court, after a weapons conviction. Minaj made an appearance in court and implored the judge not to send Meek Mill back to jail. She vowed in court to manage his schedule to prevent any further probation violations. The couple gave the public the impression Minaj was expecting his child and they are engaged, but new reports seem to indicate otherwise.



STORY SOURCE




MTO WORLD EXCLUSIVE: She Did It AGAIN . . . Nicki Minaj Bails Her FATHER Out Of Jail . . . Paid Nearly $50K FOR HIS LAWYERS . . . He's Going To Be SENTENCED IN TWO WEEKS!!! (Is She . . . TOO Loyal To Her Family?)


December 7, 2015: MediaTakeOut.com told you LAST WEEK that Nicki Minaj BAILED HER BROTHER out of jail. Well apparently THAT'S HOW NICKI OPERATES. We actually feel BAD for her . . . having all these ISSUES in her family - that she has to deal with. MediaTakeOut.com learned that last year, Nicki Minaj did the EXACT SAME THING for her father, Robert Maraj. According to COURT DOCUMENTS and people in the know - last year Nicki's father was arrested for driving EXTREMELY DRUNK on the highway. When the police pulled him over, he had an open container in the car - and he was DRUNK OUT OF HIS MIND.

Nicki Minaj has been OPEN about having a ROCKY relationship with her dad, especially because of his drinking. Initially, we're told Nicki REFUSED to pay her father's bail, and allowed him to be REPRESENTED BY LEGAL AID. But then, things changed. An insider explained to MediaTakeOut.com, "In February, he was being represented by legal aid. Nicki caught wind that his arrest might go public and she promptly hired him an attorney."...





'He's not perfect but he's changed!' Nicki Minaj promises to keep boyfriend Meek Mill on the straight and narrow in a last ditch bid to keep him out of jail


Published: 17:20, 10 December 2015 | Updated: 01:17, 11 December 2015 - They fell in love while her served time the first time, but this musical pair is doing all they can to not repeat the situation. Nicki Minaj testified on behalf of boyfriend Meek Mill in a Philadelphia court on Thursday, in an attempt to stop him returning to jail for violating his parole again. The 33-year-old rapper spent 30 minutes on the stand trying to convince a judge that her boyfriend was a changed man despite violating his parole last month...

This time she wrote: 'This stone is flawless. (My voice) lol' as she once again teased fans with no indication of whether there may be wedding bells in the near future. The star told Billboard magazine, 'He said he would like to give me three rings before we get married'...

'Meek gave me that,' she explained about her sparkler. 'He and I are not engaged.' 'I don't know what's going to happen with he and I. I just know right now we are really, really enjoying each other's company.' Though it is not out of the question either: 'He said he would like to give me three rings before we get married.'...