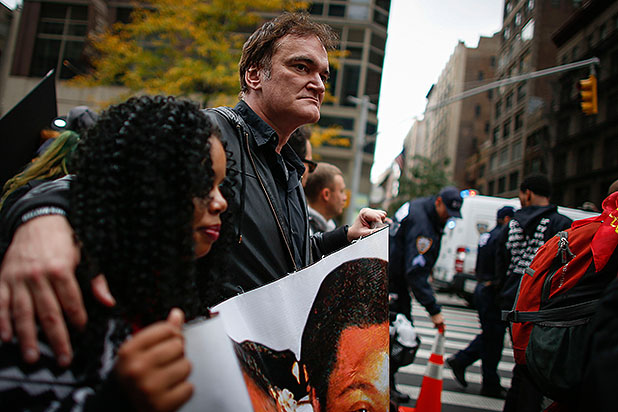 Quentin Tarantino at rally
Hollywood movie director, Quentin Tarantino, made politically charged comments about cops in America, due to the wave of police brutality gripping the country, targeting minorities. Tarantino attended a three day rally in New York decrying police violence against minorities. Tarantino branded police "murderers" which caused an uproar among officers and their departments in America.
There are definitely acts of excessive violence and police brutality targeting minorities in America. It is unquestionable at this point, as we've all seen it via video of tragic incidents showing members of the public being abused or murdered. This misconduct has resulted in the deaths of many blacks and Hispanics. However, you can't paint everyone with the same brush. Every police officer is not a murderer (though some are such as Michael Slager). There are good police officers in America and the world, who do their jobs with honesty and integrity each workday. And no matter what you think, society needs police to maintain order.
Side Bar:
not all cops are bad. I know a few cops that are nice. One friend in particular was a cop, but it really wasn't his strong suit. In one incident, a lady ran up to him about a minor incident and he responded, "Lady, I'm eating my lunch" (and that was that LOL). Prior to that, when he was a security guard, he received an emergency call about a break-in occurring at the apartment complex he was responsible for patrolling to which he responded, "they didn't give me a gun though" so he called the police and that was that (LOL). Now he's a lawyer and the streets are much safer that he is NOT patrolling them (LOL).
STORY SOURCE
Quentin Tarantino Expected to Apologize for Police Brutality Comments (Exclusive)
Movies | By Anita Bennett on November 1, 2015 @ 10:26 pm - Director is planning to break his silence after the controversial remarks, but Jamie Foxx tells Tarantino to "keep telling the truth" After a week of silence and rising police outrage, Quentin Tarantino has let colleagues know he intends to apologize for his comments calling police officers "murderers," TheWrap has learned.
The "Django Unchained" director has been under siege by police departments across the nation after he made the controversial comments at a rally in Manhattan against police brutality on Saturday, Oct. 24. "When I see murders, I do not stand by… I have to call a murder a murder and I have to call the murderers the murderers," the director told a crowd of about 300 a week ago...