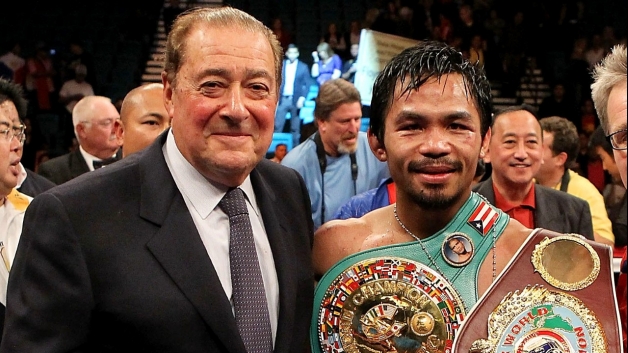 Bob Arum and Manny Pacquiao
Boxing promoter, Bob Arum, has revealed, superstar Filipino boxer, Manny Pacquiao, is going to retire next year to pursue a full time career in politics. Arum stated Pacquiao is retiring from boxing and will launch a campaign bid at becoming the President of the Philippines. Manny serves as a congressman in the Philippine Congress. He also came from poverty and became a multi-millionaire athlete, who has helped his people via charity works.
The Judiciary Report wishes Pacquiao all the success in the world in his new venture. It would be great if an intelligent boxer such as Pacquiao, who has helped so many poor people, became President of the Philippines. Manny, as the phrase goes, knock'em out (not literally - you can't punch up people in politics, though I know some politicians would love to knock out their rivals during debates LOL).
STORY SOURCE
Manny Pacquiao 'to retire next year' for Philippines president run, says Bob Arum
Published on 02/09/2015 at 16:20It appears that boxing legend Manny Pacquiao's final fight will take place in 2016, before 'Pac-Man' hangs up the gloves to tackle politics full-time. Pacquiao's promoter Bob Arum was out at Craig's, a popular restaurant in West Hollywood, on Tuesday night when he told TMZ that Manny is planning to fight again next year once he heals up - but that's probably the very last bout for the 36-year-old:
"He's gonna fight again next year but his goal is to become a senator in the Philippines, which he will be next year, and then to be president. I think Manny will retire once he's elected to the Senate of the Philippines which is next year ... he's gonna hang up the gloves."
Manny has been involved in politics for years in the Philippines -- and has been elected to Congress twice before. Pacquiao will turn 37 in December. His career record stands at 57-6-2, with 38 victories coming by way of knockout. He'll go down as one of the best boxers ever, and a hero in his home country, regardless of how his final bout turns out by virtue of some of his memorable wars over the years and becoming the first (and so far only) world champion in eight different weight classes.