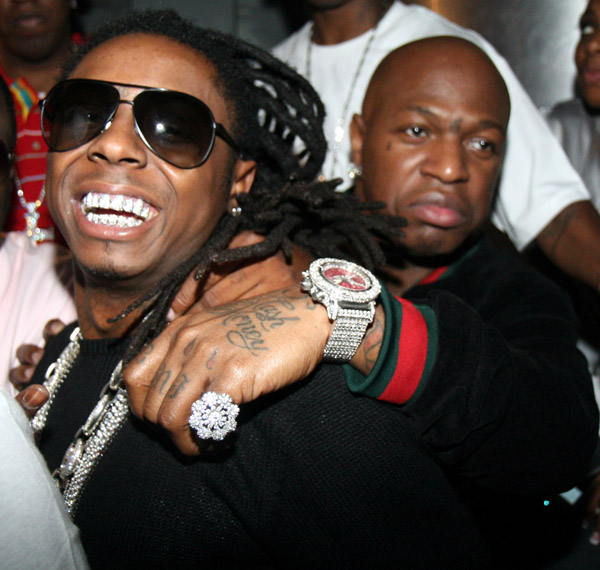 Cash Money Records owner and rapper, Birdman, real name Bryan Williams, has been sued again for stealing royalties. Music producer DVLP has sued Birdman for $200,000 over unpaid royalties. DVLP stated in court he has done work for Cash Money artists and stars on its subsidiary Young Money, but has not been paid the royalties due to him.
DVLP is one of many people suing Cash Money and Young Money over non-payment of royalties and bills. Recently, rapper/music producer, David Banner, sued them for non-payment of royalties (
Lil Wayne And Young Money Sued By Rapper David Banner For Theft Of $150,000 In Royalties
). Cash Money and Young Money also have many copyright infringement lawsuits against them for outright theft. The companies' owners show off about being rich, yet refuse to pay millions in royalties and bills they owe to creditors. That's call fraud and theft. Industry of thieves.
STORY SOURCE
Birdman Sued Producer Claims He Got Stiffed ...Via Hilarious Text Messages
8/17/2015 12:50 AM PDT BY TMZ STAFF - Birdman is accused of using the social media version of "The check's in the mail" to blow off Lil Wayne's producer who is now suing him for a fortune. The producer -- who goes by DVLP -- had his people make various demands that Birdman and Cash Money cough up $200,000 for work he did on albums for Wayne and other artists. Birdman's response shows the new frontier in blowing off creditors. Forget a lawyer's letter ... Birdman is all about texting DVLP to hold him at bay.

Some of the texts ...
-- "I'm getting yu paid"
-- "I'm working with yu fam"
-- "You gone get tht 200k"
-- "s**t GETTIN don"
Apparently it didn't, because DVLP is taking it to a judge.

RELATED ARTICLES