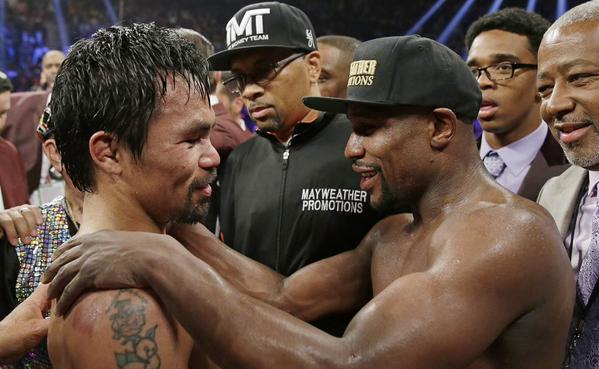 Manny Pacquiao and Floyd Mayweather after historic May 2, 2015 fight


The World Boxing Organization (WBO) has stripped boxer Floyd Mayweather of the welterweight belt he won in his bout against Manny Pacquiao, in what is the most lucrative fight in boxing history. Mayweather failed to vacate the title he holds by the stipulated deadline. Mayweather also failed to pay the required $200,000 sanctioning fee to the WBO. Mayweather holds world titles in multiple weight classes with the WBO, WBC and WBA, which is forbidden. Hence being stripped of the WBO title. Initially, Mayweather stated he would vacate the titles, but changed his mind or was too busy counting the estimated $300,000,000 he made from the Pacquiao fight (LOL).

The WBO stated, "The WBO has the utmost respect for Floyd Mayweather Jr. and all that he has accomplished during his storied career. Mr. Mayweather has always agreed with and understood that world championships have both privileges and responsibilities and that status as WBO champion is subject to and conditioned on compliance with the WBO rules and regulations."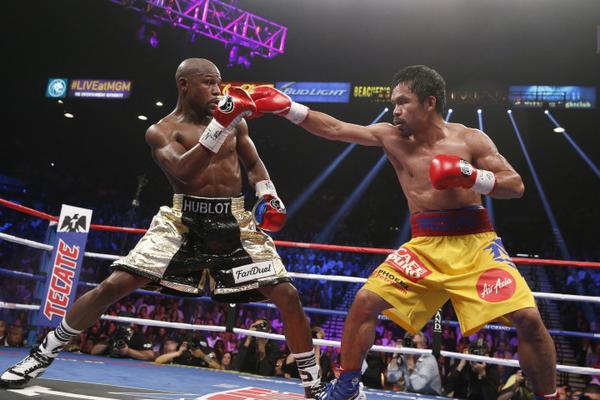 Floyd Mayweather and Manny Pacquiao


Mayweather Promotion's CEO Leonard Ellerbe stated, "It's a complete disgrace. Floyd will decide what, or if any, actions he will take. But in the meantime he's enjoying a couple of hundred million he made from his last outing and this has zero impact on anything he does. Floyd Mayweather has a great deal of respect for each and every organization, as he has always had in his 19-year career, but he will not be dictated to by any organization or person as it relates to his decision making."

In related news, Mayweather has not announced who his next opponent will be, but he is expected to fight again shortly. Pacquiao has not announced his next opponent either, but stated he hopes to fight in 2016, after his arm has healed from a torn ligament injury he had surgically repaired. A rematch between these two top boxers would be very interesting.



STORY SOURCE




Floyd Mayweather Jr. stripped of WBO welterweight title


The WBO stripped pound-for-pound king Floyd Mayweather of his welterweight world title on Monday for his failure to comply with the organization's rules. Mayweather claimed the WBO welterweight title when he outpointed Manny Pacquiao on May 2 in a 147-pound unification fight that shattered all financial records for a boxing match, including total gross, pay-per-view subscriptions, closed circuit revenue, live gate, foreign television sales and sponsorships.

Mayweather, who holds two other alphabet welterweight world titles, missed the 4:30 p.m. ET Friday deadline by which he had to pay a $200,000 sanctioning fee from the May 2 fight (for which he earned more than $220 million) and vacate the two junior middleweight titles he also holds.

"The WBO world championship committee is allowed no other alternative but to cease to recognize Mr. Floyd Mayweather Jr. as the WBO welterweight champion of the world and vacate his title for failing to comply with our WBO regulations of world championship contests," the WBO wrote Monday in its resolution. It is against sanctioning organization rules for boxers to hold world titles in multiple weight classes. The WBC and WBA had been breaking their own rules by allowing Mayweather to hold their titles, but the WBO upheld its rules...





Manny Pacquiao Confirms He'll Fight Again, Questions Floyd Mayweather's Antics


Jul 8, 2015 - Manny Pacquiao has confirmed he will return to the ring in 2016, giving himself ample time to recover from the torn rotator cuff injury he suffered during the defeat to Floyd Mayweather Jr. on May 2. The Filipino isn't impressed with Mayweather's actions since the fight and believes the release of a recent video—in which Pretty Boy goads Pacquiao's injury—doesn't show the composure of a respectable leader for the sport.

"I'm ready to fight, next year. I'm fine," Pacquiao told Viva.co.id (h/t Sky Sports). Although his return will likely prove too late to face Mayweather again—with Money's final bout likely to be scheduled for September—Pacquiao had some advice for the American brawler. "A real champion is gracious in both his words and conduct, someone who is a champion, not just in his chosen field of endeavour but in his own home and in his private life," he said, per PhilBox.com (h/t Sky Sports)...