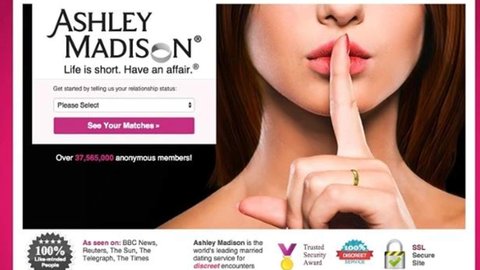 Ashley Madison


The Ashley Madison website, owned by Avid Life Media Inc., disgracefully boasted, "Life is short. Have an affair." The pay site encouraged the public to join for a fee and have an affair anonymously. Not anymore. The website was the target of hackers, who compromised the site, swiping the names and personal data of its paying members. Some of the names of the adulterers on the site have already been released in the public domain.

The hackers have issued threats stating they will publicly release more names of the people who have been cheating on their spouses. This will damage and destroy many marriages. It will also lead to massive lawsuits against the Ashley Madison site. The mere premise of the site alone was distasteful. Infidelity and adultery is not something to revel in nor is it to be celebrated publicly or privately. Similar sites and social networking pages encourage people to cheat or be promiscuous, having their minds swimming in filth all day, inevitably leads to trouble for married and single people. It creates negative habits and a harmful view of sex that benefits no one.

Marriage vows are serious. People should honor them. When adultery strikes marriages it creates so much pain, heartache and personal devastation. Children end up the products of divorce when infidelity destroys their parents' marriage. Cheating brings spiritual and emotional trouble to people's lives that has a price. The Ashley Madison website has done damage in society and with unethical, hurtful, harmful behavior comes consequences. However, the Judiciary Report does not condone or promote hacking.



STORY SOURCE




Cheating website Ashley Madison hacked, personal info posted


Jul. 20, 2015 11:20 AM EDT - FILE - NEW YORK (AP) — The parent company of Ashley Madison, a matchmaking website for cheating spouses, says it was hacked and that the personal information of some of its users was posted online. In addition, the person or persons behind the attack are threatening to release all of the site's personal information — including its members' sexual fantasies and financial information — if the company doesn't take Ashley Madison offline, according to a prominent security blog.

Toronto-based Avid Life Media Inc. says it has had the hackers' posts — which included snippets of personal information — taken down and has hired a technology security firm. The company and law enforcement agencies are investigating. The breach was first reported late Sunday by Brian Krebs of KrebsonSecurity, a website that focuses on cybersecurity. Ashley Madison, whose slogan is "Life is short. Have an affair," purports to have 37 million members.

The hacking follows the May breach of the dating website Adult FriendFinder, which involved the theft of names, email addresses and information about the sexual orientation or habits of up to 4 million of that site's members. According to Krebs, the hacker or hackers, in the Ashley Madison breach identified as "The Impact Team," posted large caches of data from the Ashley Madison site, claiming to have compromised user databases, financial records and other information...