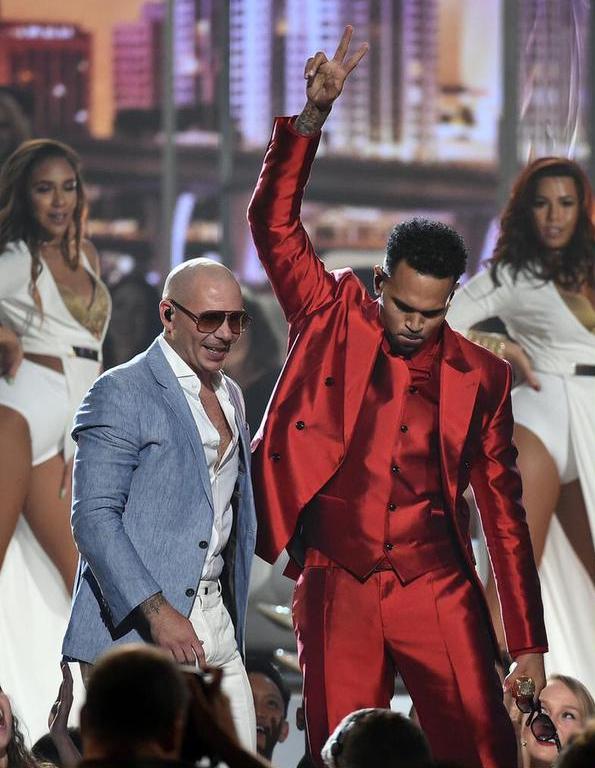 Pitbull and Chris Brown performing "Fun"
Yesterday at the Billboard Music Awards, Miami rapper, Pitbull, performed his song "Fun" featuring singer Chris Brown. Pitbull has released a song "Fun" produced by Miami producers The Monsters And The Strangerz that sounds an awful lot like the big 1985 hit "Conga" by fellow Miamians and Cuban-Americans, Gloria Estefan and the Miami Sound Machine.
A search online regarding the song reveals no songwriter's credit or sampling credit for "Fun" has been given to Enrique E. Garcia who wrote Gloria Estefan and the Miami Sound Machine's "Conga." Both "Conga" and the later released "Fun" have very similar beats and melodies. The songs also share a few mutual lyrics especially the hook:
Pitbull (2015): "Loosen up
your body baby
,
come
undone"
Gloria Estefan and the Miami Sound Machine (1985): "
Come
and shake
your body baby
"
2015's "Fun" by Pitbull
1985's "Conga"
Album credits for Pitbull's "Globalization" which contains the song "Fun" do not give any credit to the songwriters of Gloria Estefan's preexisting song "Conga"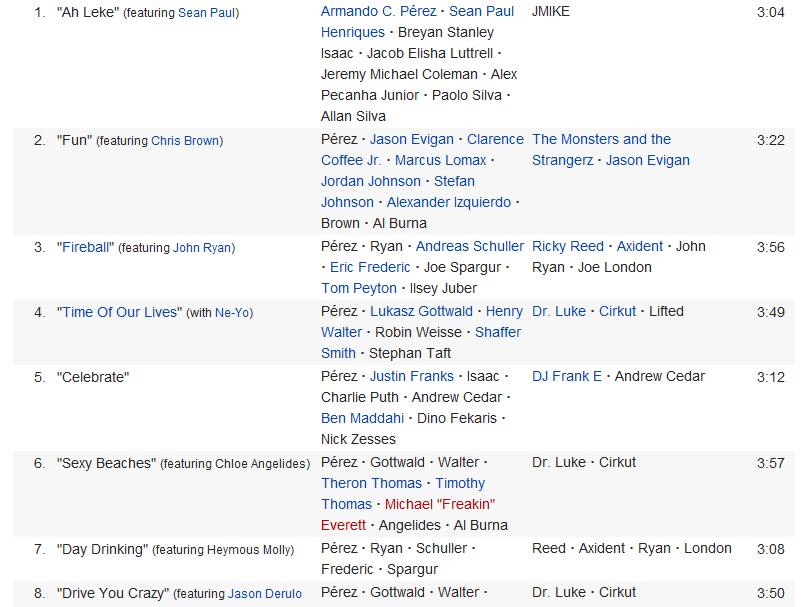 RELATED READING
Pitbull and Chris Brown Bring 'Fun' to 2015 Billboard Music Awards [VIDEO]
May 18, 2015 12:58 AM - Pitbull brought Miami to Las Vegas at the Billboard Music Awards while Chris Brown delivered the moves during their performance of "Fun" on Sunday night (May 17). Channeling Michael Jackson as he often does, Breezy, dressed in a crimson-colored shiny suit, christened the stage before Pit descended from the "rooftop." The set was built to resemble the type of scenery one might see on South Beach.
Spitting in both English and Spanish, the Globalization creator got the crowd jumping in their seats and maintained the high energy throughout the performance. The two even hit a couple of merengue steps together. "Loosen up your body baby, come undone," Brown sang pleadingly, while fans in the audience happily obliged.
Before CB joined forces with Pitbull for "Fun," he graced the red carpet with a surprising date. The singer brought along his 10-month-old daughter Royalty to experience her first awards show. Looks like Breezy decided to create his own Bring Your Daughter to Work Day.
http://theboombox.com