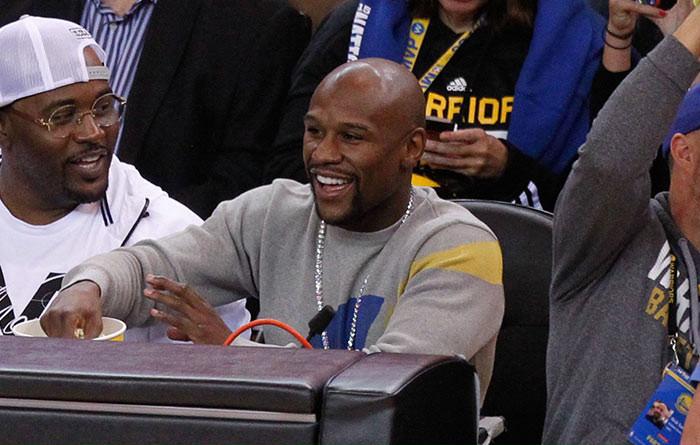 Floyd Mayweather
After his win over beloved boxer, Manny Pacquiao, the world's highest earning athlete, Floyd Mayweather decided to relax at an NBA basketball game, watching the Golden State Warriors in the playoffs. When Mayweather was shown on the jumbotron (television screen) the crowd at the basketball game erupted in loud booing. One female fan took things further and began heckling Mayweather and his Money Team entourage members present courtside.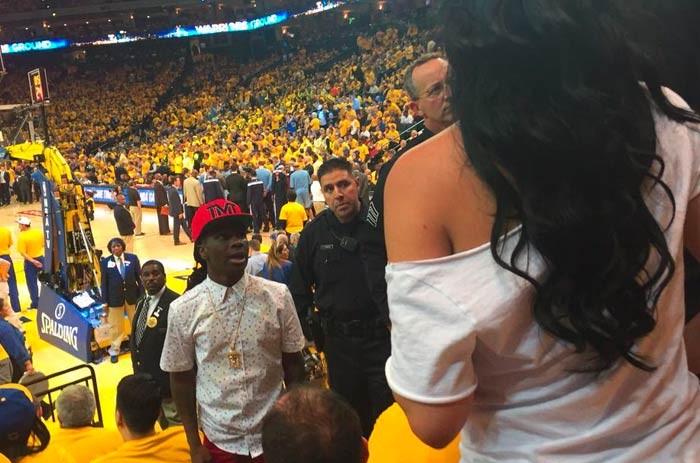 Money Team member with police discussing the confrontation
TMZ is reporting the woman was seen hitting a member of the money team with her "thunder sticks." According to police, a male member of the Money Team, not Mayweather, hit her back. Police informed TMZ, "We do have a record of an incident that occurred at about 9:45PM at the Oracle Arena regarding a mutual combat battery which occurred between a man and a woman. Neither party wished to press charges against the other, nobody was arrested and no injuries were sustained."
STORY SOURCE




Floyd Mayweather Entourage Member In Altercation with Woman




5/14/2015 11:32 AM PDT BY TMZ STAFF - A male member of Floyd Mayweather's entourage was involved in an altercation with a woman at the Golden State Warriors playoff game last night ... after the woman allegedly struck him with a "Thunder Stick" ... TMZ Sports has learned. Sources connected to the Golden State Warriors confirm there was a "mini-altercation" that took place between the two involving one of those inflatable noisemakers that fans bang together during a game...

We spoke with a rep for the Oakland Police Department who tells us, "We do have record of an incident that occurred at about 9:45 PM at the Oracle Arena regarding a mutual combat battery which occurred between a man and a woman." "Neither party wished to press charges against the other, nobody was arrested and no injuries were sustained."



RELATED ARTICLES