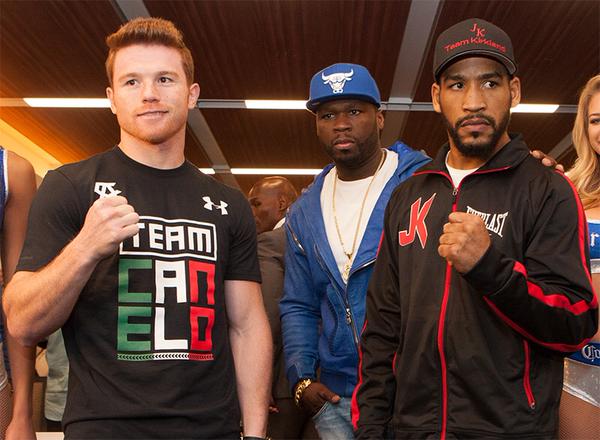 Canelo Alvarez, 50 Center and his boxer James Kirkland

This is a follow up to the May 11, 2015 article "Canelo Alvarez Knocks Out James Kirkland In An Exquisite Boxing Match That Is The Talk Of Social Networking (Video)" where the Judiciary Report stated, "What's with all these rappers trying to become boxing promoters. Boxing is not an easy sport. Between rappers 50 Cent and Jay Z's poor results, it's clear they don't know boxing."

This week 50 Cent's boxing company SMS, has filed for bankruptcy in America, where it is registered as a corporation, confirming the Judiciary Report's claim regarding rappers rushing into boxing and not knowing what they are doing. The website TMZ stated 50 Cent's company put on a pricey boxing show in Connecticut recently that failed. Prior to that, 50 Cent's boxer, James Kirkland suffered a massive knockout in the ring at the hands of pugilist Canelo Alvarez.

As the Judiciary Report has stated in past articles, boxing is a very difficult sport. In my opinion it is probably the most difficult. It is a singular sport, where the athlete stands alone and places his life on the line in the ring. You have to know what you are doing to succeed at it and have the right team behind you, who are experienced and intelligent.

Boxing is not something to be taken lightly, as it involves a great amount of risk to life, health and career. Boxing matches and pugilists' careers must be handled with great care and proper planning. It takes people of great understanding of the sport of boxing to properly navigate careers and build champions. A significant amount of hard work goes into creating championship careers.


RELATED ARTICLE