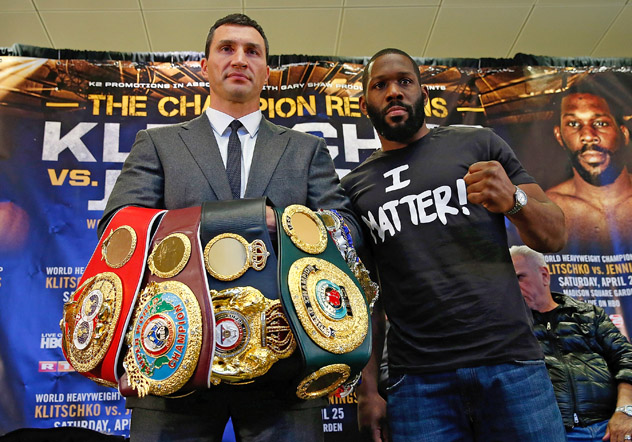 Jennings: Life just became hard when a man shows up with all his belts (LOL)
Ukrainian heavyweight champion Wladimir Klitschko is scheduled to take on potent Philadelphia, Pennsylvania rival Bryant Jennings on Saturday, April 25, 2015 in New York at Madison Square Garden in New York. Bryant is going into the fight as the underdog in trying to defeat the second longest reigning heavyweight in boxing history.
The fight is a great opportunity for artistic pugilist Jennings, as it provides him with great exposure, bragging rights to state he fought Klitschko and a $1,200,000 payday for getting in the ring with the world's most sought after heavyweight. Another man who wants a shot at the big man is American champ Deontay Wilder. The power puncher versus Klitschko would be a serious brawl. Tough British boxer, Tyson Fury, is also waiting in the wings to take on Klitschko as well.
RELATED ARTICLE