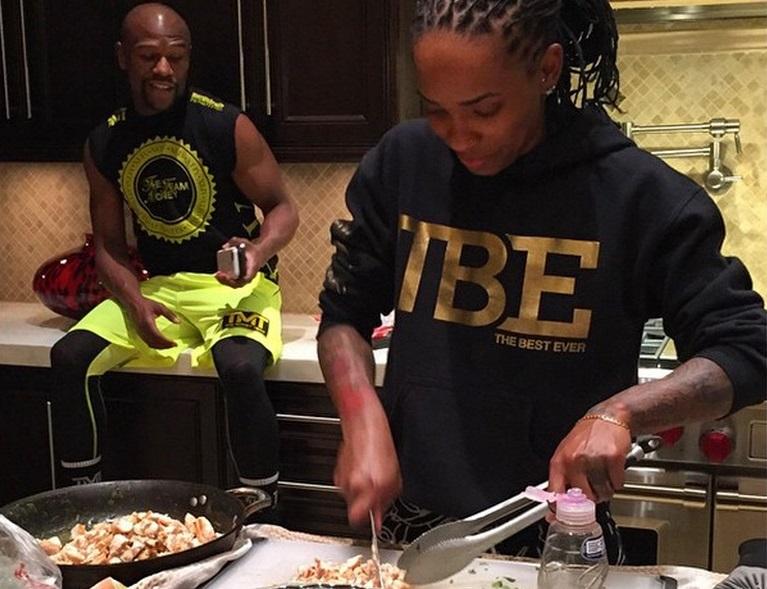 Floyd Mayweather and Chef Q
The world's highest earning boxer, Floyd "Money May" Mayweather, is paying his personal chef $1,000 per plate in the lead up to his highly anticipated fight against Filipino star, Manny "Pacman" Pacquiao. That's $184,000 for 46 days work. Chef Q, born Quiana Jeffries, has been flown in from North Hollywood, California to Mayweather's residence in Las Vegas, Nevada to exclusively cook for him until his May 2, 2015 bout against Pacquiao.
Chef Q, who is on call 24-hours a day stated, "My daily schedule for Floyd is 'There is no schedule'...I am here for him anytime. 24 hours, 7 days a week. If he needs me at 3 am, I am there cooking up breakfast. Also, we are really big on juicing right now...So if Floyd wants something to drink, it's juiced through organic fruits." Mayweather was known to drop $10,000 per month at his favorite sushi restaurant in Las Vegas.
STORY SOURCE
Floyd Mayweather Is Paying This Chef $1000 Per Plate Until His Pacquiao Fight
Food News 3/17/2015 - Floyd Mayweather is not someone you should learn to budget from. Of course, if your nickname was "Money" too, things might be different. There are probably few other more expensive ways to prepare for a fight than by hiring a private, on-call 24/7 chef to prepare healthy $1,000 meals for you.
Mayweather hired California-born Chef Q, real name Quiana Jeffries, who served as executive chef at Soul Dog in North Hollywood, California and is also affiliated with caterer Chefism. But until the May 2 Pacquiao/Mayweather fight, she is "The Chef that's Beastin in Floyd Mayweather's Kitchen," according to her Instagram.
Chef Q told TMZ Sports that she doesn't even normally charge $1,000 a plate, but Mayweather "felt my dishes were worth that much." Chef Q is cooking up an estimated four meals a day for 46 days until the fight, so she'll be raking in about $184,000 in total. "He's always been mindful of what he eats but there is something different about this fight."...
RELATED ARTICLE