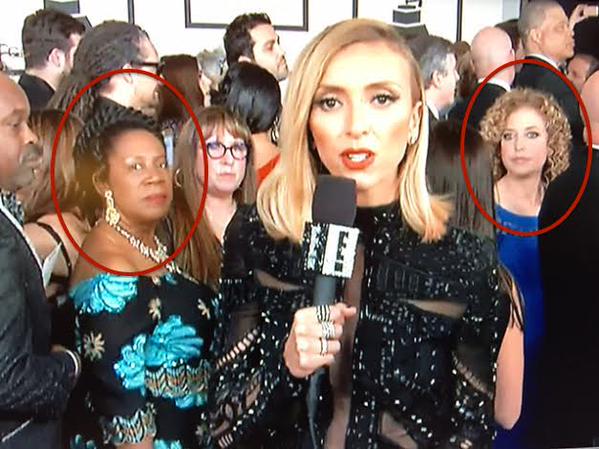 Members of Congress, Sheila Jackson Lee (left) and Debbie Wasserman-Schultz (right)
Mainstream newspapers are reporting that people on the popular social networking website Twitter, slammed several Democrats in Congress for attending the Grammy Awards this past Sunday. Voters spoke out in anger on Twitter at members of Congress hobnobbing with stars in Hollywood, labeling it distasteful and hypocritical.
Some members of Congress who were in attendance dodged questions from the press on how inappropriate their presence was at the event. The members of Congress who did respond to the press about attending the Grammys and having fallen afoul of voters for doing so, stated they were at the event doing research. However, the public is not buying it.
The fact of the matter is Hollywood is a lawless place, hiring private investigators to wiretap, threaten, assault and rob innocent people. Hollywood also steals copyrighted materials by the truckload, then hypocritically demands the public not pirate the stolen works they have falsely and criminally misrepresented as their own.
Hollywood is demanding more rights for the works they have stolen from others, then bribing judges with corporate stock, cash and favors that lead to money, to get away with it. Yet the actual writers and producers being ripped off by Hollywood and its stars essentially have no rights, despite the fact the Constitution says otherwise.
Hollywood criminally steals copyrights from people in America and around the world, then divides the stolen goods among its companies. Hollywood is behaving as though America is not a democracy and people have no right to own property (copyrights = money). It's hard to take the government presiding over the criminality seriously. I am going to have to agree with Twitter, the whole thing is hypocritical. And the music industry wonders why sales have hit an all time low.
STORY SOURCE
Congresswomen who champion income equality are accused of hypocrisy for attending Grammys with wealthy Hollywood elite
Published: 06:09 EST, 9 February 2015 | Updated: 09:20 EST, 9 February 2015 - They were walking the red carpet with the likes of Beyonce, Jay Z, Rihanna and Kanye West. But congresswomen Debbie Wasserman-Schultz and Sheila Jackson Lee caused more of a storm than the majority of the celebrities with their own attendance at the star-studded bash.
Both Democrats, who are outspoken over wanting to close the wealth gap between rich and poor, sparked calls of 'hypocrisy' from disgruntled voters with their appearance alongside the Holywood elite. Within minutes of being spotted, people took to social media to question why they were there. Facebook group 100 Percent FED Up wrote: 'Inequality queens living it up at the Grammy Awards' sparking angry backlash.
Marcia Quimby Ortner posted: 'Glad this photo is going around FB. So hypocritical.'
When questioned by MailOnline, Wasserman Schultz's press secretary Sean Bartlett said she was at the Grammys attending a political event, adding that her travel was paid for through her campaign. Political event: A spokesman said Debbie Wasserman Schultz (left) was attending the Grammys with Democratic colleagues including Sheila Jackson Lee (right)
'The Congresswoman was at the Grammys attending a political event with some of her Democratic colleagues; she was in LA over the weekend for a series of political and official events,' he said. 'There are a few programs, workshops and informational sessions that Members on both sides of the aisle attend on the sidelines of the Grammys so they can hear directly from the creative community about the changing music industry.
'As you might have seen reported in Politico this weekend, Congress is gearing up to deal with legislation related to copyright issues and my boss has been involved in that issue previously.' Outspoken: Debbie Wasserman-Schultz is accused of 'hypocrisy' for attending the star-studded bash while campaigning to address the wealth gap between rich and poor.
Out of touch Dems Wasserman Schultz, Jackson Lee hobnob at Grammys: 'Tax-payer or lobbyist funded trip?'
February 9, 2015 - Feckless Democrats in Congress might find something else to do when Israeli Prime Minister Benjamin Netanyahu comes to Washington, but they wouldn't miss hanging with the glitterati at Sunday night's Grammys. As this Twitter picture shows, two of the House's nuttier Dems, Sheila Jackson Lee of Texas and Democrat National Chairwoman Debbie Wasserman Schultz of South Florida managed to find time to rub elbows with the richer and famous while no doubt promoting their party's empty "income inequality" message.
While President Obama contented himself with a video message, these champions of the oppressed found time to turn out themselves. Sharp-eyed Twitter users took note — and couldn't help wondering who was paying for it. The odd part is, neither appears to be having much fun. Jackson Lee might have just heard Beyonce was going to lose "Album of the Year" to white guy Beck. (Wasserman Schultz simply looks stoned.). Others are asking who footed the bill. They're Democrats. Anybody want to guess?