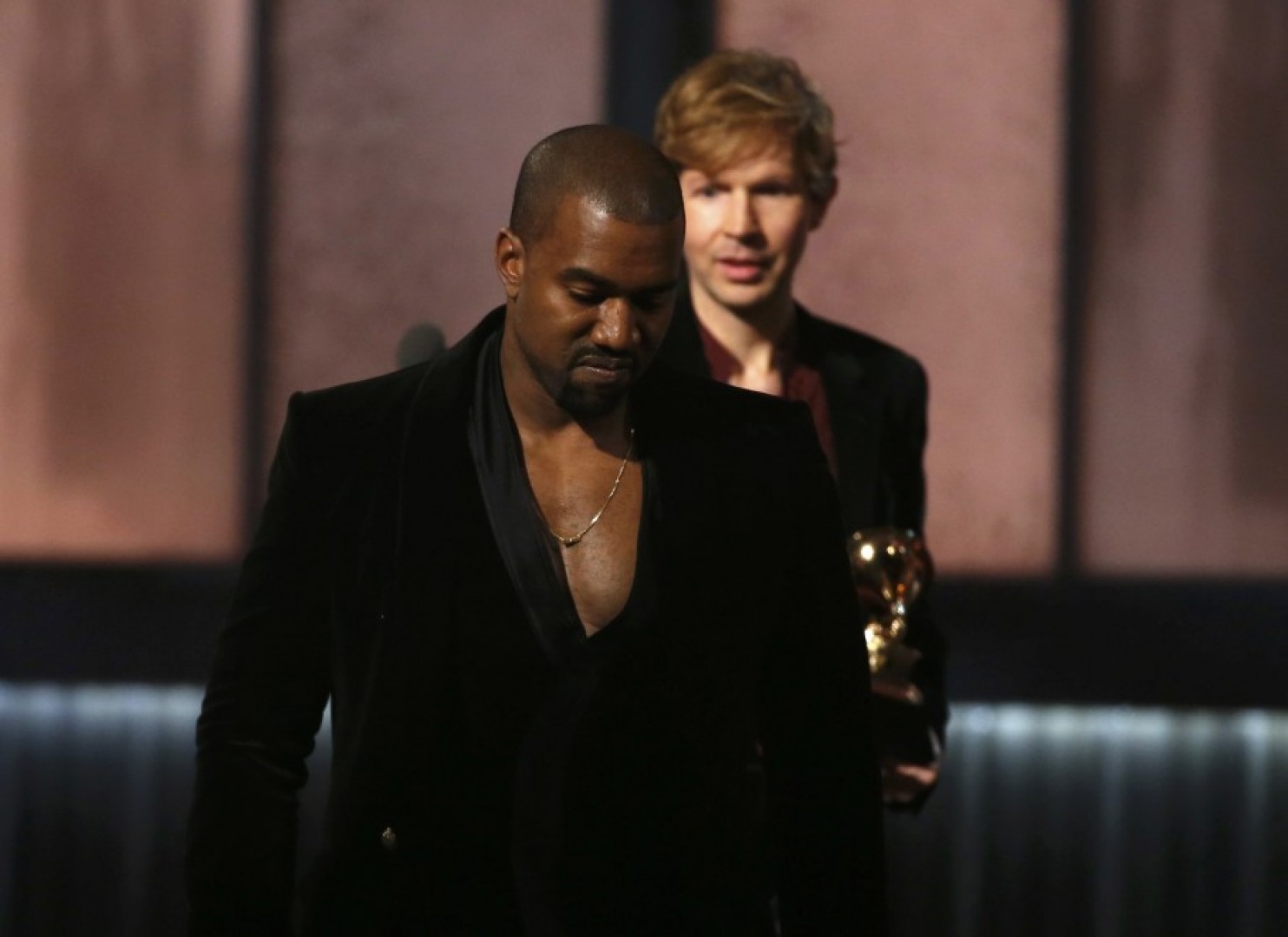 Kanye West and Beck
Rapper/producer, Kanye West, went on another one of his notorious rants at the Grammy Awards and it simply was not funny. Last time Kanye lashed out at singer Taylor Swift for winning a Grammy award over his friend Beyonce. This time he insulted Beck for beating Beyonce. Ironically, Beck has more talent as a musician than Kanye and Beyonce. Kanye had the nerve to go on a rant about real artistry and how it is lacking at the Grammys, when he is a known copyright thief, who has been sued by over a dozen people in America for stealing their music.
The majority of Kanye's music is either stolen from newer writers and producers or sampled from old school songs. Some samples he didn't even bother to clear, stealing music from dead musicians, who called him out for this disgraceful behavior. That's not genius. That's theft. It's also illegal, as copyright infringement is a federal crime.
So please, do the public a favor and sit down. The mere fact you keep interrupting people's speeches and stating they should not have won, says you have a mental problem. Stop being Jay Z's lapdog. You're sounding really brainwashed at this point, like a crazy cult member.
STORY SOURCE
Kanye wasn't joking, tells E! that 'Beck needs to respect artistry and he should have given his award to Beyoncé'
By Emily Yahr February 9 at 12:50 AM - Beck watches Kanye West, who "pretended" to take the stage after Beck won album of the year for "Morning Phase." During a very gloomy Grammy Awards, the Internet perked up when Kanye West appeared to pull a Kanye West and stormed the stage in protest of Beyoncé not winning one of the biggest prizes of the night — album of the year — which went to Beck for "Morning Phase."
KANYE THA GOD. https://t.co/8x42pDTmWT — Dave Itzkoff (@ditzkoff) February 9, 2015
However, Kanye grinned, his wife Kim Kardashian grinned; even Jay Z and Beyoncé looked mildly horrified but eventually started laughing. It was all a big joke, right? Uh, maybe not. A few minutes after the ceremony ended, Kanye stopped by E!'s Grammy after-show with Kim and shared his true feelings about Beck's win over Queen Bey. The gist: He was not pleased.
"Beck needs to respect artistry and he should have given his award to Beyoncé," he said, adding: "Y'all know what it meant when 'Ye walked on the stage." [Beck was a poorly chosen target for Kanye's rant about 'artistry']. So, looks like he wasn't so happy. We can't really capture Kanye's thoughts (who could?) so instead, here's his entire rant (this one definitely qualifies as a rant) in which he questions the entire point of the Grammy Awards:
I just know that the Grammys, if they want real artists to keep coming back, they need to stop playing with us. We ain't gonna play with them no more. "Flawless," Beyoncé video. And Beck needs to respect artistry and he should have given his award to Beyoncé and at this point, we tired of it. Because what happens is when you keep on diminishing art and not respecting the craft and smacking people in the face after they deliver monumental feats of music, you're disrespectful to inspiration. And we as musicians have to inspire people who go to work every day. And they listen to that Beyoncé album and they feel like it takes them to another place. Then they do this whole promotional event, that, you know, they'll run the music over somebody's speech, the artist, because they want a commercial advertising. Like no, we not playing with them no more. And by the way, I got my wife, I got my daughter, and I got my clothing line so I'm not going to do nothing to put my daughter at risk — but I
am
here to fight for creativity. That's the reason why I didn't say anything tonight. But y'all know what it meant when 'Ye walked on the stage.