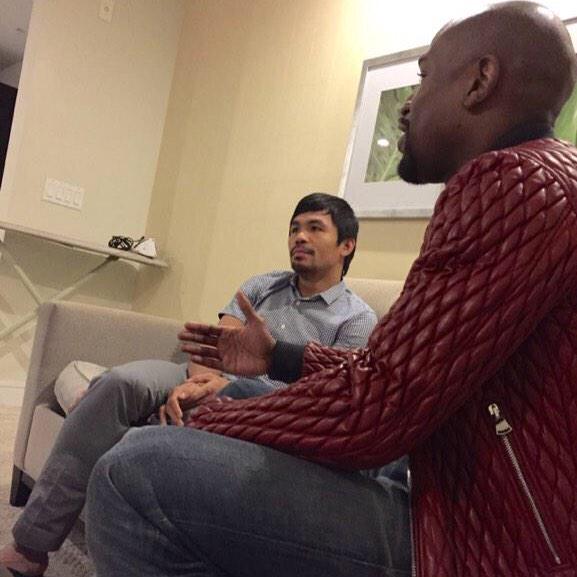 Manny Pacquiao (left) and Floyd Mayweather during contract negotiations
Negotiations continue in what promises to be one of the biggest sporting events in history - the planned fight between undefeated American boxer, Floyd Mayweather and Filipino champ, Manny Pacquiao. Mayweather released a photo to social networking showing the two during a meeting negotiating the most lucrative bout in boxing history. The historic payday will net both boxers a 60/40 split of at least $200,000,000. Most importantly, boxing fans would finally get the fight everyone has been waiting for.
STORY SOURCE
Floyd Mayweather posts picture of meeting with Manny Pacquiao
Floyd Mayweather posted a picture of him meeting with Manny Pacquiao on social media site Shots. Mayweather wrote, "I set up this meeting with Manny Pacquiao to get this fight done but they will continue to tell the public it's us and that's NOT TRUE. So while we wait y'all go TELL A FRIEND to download Shots ASAP so I can keep you all updated on the Mayweather vs. Pacquiao fight…"
The ball has been rolling for a while yet this picture provides a breath of fresh air to the boxing public who may have been disheartened by the gruelling and long talks that have taken place. With the let down of the fight not being announced on Super Bowl night, one can only hope both men agree terms and set up this mega fight.
RELATED ARTICLE