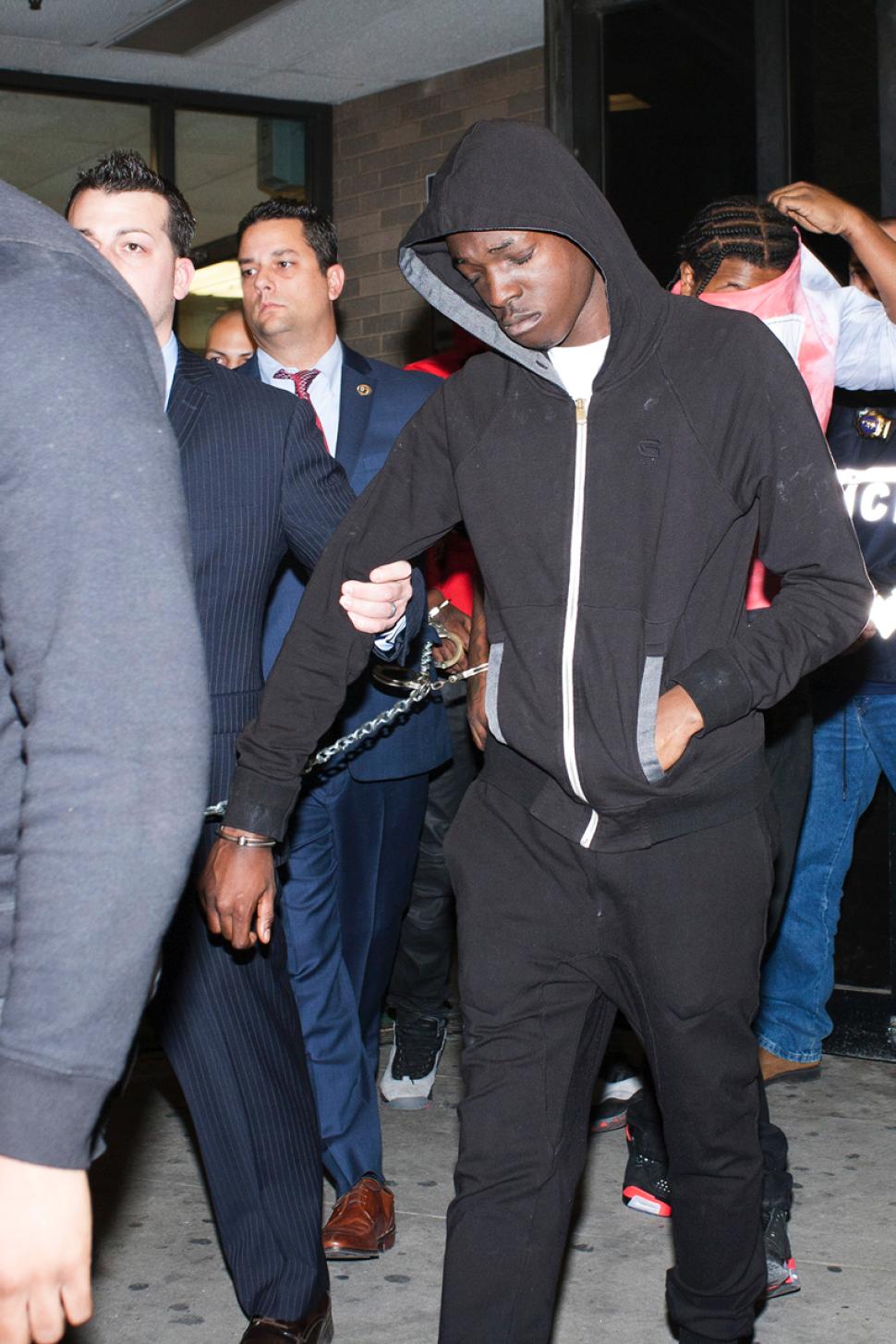 Bobby Shmurda being perp walked in New York
Previous online reports indicated, rapper Bobby Shmurda, 20, the performer behind last year's top hit "Hot Ni*ga" had made bail in the government's criminal case against him and his gang turned music crew, GS9 (G Stone Crips), for conspiracy to commit murder, attempted murder, narcotics possession and illegal guns. Shmurda is facing up to 25-years in prison.
Reports stated his new label Sony, had posted the $2,000,000 bail. However, his lawyer, Howard Greenberg, has gone on record refuting these claims, stating Shmurda, real name, Ackquille Pollard, currently sits behind bars at New York's infamous Riker's Island jail.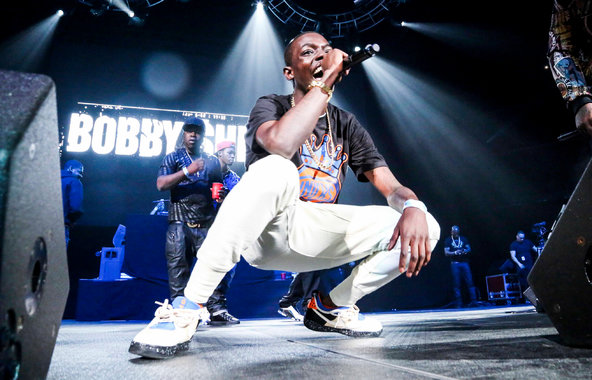 When asked about Shmurda being free, Greenberg told the Revolt website "I haven't heard that. I need to confirm that. A lot of guys in the media got that wrong. The bail was set on that day [of the arraignment hearing]. The bail was set. But then it's just a matter of putting the package together. That's the update as of the minute."
Greenberg also refutes social networking rumors Shmurda was killed in jail. Greenberg stated, "There are rumors going around, another rumor a few weeks ago was that he was killed there. It's just rumor." The singer's label has been silent regarding his legal troubles.
STORY SOURCE
Did Bobby Shmurda Post Bail? Attorney Clears The Air
"I haven't heard that," attorney Howard Greenberg told REVOLT earlier today (January 6), when asked whether his client, Bobby Shmurda, is a free man. Born Ackquille Pollard, the 20-year-old rap sensation is locked in Rikers Island after being arrested last month outside of Quad Recording Studios near Times Square, where 14 others were also rounded up.
The arrest was the result of a long-term investigation against East Flatbush, Brooklyn crew GS9, also known as "G Stone Crips" or "G Stone 90's," by NYPD's Brooklyn South Violence Reduction and the Office of the Special Narcotics Prosecutor's Narcotics Gang Unit, with assistance from the Kings County District Attorney's Office. During the course of the investigation, police seized 21 guns, including 10 during the raid at Quad.
Bobby faces up to 25 years if found guilty on charges, including conspiracy to commit second-degree murder, conspiracy to commit second-degree assault, two counts of criminal possession of a weapon, among others. Manhattan Supreme Court Justice James Burke set his bail at $2 million...
"A lot of guys in the media got that wrong," he said. "The bail was set on that day [of the arraignment hearing]. The bail was set. But then it's just a matter of putting the package together," he added. It's unclear when that package, Greenberg notes, will be completed, but for now he stated, "That's the update as of the minute."