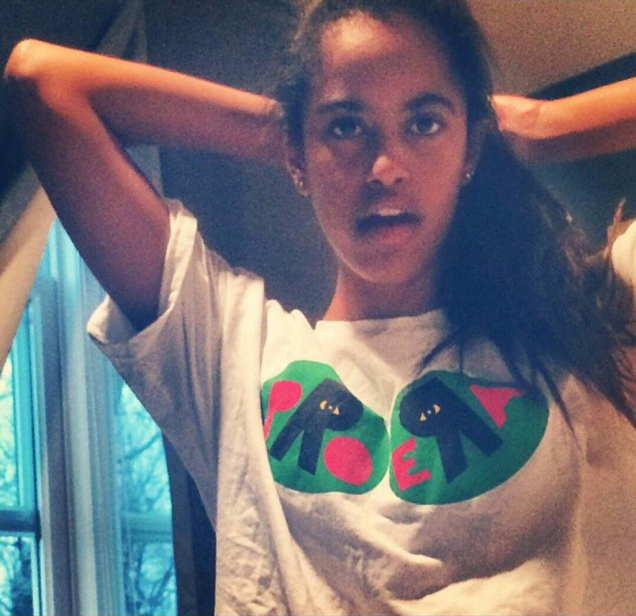 Malia Obama leaked selfie
The FBI and Secret Service are investigating a selfie photo leak of President BarackObama's daughter, Malia, that hit the internet a week ago. Rapper, Joey Bada*s of the New York rap group, Pro Era, is believed to be the source. Joey Bada*s, who was arrested lasst week in Australia for assaulting a security guard, bragged online via the Pro Era social networking page on Instagram that Malia is representing his group via wearing their t-shirt.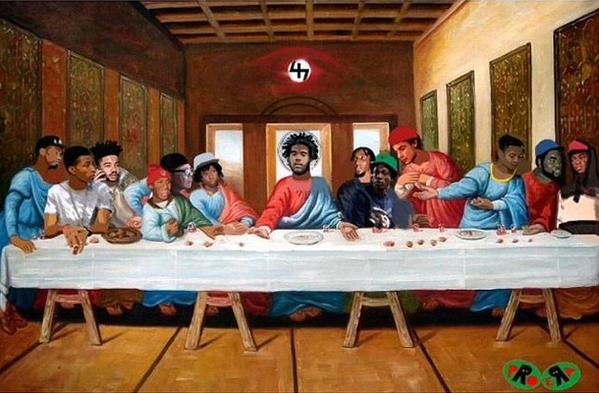 Offensive Pro Era poster mocking the last supper with what has the appearance of an occult symbol/swastika in the background
Pro Era has inappropriate lyrics promoting violence, cop killing and reverse racism. Pro Era's conduct in using Malia's image without the consent of the minor's parents, is unlawful. There are image rights violations in having done such an inappropriate thing. The whole incident is exploitative and wrong.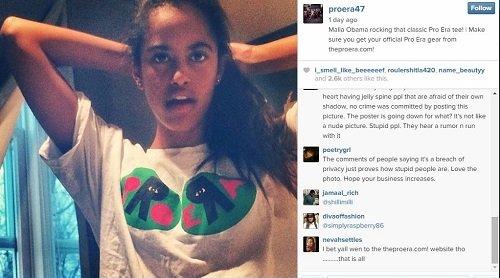 Pro Era using Malia Obama's image on their Instagram social networking page to promote their music
Malia, Joey Bada*s is not for you. Find yourself a nice boy doing positive things with his life. Because knowing your daddy, what's going to happen is Joey Badas* is going to "accidentally" get hit with a drone or "accidentally" get shot with 10 stray bullets that all managed to catch him.
STORY SOURCE
Pro Era's Instagram Photo Of Malia Obama Reportedly Under Investigation; Joey Bada$$ Comments On Photo
Friday January 09, 2015 at 11:00AM PST - UPDATE: Joey Bada$$ reportedly comments about the alleged Malia Obama selfie in which she wears a Pro Era shirt. A picture posted to the Pro Era Instagram account may now be at the center of an investigation led by the White House. In the photo, which was uploaded earlier this week, a person who appears to be Malia Obama is pictured wearing a Pro Era t-shirt.
The following caption was added to the photo: "Malia Obama rocking that classic Pro Era tee! | Make sure you get your official Pro Era gear from theproera.com!"...
According to Gawker, a rep for Joey Bada$$ informed them that the picture was obtained through "a mutual friend" of Malia Obama and a Pro Era member. Fox News reports that both Malia and Sasha Obama are forbidden from using most social media sites. Malia Obama reportedly has only a Facebook profile while Sasha Obama does not have any social media accounts.
Last year, Obama's eldest daughter caught many by surprise when she was pictured at the Lollapalooza music festival during Chance The Rapper's performance. UPDATE: Joey Bada$$ tweeted an apology regarding posting the selfie of Malia Obama wearing a Pro Era shirt, according to XXL.
"Shoutout to Malia for supporting the ERA. It's very clear that we meant no harm by posting the pic. Peace to the White House! #B4DAMONEY," the rapper wrote on twitter today (January 9) before removing it, XXL says.