Warning: video contains explicit language
Successful boxer, Adrien Broner, has apologized for telling off rapper Jay Z and his artist, Rihanna, in a profanity laced tirade [
Boxer Adrien Broner Says F**k Jay Z, Rihanna And Her P***y After The Rapper Pimps Her Out Again (Video)
]
. The rapper is trying to becoming a boxing manager and promoter and doesn't know what he is doing. Jay Z does not know how to find unknowns and turn them into champs, as he does not know what to look for, so he's going around unethically stealing other people's established star athletes, in conduct being viewed very negatively by managers and promoters, who are angry and offended. That's not how you do business. It is disgraceful and bad form. Jay Z has no honor or sense of decency and fairness.
Managers and promoters are angry over Jay Z using illegal and deceitful tactics in trying to steal and in some cases, stealing their clients they paid money to develop. It's a foul, dishonest and criminal way to do business that is going to culminate into a disaster and scandal. Jay Z has been using his music artists, Rihanna and Rita Ora, pimping them out to athletes (sex) as incentive to sign with Roc Nation Sports, a rip off company he slapped his name on. Some of the athletes have wives or girlfriends, but that hasn't stopped devious, destructive Jay Z's foul conduct in this regard. Broner has a pregnant fiancée. He is using other illegal incentives as well.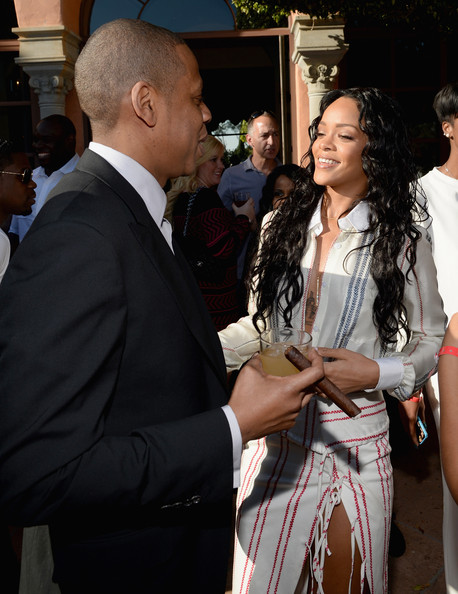 Jay Z and Rihanna
Broner told off Jay Z stating he can "suck my d***" and that Rihanna is only good for "p***y" and to stop sending his employees up to him, rather than coming up to him as a man. Jay Z made Broner an insultingly low offer to join Roc Nation Sports, offering a deal he states is worth $40,000,000 over 5-years. Broner is one of the top boxers in America and can earn $20,000,000 per year. Signing Jay Z's Roc Nation Sports deal would cost him $60,000,000 over the next 5-years.
Broner has apologized for telling Jay Z to "suck my d***" after the former crack cocaine dealer, who has a penchant for employing violent thugs and threatening people, even women, came down on him for the mini-scandal his comments created (Jay Z and his wife, Beyonce, whom he regularly cheats on, quickly released a beach photo implying she is pregnant as PR distraction from the bad publicity Broner's comments brought on them). However, Broner has not retracted his statements.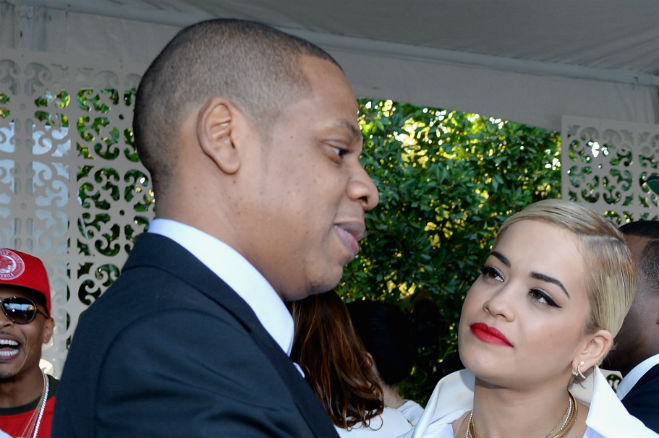 Jay Z and Rita Ora
Jay Z knows nothing about sports management or boxing promoting and is going to end up damaging athletes' careers and bringing terrible government and public scrutiny on them, along with himself, when his behind the scenes criminal conduct is exposed. Athletes need to be very careful of Jay Z, as he is lying to them about what he is really up to and what it is going to cost them. Stay with and or sign with established, knowledgeable managers and promoters, who know what they are doing. Avoid Roc Nation.
Side Bar: if Broner is going to sign with anyone else, it should be Floyd Mayweather's Mayweather Promotions. Mayweather knows boxing and has helped Broner a lot over the years, taking him under his wing. Mayweather refers to Broner as his unofficial little brother and Broner calls him his big brother. Mayweather helped Broner when he didn't have to. Friends do that for each other. Stick with the people who have been good to you. Don't go with an idiot upstart, who doesn't know what he is doing and is greedily seeking to exploit you.