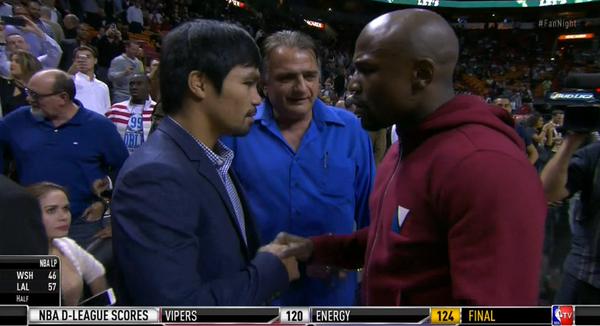 Manny Pacquaio and Floyd Mayweather finally meet after years of trash talking each other in interviews and on social networking. Floyd is looking at Manny like he found the mythical Lochness monster (LOL). Manny looks all tranquil.
Two legendary boxers finally met each other. Manny Pacquiao and Floyd Mayweather met courtside at a Miami Heat basketball game this week. The two sat on opposite sides of the court, but ended up speaking to each other and exchanging telephone numbers. Sports commentators and fans on social networking were happy at the news, as it gave hope the two will finally step into the ring in a boxing bout.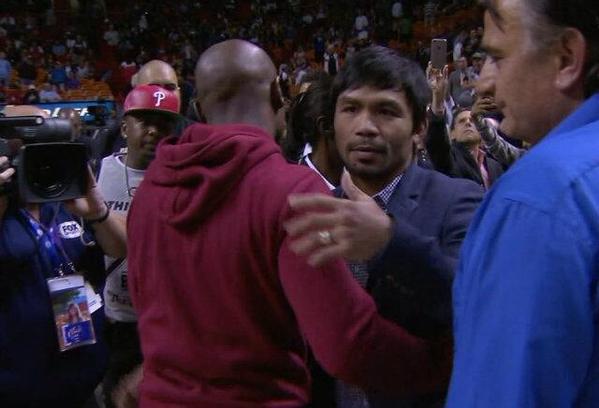 Mayweather and Pacquiao hug each other
For years the two sides have openly argued about terms of a potential fight, but nothing materialized. Two weeks ago Pacquiao stated he gave Mayweather a January 31, 2015 deadline to sign a contract to fight him or he would go elsewhere. A week later Pacquiao met up with British boxer Amir Khan in London, which attracted a lot of attention.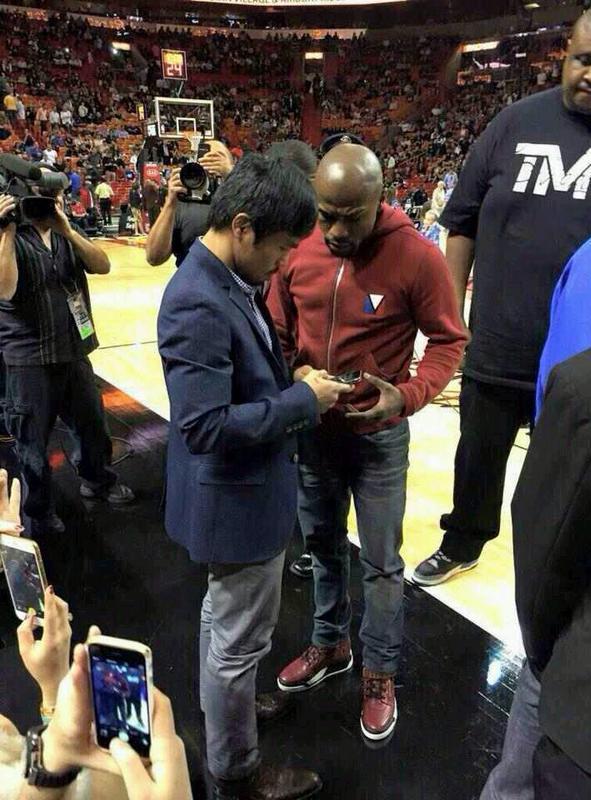 Pacquiao and Mayweather exchange numbers
The informal meeting between Pacquiao and Khan made headlines, as publications announced the two pugilists are in talks for a boxing match. It certainly got Mayweather's attention. Mayweather should fight Pacquiao. It's only fair to the fans who have made them rich. Pacquiao should also fight Amir Khan. It would make for good boxing. Khan should also fight Kell Brook.