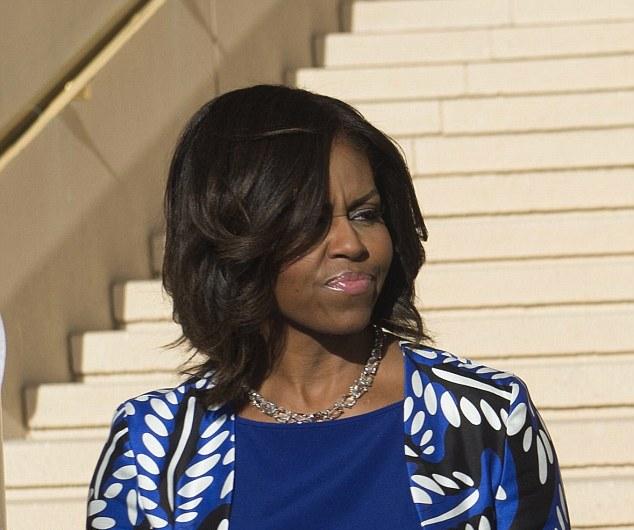 Michelle Obama frowning in Saudi Arabia after being snubbed
First Lady, Michelle Obama, accompanied her husband, U.S. President, Barack Obama, on an official visit to Saudi Arabia, after the death of King Abdullah. The president was greeted with handshakes, but his wife was snubbed (and her face showed it), as women are considered second class citizens in Saudi Arabia, who do not have the same rights as men.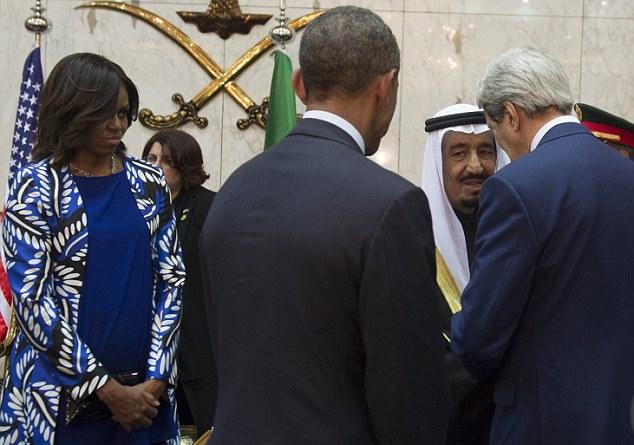 Look at the expression on Mrs. Obama's face (LOL)
Mrs. Obama was required to walk behind her husband and not inline with him during the visit. There are news reports indicating an extremist edited Mrs. Obama out of You Tube footage of the official visit, for not covering her hair and wearing a bright blue jacket. Women in Saudi Arabia are not allowed to drive, must cover their hair at all times and wear black, loose fitting clothes that show no skin.
STORY SOURCE

Michelle Obama is not impressed: Grim-faced First Lady meets the Saudi king as members of his entourage refuse to shake her hand
Published: 14:20 EST, 27 January 2015 | Updated: 21:26 EST, 27 January 2015 - Michelle Obama did not look happy on Tuesday when she had to cut short her visit to India to accompany her husband on a trip to a country where women aren't even allowed to drive cars. The First Lady bowed and beamed as she boarded Air Force One in New Dehli on Tuesday, but by the time she landed in Saudi Arabia a few hours later, she had traded her floral dress for a more conservative long-sleeved jacket and slacks - as well as a new scorned expression.
In pictures at the airport and Egra Palace, Mrs Obama pursed her lips and glared as she stood her husband who cancelled their trip to the Taj Mahal in order to pay respects to the Saudi royal family on the death of King Abdullah.
Outfit change: When the president and Mrs Obama left India on Tuesday, she was dressed in a floral dress. Though her husband wore the same suit and polka-dot tie when they landed in Saudi Arabia, Mrs Obama had changed into a long-sleeve coat and slacks to cover up in the conservative Muslim country.
While the oil-rich Saudis are America's biggest Arab ally, the relationship has come under increased scrutiny over the conservative Muslim country's questionable human rights record - including their treatment of women. In addition to not being able to drive, Saudi women must always have a male chaperone when going out in public, they can't try on clothes while shopping or open a bank account without their husband's permission. And despite most Saudi women being educated, they make up just a sliver of the work force...
Letting her hair down: Mrs Obama did not wear a headscarf on Tuesday, though Saudi women are required not to let any of their hair show in public. Western women who visit the country do not need to cover their hair, but conservative dress like the outfit sported by the First Lady is necessary...
Following the president and Mrs Obama's brief four-hour visit to Saudi Arabia on Tuesday, a video surfaced online showing the First Lady's image blurred out from video broadcast aired on a state television station. The video caused outrage from Westerners online, who thought Mrs Obama was edited out of the broadcast for wearing her hair uncovered and sporting a bright blue jacket. However, it appears that the video was actually edited by a third party with extremist views...