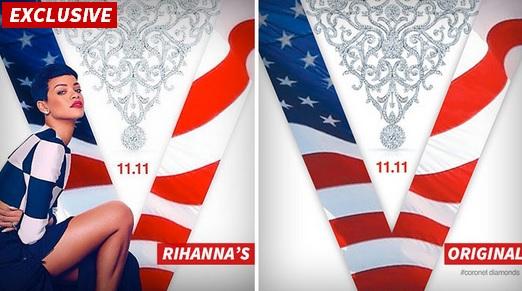 Rihanna's rip off (Photo comparison credit: TMZ)
Rihanna has been publicly slammed by jewelry company, Coronet Diamonds, for stealing their copyrighted and trademarked logo and ad, for use on one of her projects. According to TMZ, Coronet Diamonds sent Rihanna a cease and desist letter regarding her infringing conduct. They demanded she apologize for the theft, but she has refused to do so.
Once again, Rihanna is showing the whole world she is a thief, who does not care about other people's property rights. Rihanna has been sued several times for copyright infringement with claims of the same in the pre-filing stage, backing up at her record label. Rihanna's label has struggled to find new material for her album, that has suffered repeated delays, with two pre-release songs being slammed by the public (a rip off sounding track that steals from Drake and a Paul McCartney and Kanye West collaboration being panned online as wack). For more on Rihanna's brazen, illegal acts of intellectual property theft, see article links below.