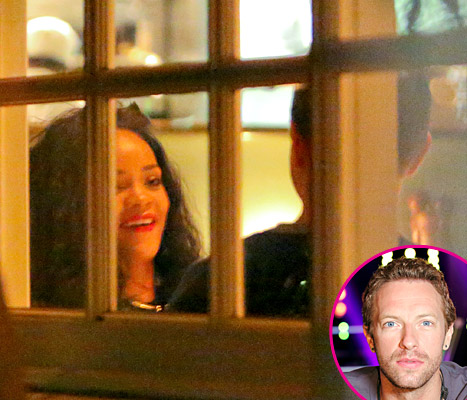 Rihanna and Chris Martin out on a date at a Santa Monica, California restaurant this week
Rihanna has become known as an industry bicycle. In the words of Austin Powers, "Everyone's had a ride." She's damaged the marriages and relationships of a number of industry people, making enemies along the way over this unethical, uncalled for conduct. Rihanna is not happy unless she is causing someone misery or distress in their personal and or business life. She gets off on causing innocent people pain, a trait she picked up from self-professed mentor, Madonna, who when she was young, went around Hollywood deliberately destroying marriages and relationships.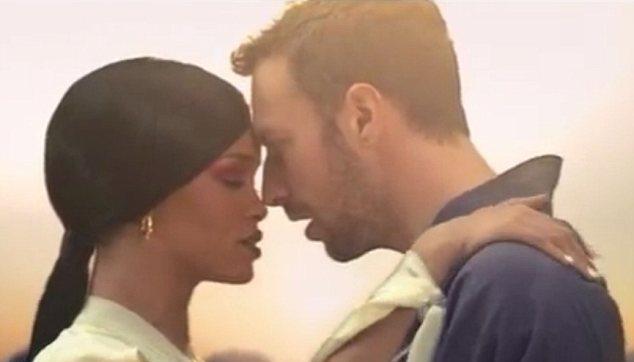 Rihanna and Chris Martin
Rihanna has been Jay Z's mistress for years, before and during his marriage to singer Beyonce, which led to an elevator fight recently between the rapper and sister-in-law, Solange Knowles. When Rihanna worked with rapper T.I. a couple years ago, rumors were rife in the industry that he was having sex with her as well. When Rihanna worked with singer Chris Martin, who was not separated from his wife, Gwyneth Paltrow at the time, rumors were rife they were having sex. People see and hear things, then word spreads.
Rihanna also bedded actor Ashton Kutcher during his marriage to actress Demi Moore. Recently, Rihanna was slammed for destroying the engagement of rapper Future to singer Ciara, who just gave birth to his baby. Martin and Paltrow recently separated and then tried to make things work again, but he was spotted canoodling with Rihanna this week (
TV Report: Kabbalah Destroyed Gwyneth Paltrow's Marriage To Coldplay's Chris Martin
).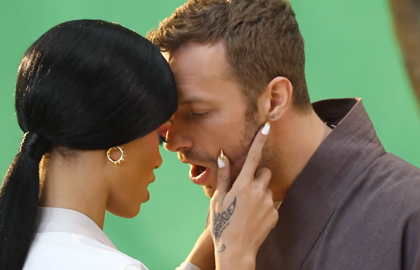 Rihanna and Chris Martin
Rihanna has developed a very bad name in the industry over sexing other people's men. Her behavior is dysfunctional and has driven many men away from her. She is sexually indiscriminate and riddled with STDs from her wild behavior. Going around having sex with people's husbands will bring trouble into your life. It certainly doesn't bring God's blessings. If she were smart, she'd stop this foolishness.
Ironically, the one man she truly wants, ex-boyfriend, Chris Brown, is repulsed by her behavior. She tried to get back with him recently, but he said no. Watching her bed scores of men in the industry is reinforcing his view. She doesn't have Chris Brown anymore, so she goes for another Chris.