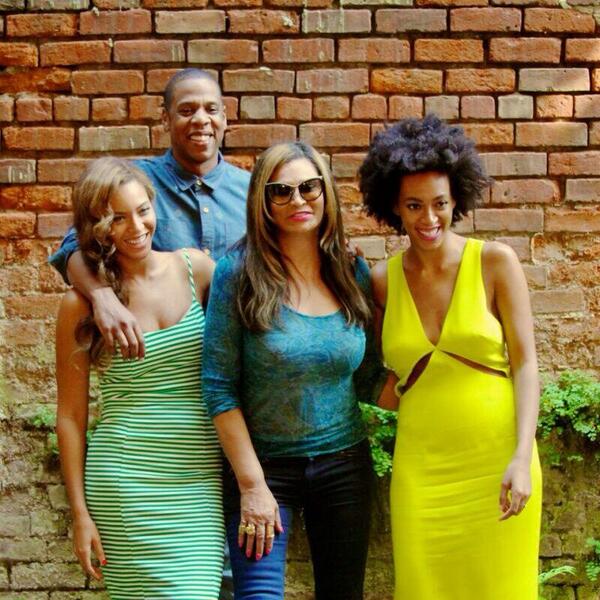 Beyonce, Jay Z, Tina Knowles and Solange Knowles
Media Take Out posted a portion of an In Touch article claiming Solange Knowles is doing a tell all on her brother-in-law, rapper Jay Z, who is married to her sister, singer Beyonce. Solange, who like Beyonce, is said to be struggling with mental illness, according to a Miami radio station and several other industry sources, do not approve with Jay Z's cheating with crazy mistress Rihanna.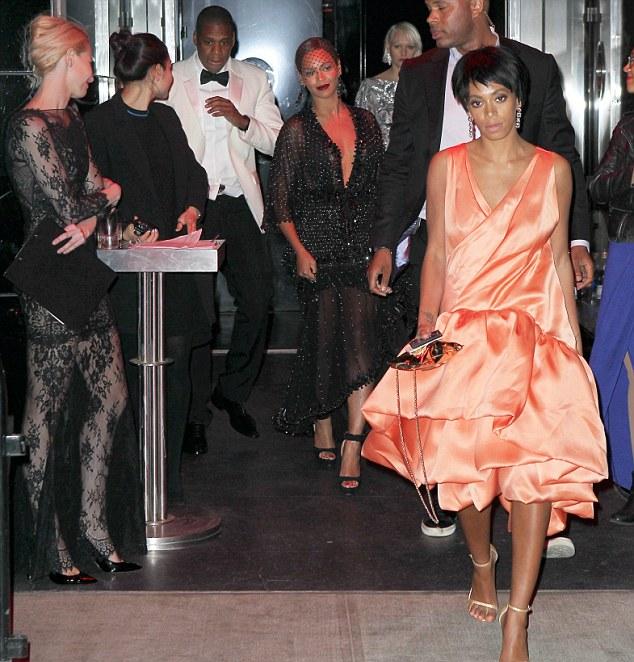 Beyonce, Jay-Z and Solange leaving the elevator after the fight
Jay Z has also cheated with Rita Ora, among others. Solange has the inside scoop on his cheating, as well as Beyonce having worn a fake baby bump for months while a surrogate carried the couple's child, Blue Ivy. Beyonce, like many women, had a miscarriage. Beyonce has trouble conceiving and carrying a baby. Solange also has inside information on the family's many money disputes, having repeatedly been sued for being outright thieves, stealing copyrights, trademarks and money.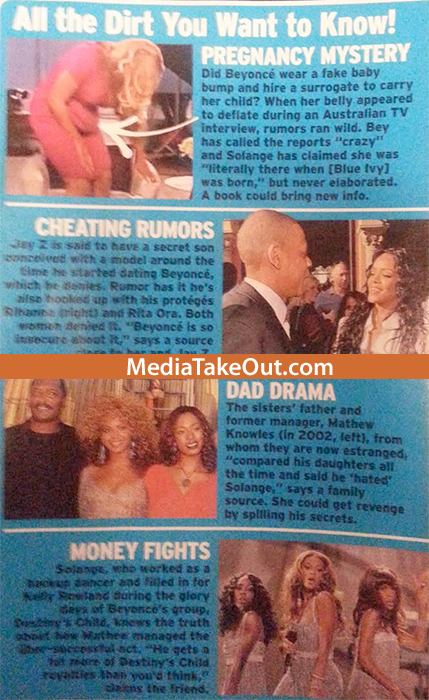 In Touch magazine
In other Beyonce and Jay Z news, the tickets for the couple's forthcoming concert tour have plunged in the wake of the elevator scandal that saw Solange repeatedly kick and punch Jay Z while Beyonce approvingly watched, then left in the same car as her sister, after her husband wanted to go to Rihanna's party by himself to have sex with her later that night.
STORY SOURCE
Elevator Fight HURTING Hov & Beyonce's "On The Run" Ticket Sales?!
05.21.14 - According to ticket resale sights, sales are no longer skyrocketing for the power couples joint concert! Sites like Tiqlo report, average prices for all On The Run tour dates decreased from $306.22 to $264.73. SeatGeek reported that sale prices went down 3.8%. Forbes says that prices for the tickets on the secondary selling sites altogether has dropped by 13.5%. Although the couple will still make a killing, the elevator fight has statistically proven to be hurting them. Solange is probably somewhere pleased with herself.