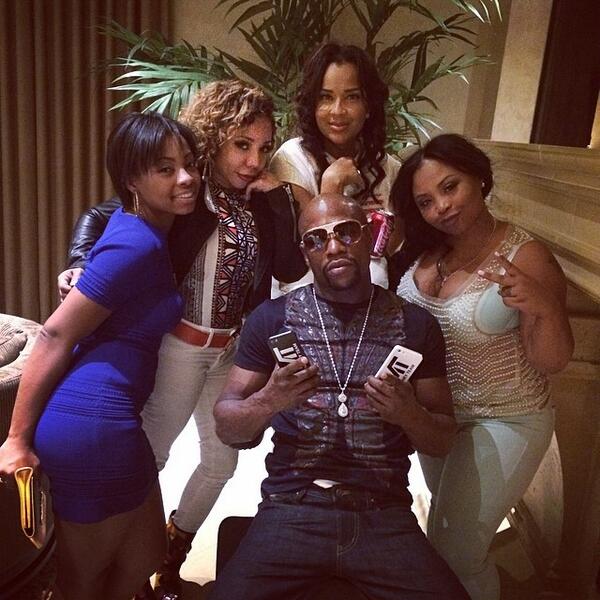 Cheating, adulterous rapper, T.I. tried to fight champion boxer, Floyd Mayweather, after his wife, singer Tiny, started hanging out with the world's highest paid athlete, at one of his favorite spots in Las Vegas, Nevada. Tiny posted a photo to Instagram of herself and Floyd's oldest daughter, Iyanna, who was celebrating her 14th birthday. Tiny and her friends also took and posted an innocuous photo with Floyd (except Shekinah, who had her chi-chis all on the man's shoulder - let the man breathe LOL).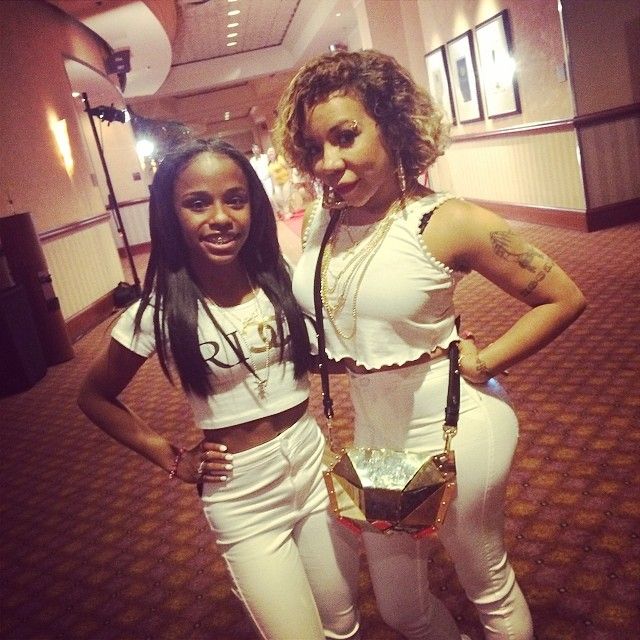 Tiny is a longtime friend of Floyd's and T.I. saw the photos online and became angry. The two pictures were completely above board. T.I. had no right to be angry. However, T.I. is a ladies man, who is cheating on long suffering Tiny and he would cheat in that type of situation, so he is paranoid she was doing the same thing. Not to mention, it's not a good idea leaving your woman around Mayweather, who is also a ladies man (but the boxer does state he would not mess with a married woman).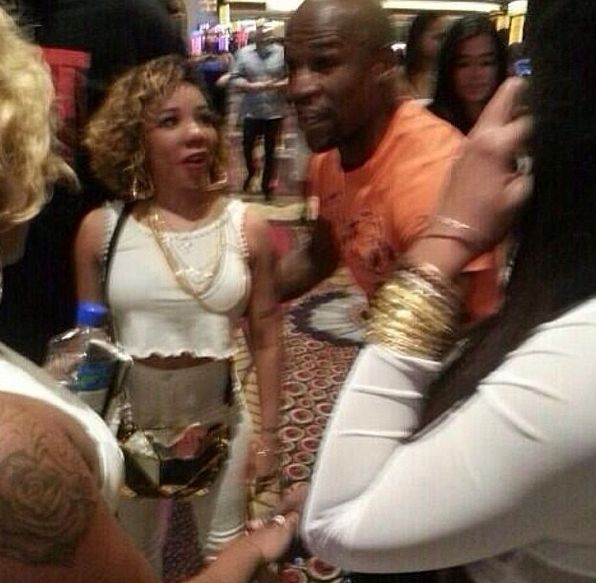 T.I. tracked down Mayweather at FatBurger fast food restaurant and started a fight with the boxer and some of his Money Team members. Punches and chairs were thrown. A Money Team member stated after T.I. swung on one of them, he was repeatedly punched in the face in retaliation for starting the fight.
T.I. was well out of line. Tiny hurt T.I.'s pride by spending time with Mayweather. Some men can't take it when someone good looking and or with more money and fame spends time with their woman. Tiny was looking at Mayweather in a thirsty manner, like she was in the desert and he was a glass of water (I'm just saying, girl, you were looking thirsty...).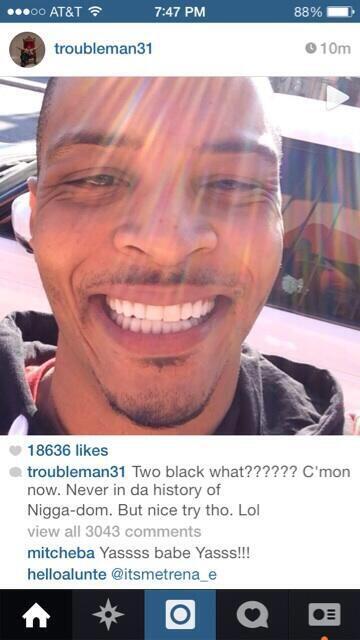 Angry at the unprovoked attack, Mayweather snapped at T.I. and yelled "control your bi**h!" for which he later apologized to Tiny. Mayweather was later filmed at a club stating "That's what I told T.I. 'these ho*s ain't loyal.'" The line "these ho*s ain't loyal is from the Chris Brown song "Loyal" (*looks in Rihanna's direction*). All women aren't disloyal, though.
Warning: video contains explicit language
Mayweather stated he would "not mess with a married woman" and is upset T.I. is insinuating he did regarding Tiny. I don't believe Tiny cheated on T.I., but he is cheating on his wife and he and his ego got what he deserves for being unfaithful. If he had treated her right in the first place, none of this would have happened. She wouldn't have been looking at Mayweather.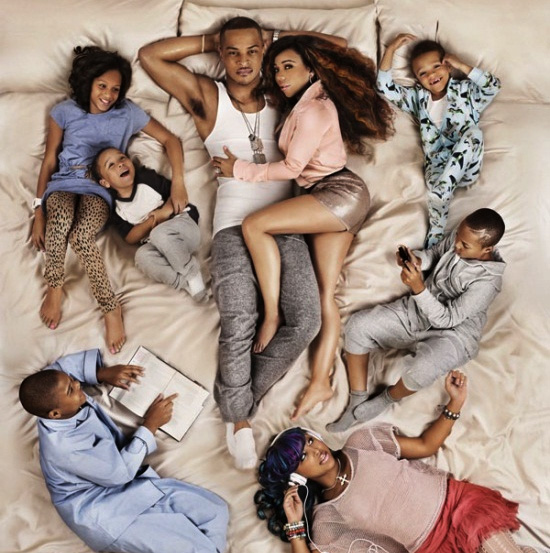 TI, Tiny and their children
Tiny has done so much for ungrateful T.I., helping to make him famous years ago and giving birth to three of his children and how does he repay her? By acting like a dog in heat. He is on Instagram favoriting photos of scantily clad women he is trying to talk to, disrespecting his wife to the world. It is also widely rumored in Atlanta that T.I. impregnated a side chick during his marriage to Tiny and is now living in a bachelor pad in Buckhead (Atlanta). Hmm who's the real cheat. That would be T.I.
Side Bar:
another reminder that you have to be careful of who you pose with on Instagram, because some people will think it's sexual. People often assume you're sexing whoever you pose with on Instagram whether it is true or not.