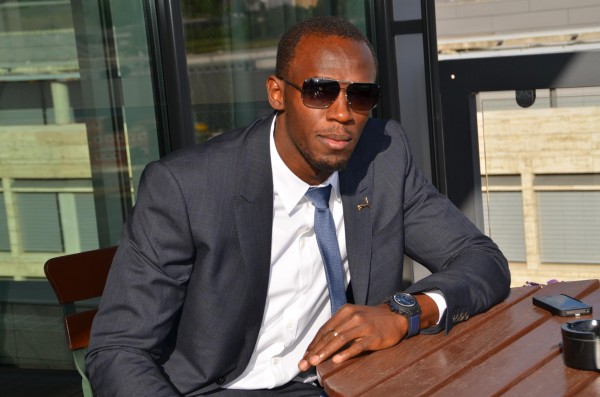 Usain Bolt
The new coach of the Jamaican national football team, Winfried Schäfer, has expressed an interest in gold medal winning sprint star, Usain Bolt, joining the squad for the 2018 World Cup. For years Bolt has stated he would love to play football, especially for his favorite team Manchester United (being the Arsenal fan I am, I'm gagging right now LOL).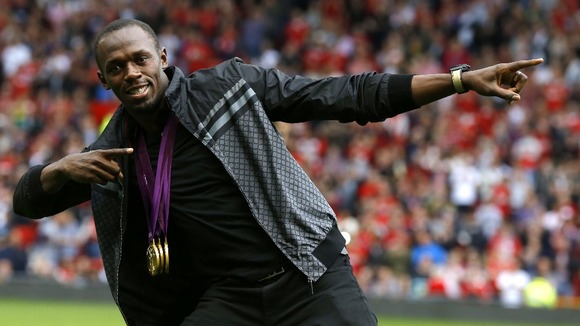 Usain Bolt at Manchester United's Old Trafford grounds
My dad was one of the youngest players ever to play for the Jamaican national team and it is one of his fondest memories. Two years ago, my dad stated he saw Bolt play football and he scored "a solid goal" but was concerned possible injury would negatively impact his sprinting career. He was also one of the charity organizers of a football game Bolt participated in a year ago. He's seen him play and thinks he has potential. My dad, who also coached football and cricket in Jamaica, is longtime friends with Bolt's coach Glen Mills and expressed his hope to him during a conversation that Bolt would dedicate his time to smashing every sprint record he can, as he is fully capable of doing so. That should come first.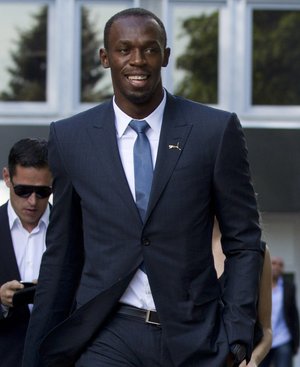 However, this new offer issued by Schäfer this month is for the 2018 World Cup. Bolt has stated he plans to compete in the 2016 Rio Olympic games, after experiencing great gold medal success in Beijing (2008) and London (2012). If training with the Jamaican national squad for the 2018 World Cup comes after and will not interfere with Rio 2016, Bolt should definitely go for it, as it would be a wonderful experience and set a record. Continued success to Bolt.
STORY SOURCE

Schäfer wants Bolt to be Reggae Boy
Published: Sunday | March 2, 2014 - IMAGINE Jamaica tackling Mexico, Honduras, the United States, or any other football team for that matter. The team is pushed back into defence, then wins the ball and launches a counter attack. On the end of that play is Usain Bolt. Winfried Schäfer wants that to be a reality.
The German, who officially signed on as head coach of the Reggae Boyz for the 2018 World Cup campaign, is ready to provide the world's fastest man an opportunity to utilise his much-stated football ambition, only this time in the national team. "In the German newspaper, I read about Usain Bolt saying he wants to play football and he wants to play in Manchester. He's a Jamaican and I want him to be on our team," Schäfer told The Sunday Gleaner, while conducting duties as guest editor for the company's World Cup project, which will be launched on Tuesday.
The sprint icon has openly stated his love for football with English Premier League team Manchester United being his international team of choice. He has even been there for training, having gotten an invitation from legendary coach Sir Alex Ferguson. He has also played a number of charity games locally, displaying good skills and a hard left-footed kick, oftentimes scoring. While in his homeland for Christmas holidays, Schäfer said he received more encouraging news about Bolt's footballing skills, which spiked his interest.
"I heard from Puma, the Puma boss, (Bjorn Gulden, CEO). He said he (Bolt) played many times on the small team and he's not bad. "But we can make him better," Schäfer remarked. "When he has good training with our team here in Jamaica, we can make him a very good player. He's very fast, that's clear, but when he learns with the ball then he'll be one of the best players.
Jamaican hero
"This is our goal," the Reggae Boyz coach insisted. "Maybe after the Olympics in Brazil (2016), I want to see him here in our training, that is what I want to tell him...