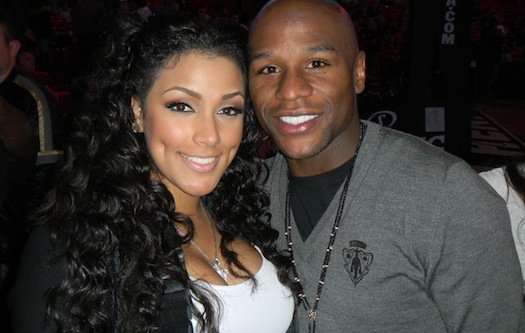 Shantel Jackson and Floyd Mayweather
Floyd Mayweather recently split from his fiancée, Shantel Jackson, after three years of dating. They kept breaking up and getting back together, but this time things look bad, as she removed a tattoo she had done in tribute of him.
Side Bar: why do people get tattoos of the names or picture of the people they're dating etched onto their bodies. My attitude would be, can't I just by a chain with your name on it. That way if the relationship doesn't work out you can sell the chain as scrap gold and get paid for it. Why have a broken heart and a tattoo to remind you of what happened.
But I digress. This month, Jackson and some of her supporters on social networking were directly and indirectly complaining about Mayweather's massage therapist, bottle blonde Doralee Medina, also known as Bad Medina. Prior to that, the Judiciary Report did an article regarding Mayweather bankrolling a business Medina is starting in the cosmetics industry.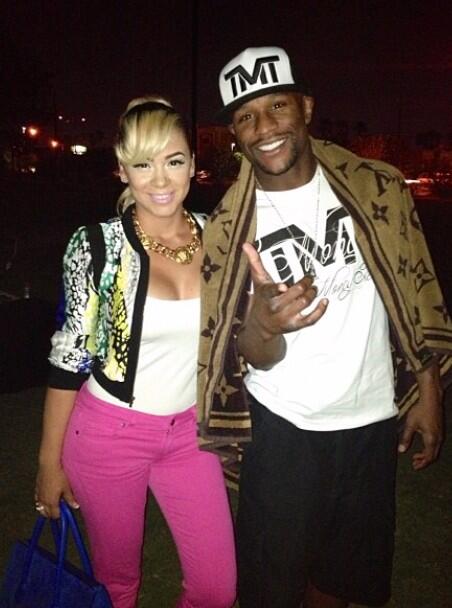 Doralie "Bad" Medina and Floyd Mayweather
Of course, Mayweather has been having sex with Medina, among others. Floyd has a fleet of hoes (sorry, there's no polite way to put it and what he's doing is dangerous to his health). Jackson disliked how close he became to Medina, who repeatedly made herself available to him. However, when Jackson entered the picture, she knew Mayweather was with the mother of three of his four children, Josie Harris. She broke them up after a while and lied to Harris about what she was doing in dating him. You reap what you sow, as now Medina has done the same to Jackson.
Jackson doesn't seem heartbroken over the split. That's because she doesn't love Mayweather - only his money and fame. Most women would be devastated breaking up with their fiance. Jackson is still going places with a grin on her face, hamming it up for the cameras.