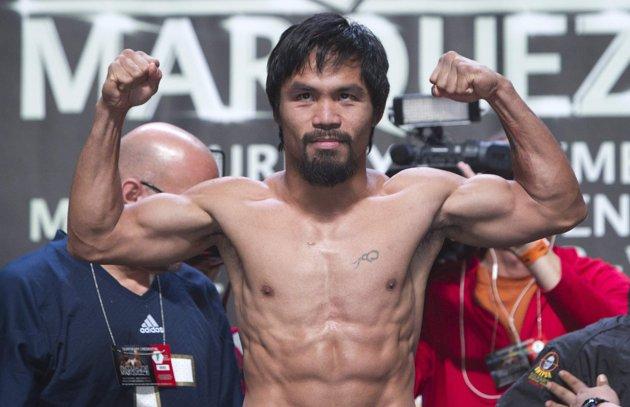 Manny Pacquiao is facing IRS tax problems and contract issues
Franklin Gacal, the lawyer of well-liked Filipino boxer Manny Pacquiao has revealed the star is seeking a release from his existing contract with Top Rank Boxing promoter Bob Arum. As stated on the site previously, welterweight champ, Floyd Mayweather, stated he will not fight Pacquiao as long as he is represented by Arum. Pacquiao's contract with Arum runs out December 2014.
Much of Pacquiao's tax troubles that Mayweather keeps bragging about, are being blamed on adviser, Michael Koncz, who has hidden the beloved fighter's contracts (with Top Rank Boxing). Pacquiao's lawyer stated, "Well, it appears there is really a problem. The IRS is claiming there is a tax deficiency. If there were some mistakes, it was Mike's fault. Why did it happen? They were supposed to have hired accountants. At the end of the year, after the filing of the tax returns, all problems should have been solved. If the US still has claims, there should be problems with recording and everything. So this is the point man's fault and that is Mike."
Mike (Michael Koncz) suffered a stroke and is paralyzed on the right side of his body. It is not known whether his mental faculties are intact enough to make a clear representation of exactly what he did with Pacquiao's business and contracts. Pacquiao's lawyers need to continue talks with the IRS showing good faith, in attempt to work through the tax issue. If they sense a genuine desire to rectify the deficiencies, they will work with you and a payment plan can be established.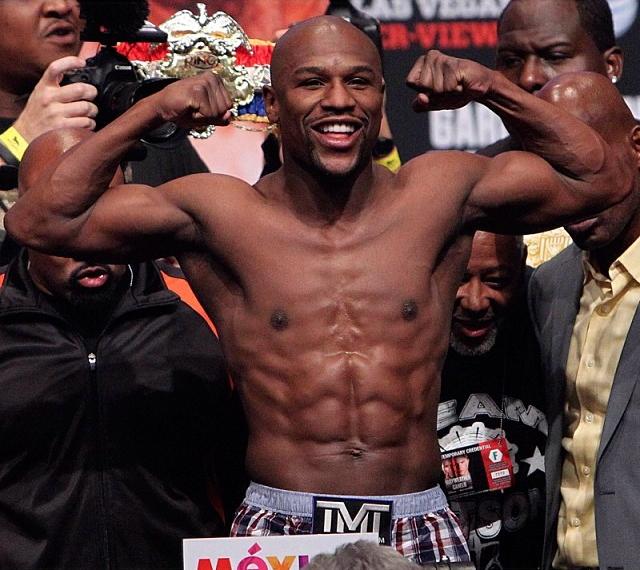 If boxer Floyd Mayweather does not fight Manny Pacquiao his legacy will be incomplete with folks continuing to state he is scared of him.
It appears Pacquiao trusted the wrong people, which has happened to others. For example, gifted musician, Billy Joel, who is one of the most talented singer/songwriters ever, made a fortune from his talent, but someone close to him stole and squandered $20,000,000 of his earnings. In the entertainment and sports world, the general rule must always be, trust no one and verify all items presented to you. While there are decent, honest people in both industries, there are opportunists and thieves as well, who are always looking for someone to rob and exploit. Protect yourself and your financial future.
In closing, Money May is still trash talking stating, "Pacquiao had his opportunity. He had his chance. When he had his opportunity and he had his chance, I guess he was tooting his own horn and he felt like he was on the same level as me. It's obvious he wouldn't have asked for 50/50. So now, two losses later and he's got a problem...when I offered you $40 million, you turned it down...Pacquiao got IRS problems. Pacquiao got pay-per-view number problems. Pacquiao's boss name is Rob Arum. Pacquiao owes $68 million in taxes..."
Who knows what Mayweather's true feelings are regarding wanting Arum out of the picture. However, it is Mayweather's right to decline to fight anyone in Arum's stable. Just like it is Pacquiao's right to seek a new promoter when his contract with Top Rank Boxing expires at the end of the year. That's sports.
Both Pacquiao and Mayweather have to do what's best for them. It's not a matter of being cold, calculating or callous. They both need to seek the best compensation package in any deal they pursue, as they have families to support and need to plan for their financial futures. It's unfair to work so hard and not be able to enjoy the fruits of one's labor. Once again, protect yourselves and be smart with your money (or someone else will).
STORY SOURCE
PACQUIAO LAWYER, FRANKLIN GACAL, BLAMES MICHAEL KONCZ FOR TAX ISSUES AND HIDING CONTRACTS; URGES PACQUIAO TO LEAVE
January 07, 2014 - In a recent interview, Manny Pacquiao's long-time Filipino lawyer, Franklin Gacal, raised a number of eyebrows after urging promoter Bob Arum to release the multi-division world champion from his contractual obligations. Responsible for reviewing all of Pacquiao's contracts, both in and out of the ring, Gacal has long-been considered one of the closest confidants of the fighting congressman from Sarangani, who named him his Chief of Staff after his election. To the surprise of many, Gacal revealed that he has never seen Pacquiao's current contract with Top Rank thanks to adviser Michael Koncz, who apparently kept it hidden from him...
Gacal also suggested that Koncz may not have Pacquiao's best interest at heart and is more concerned about maintaining good relations with Arum. "Mike looks up to Bob Arum when Pacquiao is done with boxing. When Pacquiao is done, who is he? So he has to maintain his good relations with Bob Arum," Gacal continued in an interview with Edwin Espejo of Rappler.com. He went on to explain why Pacquiao has kept Koncz around for so long. "Manny is a good man. If you show him loyalty and you really work for him, you will be rewarded. Steal from him 10 times and asked for forgiveness once, he will forgive you 11 times."...
It seems now, even members of Pacquiao's inner circle agree with what Alex Ariza first told FightHype readers over two years ago; that Bob Arum and Michael Koncz are preventing a mega-fight between Floyd Mayweather and Manny Pacquiao from taking place. "For this fight, Arum should not be involved. That is the only way for the fight to happen. Everybody wants the fight. Bob should give way if that is the only way. That is the advice I can give to Manny for now," Gacal added.