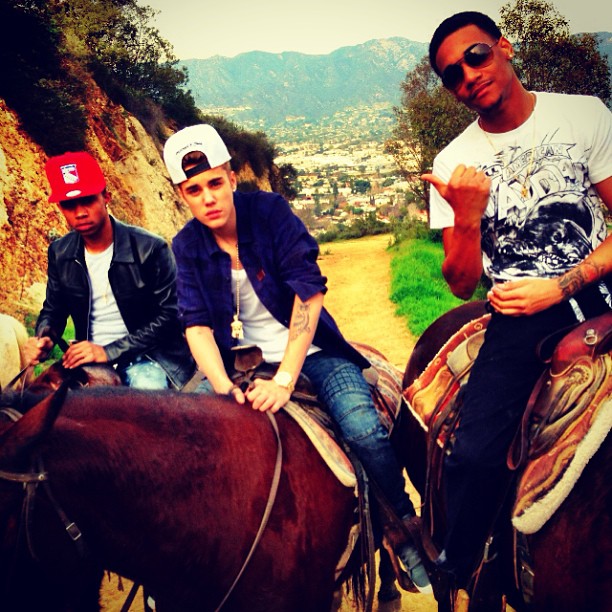 Lil Twist, Justin Bieber and Lil Za
19-year-old pop singer Justin Bieber is in more legal trouble. After egging his neighbor's mansion in Calabasas, California, costing damage estimated to be $20,000, Bieber and his buddies are in trouble and facing felony charges. What may have seemed like a fun and mischievous way to spend their night, has turned ugly fast. Bieber's neighbor called the police, who contacted the district attorney and raided the teen pop star's house days later. Bieber was detained in his garage by police.
Police searched the property, not disclosing exactly what they were looking for in the residence, but Bieber's friend, rapper Lil Za, was arrested for drug possession and placed in jail. Lil Za, born Xavier Smith, is now up on felony drug possession charges, over what is "believed to be cocaine" that was in "plain view." The police did not indicate if it was a saleable amount of narcotics.
The Judiciary Report has consistently maintained for over a year that Justin Bieber needs to calm down and cut ties with certain people in his life, such as Lil Za and fellow rapper, Lil Twist. They are not a good influence and keep getting him into trouble. They've caused the police to show up at his property in the past, due to loud, drug fuelled parties. The Judiciary Report is not writing off Za and Twist, because sometimes people make bad choices, but recover very well. However, until Za and Twist change their ways, Bieber needs to keep to himself.
Bieber also bears some blame for what has transpired. He has made enemies out of his neighbors by getting into confrontations and speeding in a gated community where kids play on lawns, walk on sidewalks and cross streets. He is in an environment that has his neighbors stating he has "entitlement" issues. When one is surrounded by yes-men and yes-women, not being told the truth and the word "no" when one is doing something wrong, disaster will strike.