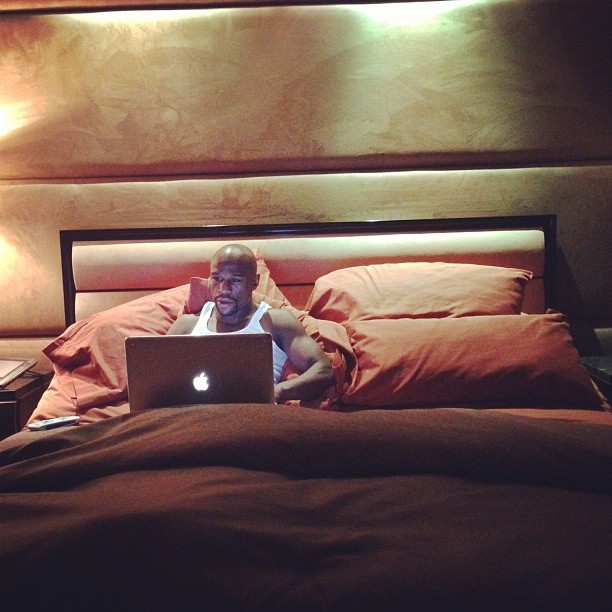 Floyd in his bedroom that has suede walls
Undefeated boxer Floyd Mayweather has made an estimated $200,000,000 from fights in the ring. His most recent big payday a few months ago, netted him $40,000,000, for the fight against Canelo Alvarez. Mayweather proudly displayed the $40,000,000 check online and immediately began a huge shopping spree.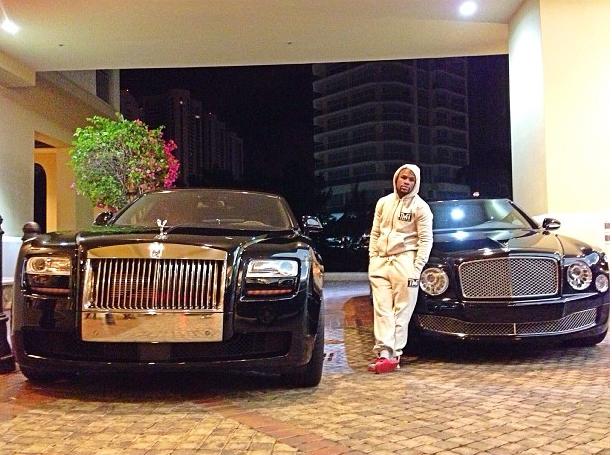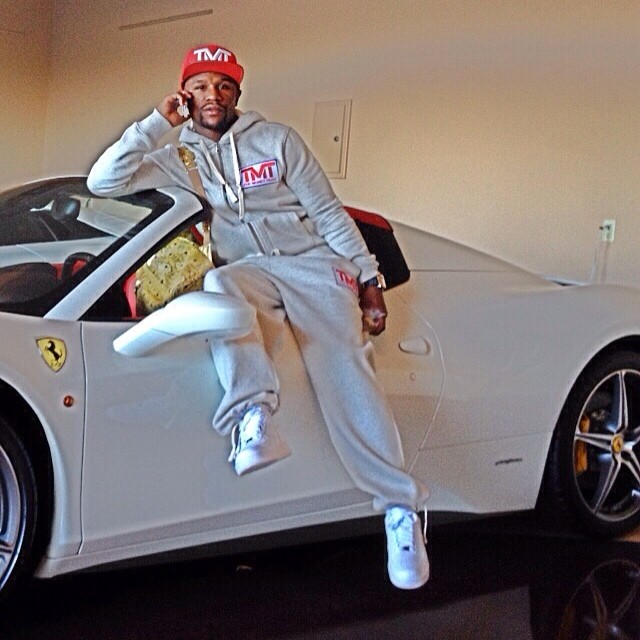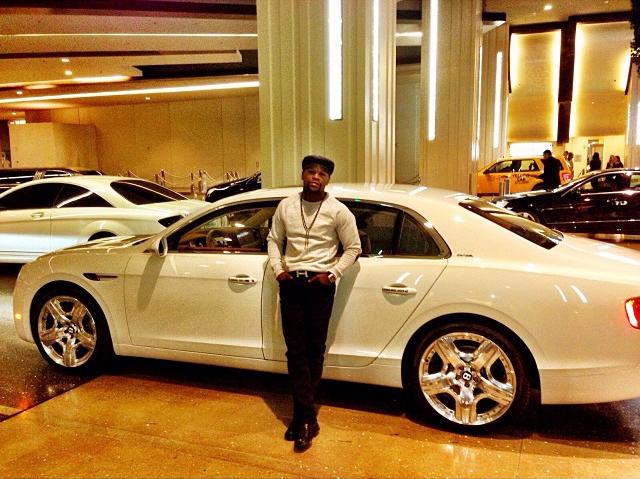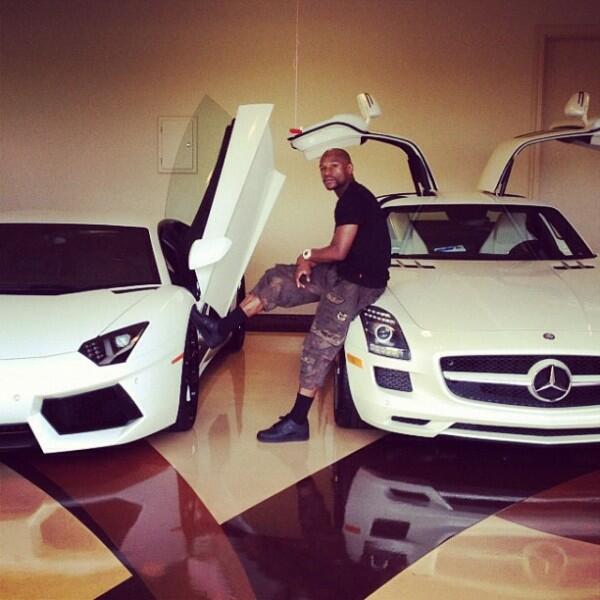 Mayweather owns several million dollars worth of luxury vehicles
Mayweather bought his and hers sports cars valued at a million dollars. He also purchased diamond watches and chains for himself and his gold digging fiancée Shantel Jackson, valued at over $250,000. These items add to other extravagant purchases Mayweather has made, such as $1,000,000 in Hermes handbags, which he proudly displayed in an Instragram photo on social networking.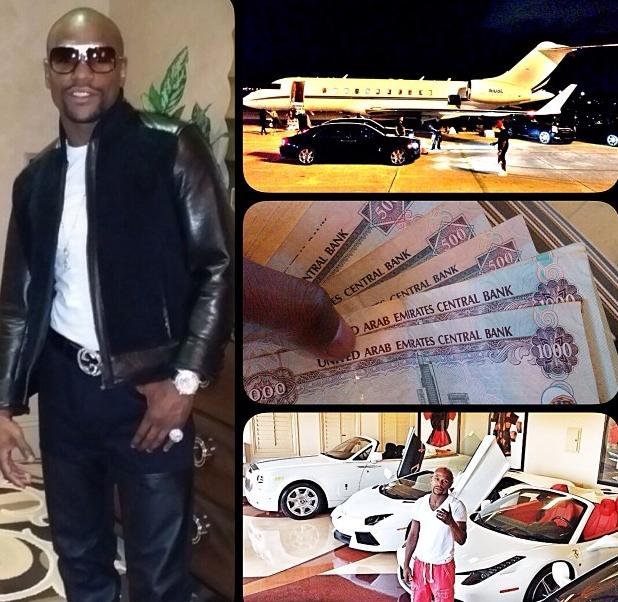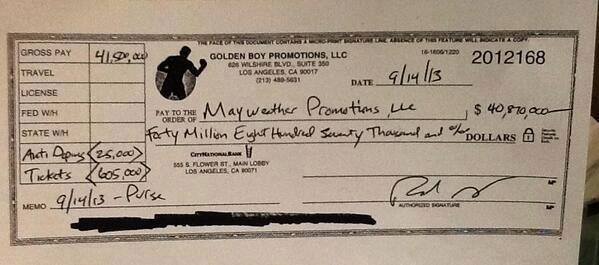 Mayweather displaying some of his wealth on Instagram
Mayweather has also spent several hundred thousand dollars on other girlfriends, such as Queen Princess Love who used then betrayed him for rapper/reality star Ray J. He spends significant sums of money on a large entourage, who travel and dine everywhere with him, staying in lavish accommodations.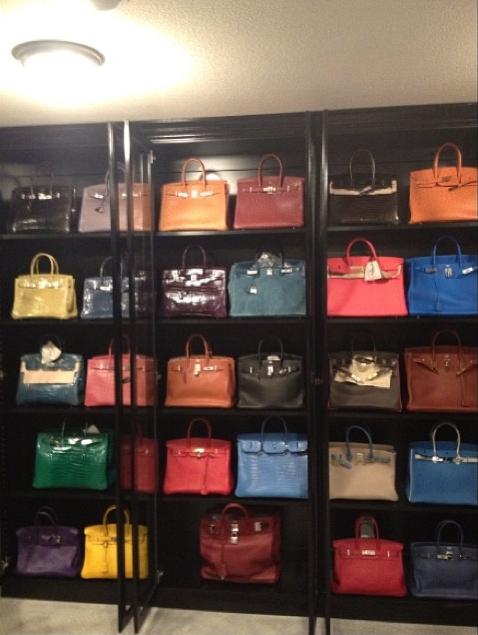 Floyd's $1,000,000 in Hermes Birkin handbags he uses to catch women (LOL). On Instagram he proudly displayed the bags with a message stating "F*** with me you know I got it #hermes #birkin"
Mayweather also purchased several other luxury vehicles valued at over $3,000,000. His G4 private jet comes with a price tag of $30,000,000, with $250,000 in yearly refueling costs, in addition to storage and maintenance fees. Mayweather owns several lavish homes in America, valued at over $15,000,000, whose mortgages, insurance, taxes, utility, association and maintenance fees are massive. His homes are stocked with millions in lavish furnishings, gadgets and decorator touches, such as suede walls.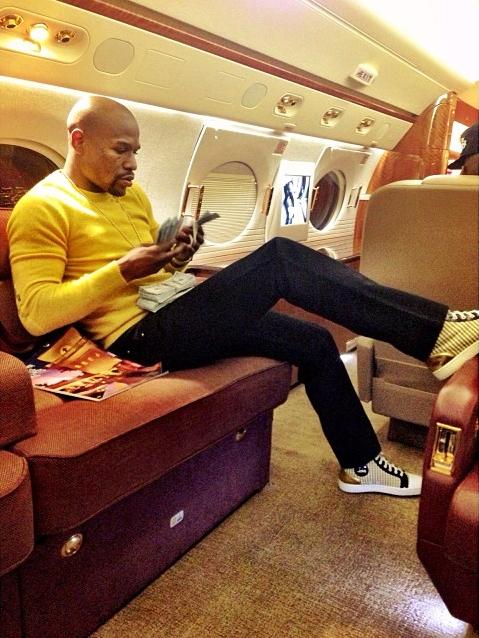 Mayweather in his G4 private jet
Mayweather has four children by two women and pays sizeable monthly sums in child support, maintaining two lavish households (it's good that he is taking care of his children). He even gave one of the mothers of his children a $500,000 diamond ring for her birthday.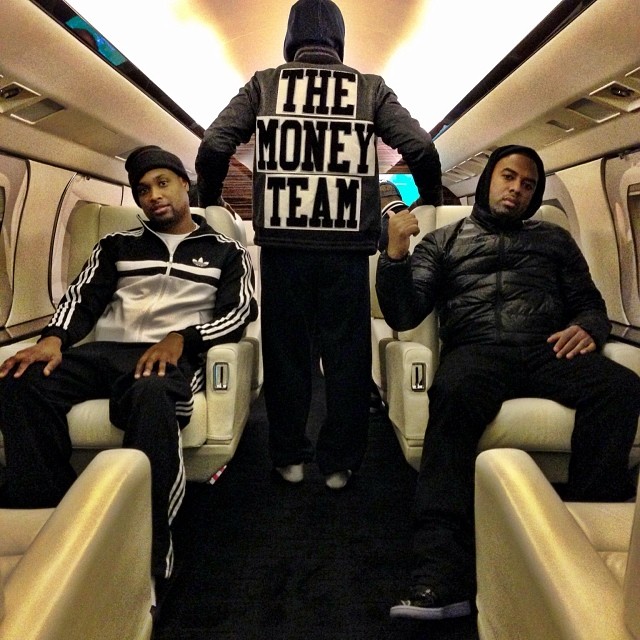 Mayweather in his G4 private jet with two members of his entourage
According to GQ magazine, Mayweather spends $12,000 per week at his favorite Japanese restaurant. As delicious as Japanese food is, that's $48,000 per month, $576,000 per year at the same restaurant. This is in addition to other restaurant and food bills Mayweather racks up, plus personal chefs at his home and that of the mother of his children. He spends roughly a million a year on clothes for himself and his women as well. In short, Money May is running up some serious bills.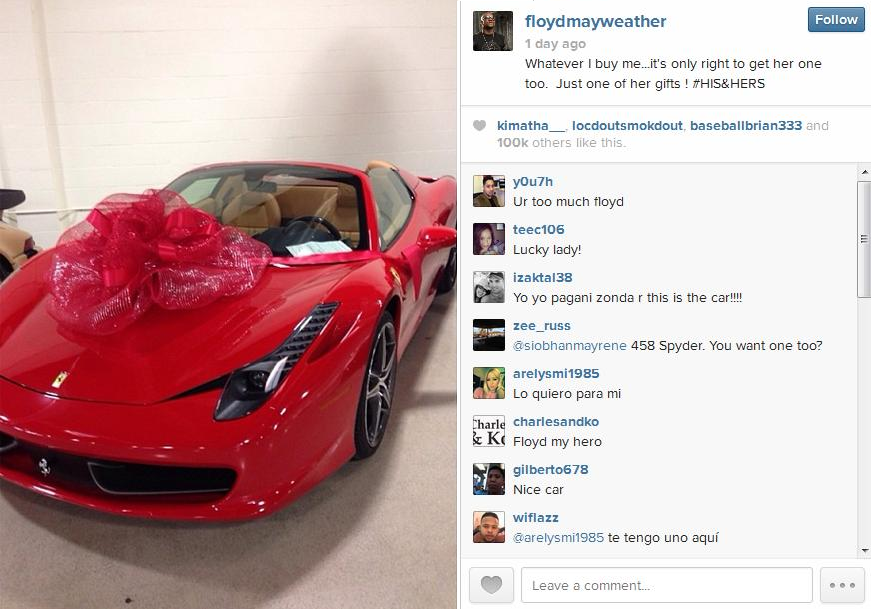 Floyd Mayweather's his and hers purchasing sprees is putting a dent in his finances
With all of Mayweather's wild spending, reminiscent of heavyweight champion Mike Tyson, who blew threw $150,000,000 in the 1980s and 1990s, ending up broke for a time, until he made a comeback and began spending more wisely, is Floyd headed for financial disaster.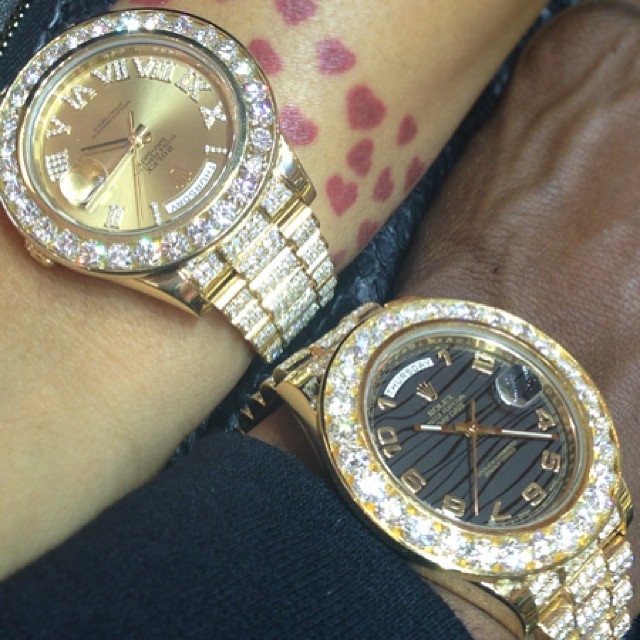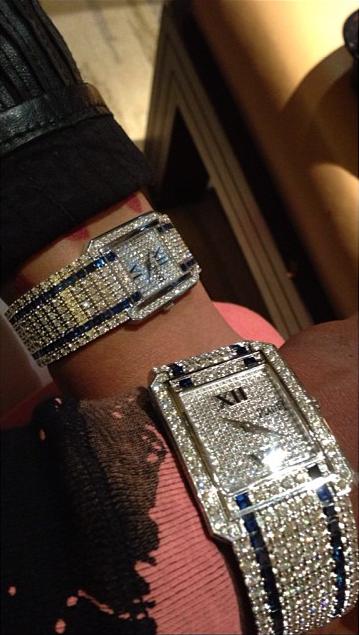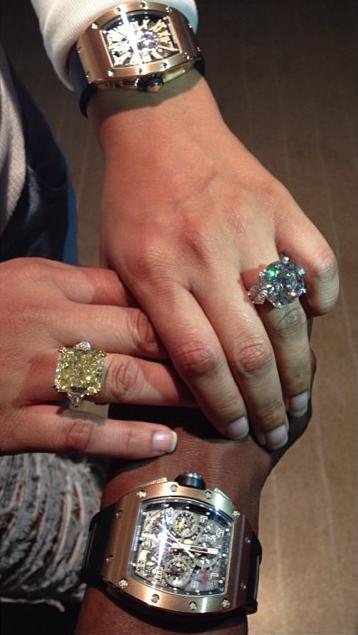 More his and her purchases by Mayweather for himself and Shantel Jackson, who's not even his wife (Mayweather is getting played!)
Mayweather has spent millions on fiancée Shantel Jackson, who cheated on him. They've been together for 4-years, engaged for three and still haven't gotten married. They are clearly not compatible. Does she even love you? No. Do you even love her? No. I think you love how she looks (and looks fade), which is a terrible foundation to build a relationship or marriage on, because that will not last.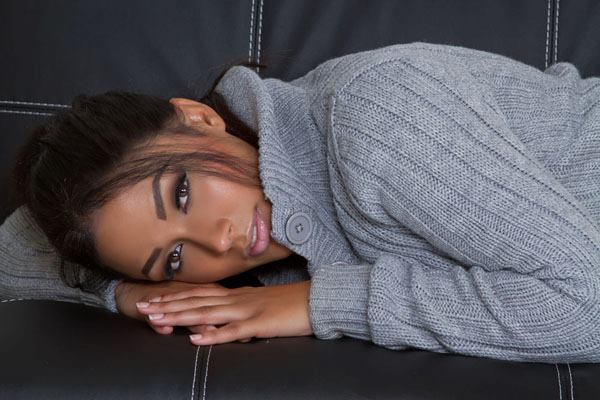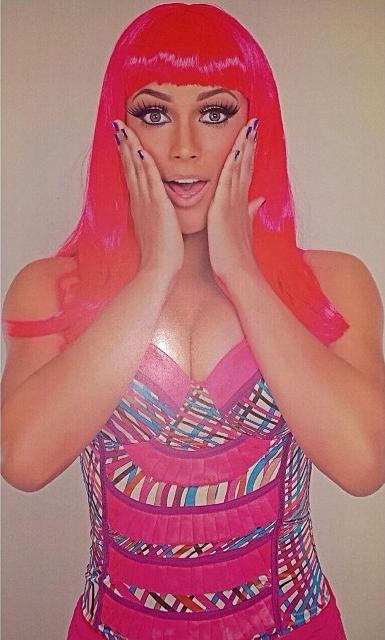 Shantel Jackson, a very materialistic rumored former call girl, is used to sleeping with men for money and gifts such as jewelry and designer handbags
Not to mention, you're still harboring feelings for the mother of your children, Josie Harris, who by the looks of it is your true love that you keep going back to sexually and emotionally. That's who you should marry.
That's clearly who you love. At least Harris loved you when you were broke and unknown. She was with you when you had nothing to give her and no fame for her to bask in. Yet, she dated you. That's real love, not materialistic women you have to buy, like Jackson and Queen Princess Love, who vicariously throw your name around on Instagram and Twitter for attention.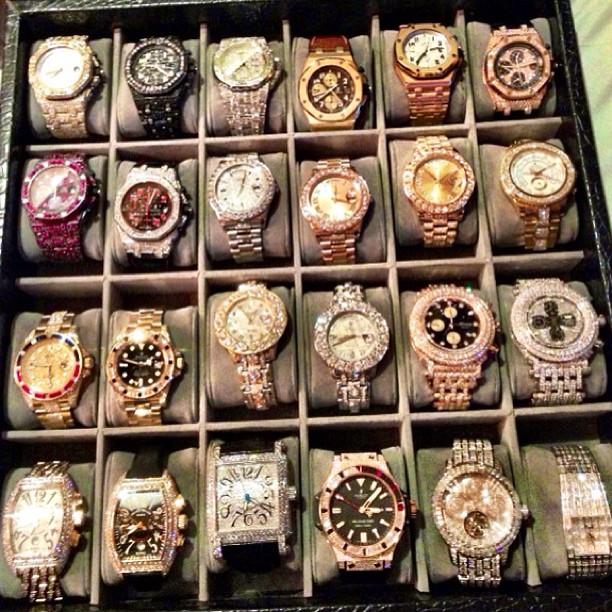 Mayweather's $6,500,000 in watches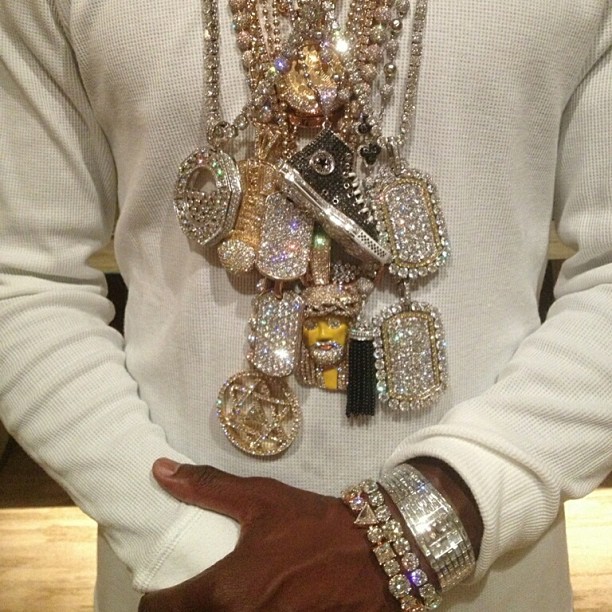 Millions more in Mayweather jewelry
Mayweather may think anyone who writes about his wealth wants his money, but that's not it. I don't want Mayweather's money nor am I resentful of his wealth. At the end of the day, to see someone come from an impoverished background, work hard to amass a sizable fortune, then get taken advantage of by gold diggers and hangers-on is sad.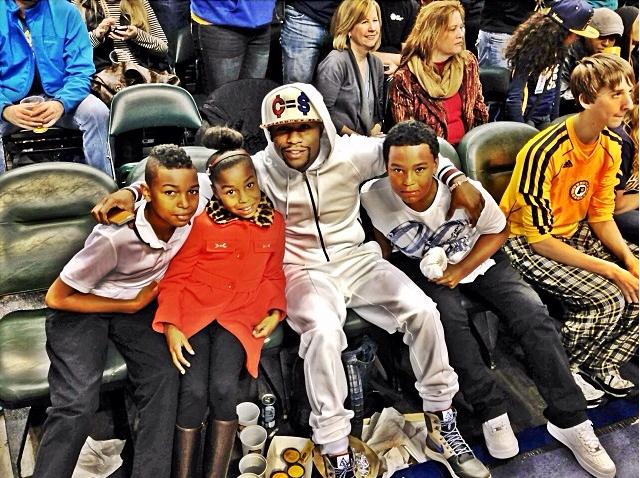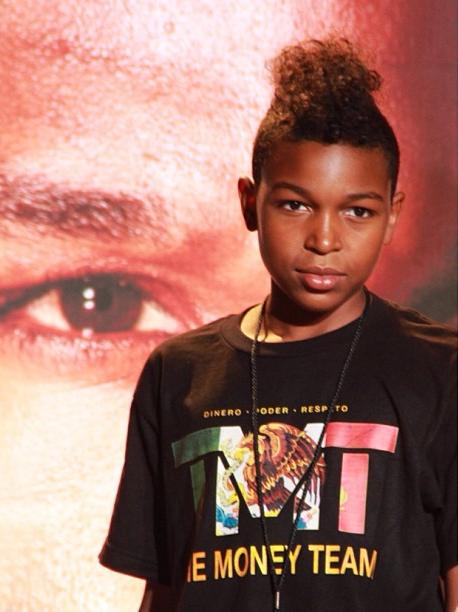 Floyd Mayweather's beautiful kids with Josie Harris
So is engaging in excessive spending, which reminds me of others who've walked that same path and lost everything. No decent person would want to see that happen to another. Not to mention Mayweather has kids. What's going to happen to them if he goes broke. They need a trust fund. Furthermore, these displays of materialism and constant boasts about money are not good for children to witness, as it will give them the wrong impression about life, love and money.