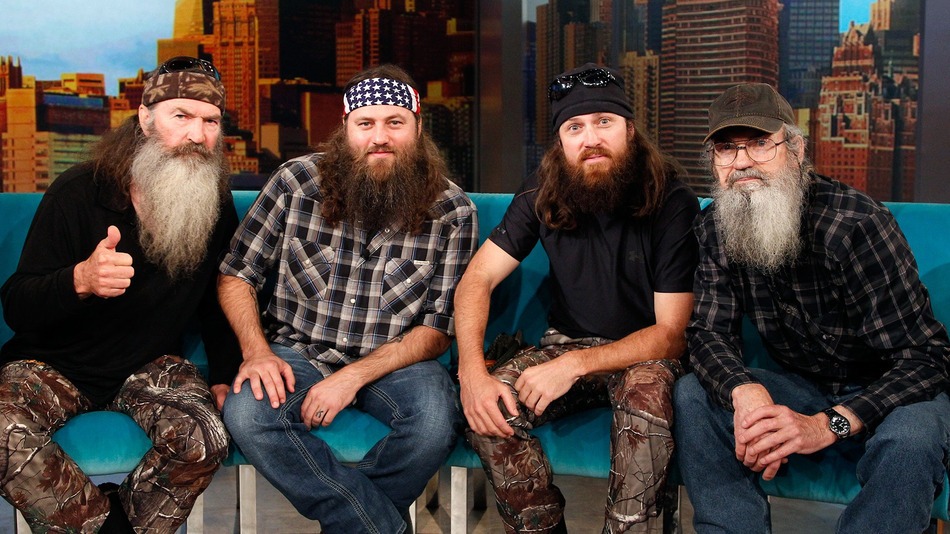 "Duck Dynasty"
According to Yahoo, GLAAD is reeling from the fallout accompanying their decision to attack "Duck Dynasty" reality star, Phil Robertson, on behalf of secular Hollywood, over a comment he made questioning why gay men prefer an anus to a vagina. GLAAD has damaged the A&E network, by having a meeting with executives and forcing them to fire Robertson.
GLAAD forced A&E's hand and hurt their business, during hard financial times, all over free speech protected by the Constitution. GLAAD is being power mad and selfish. Americans became enraged at what transpired and announced a boycott of A&E, which could slide into bankruptcy.
GLAAD also began harassing "Duck Dynasty" sponsors, who rejected their requests to drop the most popular reality show in American television history. Sponsors have maturely stated Robertson is entitled to his views. GLAAD predicted Walmart would suffer a sales decline due to having an exclusive line of "Duck Dynasty" merchandise.
However, Americans upset at GLAAD attacking Robertson made it a point to go to Walmart and buy "Duck Dynasty" merchandise. Walmart sold out of "Duck Dynasty" merchandise the next day. It was the American people's way of sending GLAAD a clear message, freedom of speech applies to everyone in America. Leave the Robertsons alone.
Side Bar:
It's time for GLAAD to grow up. I don't agree with things Rush Limbaugh, Bill Maher and Farrakhan state, preferring the views of men like Martin Luther King jr., but I'm mature enough to simply change the channel, not destroy a man's livelihood over lawful speech.
STORY SOURCE

'Duck Dynasty' Fallout: GLAAD Reeling From Biggest Backlash in Years, Says Rep
By Jethro Nededog December 19, 2013 5:00 PM - In the fallout over Wednesday's suspension of "Duck Dynasty" star Phil Robertson by A&E for anti-gay and racist remarks, GLAAD is experiencing record levels of backlash.
"In the five-and-a-half years I've worked at GLAAD, I've never received so many violently angry phone calls and social media posts attacking GLAAD for us speaking out against these comments," the media watchdog organization's vice president of communications Rich Ferraro told TheWrap. He said those reactions range from those who simply believe as Robertson believes to those who feel that GLAAD and A&E's actions limit the reality star's free speech...