Mayweather The Subject Of Security Breach After Security Breach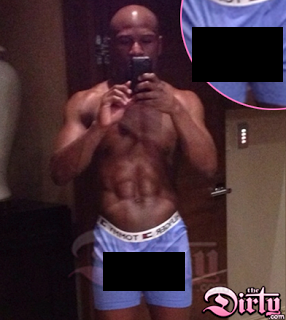 Floyd Mayweather selfie goes public (Photo redacted by the Judiciary Report)
Boxer Floyd Mayweather keeps letting all the wrong people into his life and getting burned for it. First, stripper Queen Princess Love betrays Mayweather with former friend and reality star Ray J. Then she calls up a thug to rob his home she was staying in for free and publishes his text messages, violating his privacy.
Now Mayweather is facing betrayal again, via an unnamed woman he sent a selfie of himself in his underwear, trying to tempt her into having sex with him. The attention seeking individual betrayed him by sendingthe photo to the Dirty website, along with a description of his manhood, criticizing the size of his penis.
The woman stated to the Dirty website, "Not all black people are created equal. I'm hoping you post this and maybe Floyd will stop sexting me pictures of his three inch penis. You ain't packing honey." That's not nice. That's how God made him. This incident is another example of Mayweather bringing the wrong type of people into his life.
Mayweather needs to stop showing off his wealth, as inevitably it will attract the wrong people. You have to ask yourself, who would still be in your life if you stopped buying them things and letting them feed off of your spotlight. Who would be there just for you and not what you give and do for them.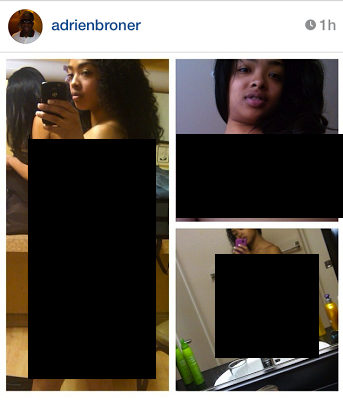 Boxer Adrien Broner disses Queen Princess Love and Ray J who is exploiting her (Photo redacted by the Judiciary Report)
In other Mayweather news, fellow boxer, Adrien Broner posted nude photos of Queen Princess Love to Instagram, slamming Ray J. The photos are unflattering and are being roundly criticized by the public, as the twenty-something Queen Princess Love looks rough.