It's About Time!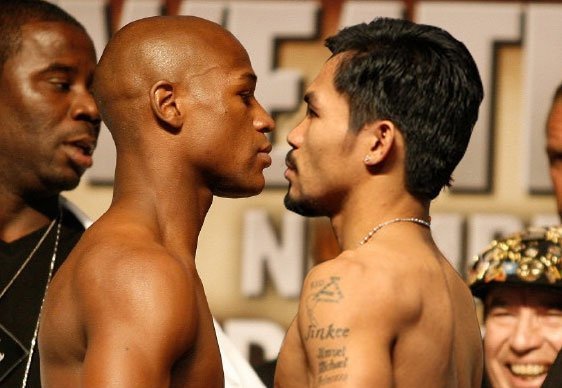 Floyd Mayweather and Manny Pacquiao
Champion Floyd Mayweather is hinting at getting in the ring with superb fellow boxer Manny Pacquiao. This is the fight everyone is waiting for. It would be tremendous. It appears to be a step closer to happening, as Mayweather was quoted by Yahoo as having recently stated, "'My focus is May 3rd. I don't know who my opponent will be,' Mayweather said. 'If it's Pacquiao, it's Pacquiao. If it's Amir Khan, it's Amir Khan. For 17 years they've been putting guys in front of me, and I've been beating them. Come May they'll put a guy in front of me, I'll go to training camp, work hard, and the results will be the same.'"
Yahoo stated regarding Mayweather's comments on Manny Pacquiao, "That's the first time Mayweather has acknowledged Pacquiao as a potential opponent in quite some time." This could mean a fight is on the horizon. Anything less wouldn't be fair to sports fans. For the Judiciary Report's take on the potential fight please read
Is A Floyd Mayweather vs. Manny Pacquiao Fight On The Horizon
.
STORY SOURCE