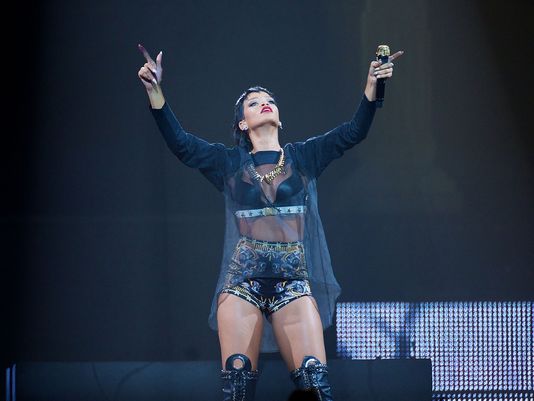 Rihanna clearly singing to herself because the crowd was booing her
Rihanna's fans continue to turn on her. Thus far this year, Rihanna has been booed in New York, Boston, Paris and now Australia. Rihanna showed up 80-minutes late for her concert in Adelaide, Australia and was vociferously booed by her audience. That's not a good sign.
Rihanna's insistence on snorting cocaine, smoking weed and drinking large quantities of alcohol is causing her to show up late to concerts and other engagements. She is an unprofessional, non-singing copyright thief faking her way through a career based on fraud. She's been passed around among so many men and women in the entertainment industry for career favors, she is getting high as a kite in trying to quiet her conscience.
This week the blog Crazy Days And Nights reported Rihanna had recently overdosed in her home country Barbados and a doctor had to be called to revive her. Earlier in the year, Media Take Out reported Rihanna had overdosed as well. There were similar reports last year as well. She is playing with fire and one day drugs and alcohol are going to call her number.
What's ironic is Rihanna has been trying to do damage control this week after the embarrassing Teyana Taylor Twitter feud where she got her butt handed to her in front of her so-called Navy, known on the Judiciary Report as the dinghy cause there's not a lot of them left judging by her declining sales. By the way, thanks to all the folks who've been boycotting Rihanna for stealing from me (
Rihanna's Rip Off Movie Battleship Is Pronounced The Biggest Bomb Of 2012
).
STORY SOURCE

Rihanna Booed On Adelaide Stage For 2013 Australian Diamonds Tour - Over An Hour Late!
27 September 2013 - Rihanna's Australian tour continues to get negative reviews, after the urban superstar arrived over an hour late at her Adelaide show last night. On top of rumours that the 25 year old has not been singing a lot at her concerts, and hasn't included enough 'hits' in her set RiRi emerged on stage at the Adelaide Entertainment Centre last night at 10:20pm after being scheduled for 10pm. The crowd were less than forgiving, and booed her as she arrived.