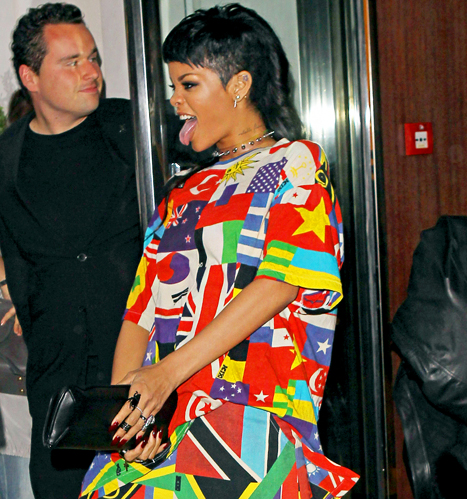 That would be Rihanna. Have you guys ever seen such grace and class (yea, I didn't thinks so)
It's amazing that it is being reported R&B singer Chris Brown and his rival, rapper Drake, have made peace in their acrimonious dispute regarding singer Rihanna, whom both men dated. However, Rihanna continues with her horrible antics and divisiveness, as she bullied singer Teyanna Taylor this week on Twitter and Instagram, much like she and her friends and cousin did to model Karrueche Tran, the girlfriend of the love of her life, Chris Brown.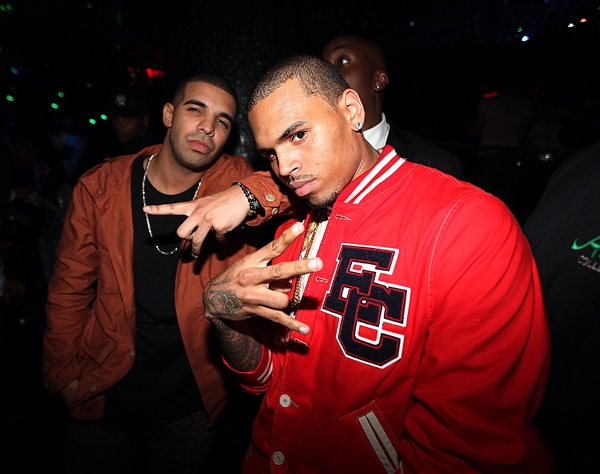 Drake and Chris Brown: she ain't worth it!
Rihanna keeps showing her true colors that she is the real troublemaker. I can tell you true stories regarding unprovoked sadistic things Rihanna has done regarding me behind the scenes, due to my unpublished, Library of Congress copyrights she has been infringing (
Rihanna And Madonna's Kabbalah Committed Copyright Infringement In Stealing The Film Battleship
). It's like she gets off on causing others harm.
STORY SOURCE

Chris Brown & Drake Finally Kiss & Make Up, Spotted Hugging & Drinking Together
Wednesday, Sep 25, 2013 1:05PM - The long-lasting feud between Chris Brown and Drake appears finally over as reports claim the one-time music rivals have placed their differences behind them. According to reports, Chris Breezy and Drizzy formally ended their dispute a few days ago in Nevada.
The musicians -- who got into an epic fracas at Soho nightclub W.I.P. in 2012 -- hugged it out at the iHeartRadio Music Festival in Las Vegas over the weekend. Sources tell us Drake and his crew came to the music fest on Friday specifically to watch Brown's performance. "Drake came on Friday with his whole crew, and watched Chris' entire set," we're told. After Brown came off stage, a spy told us: "They were backstage hugging and drinking." We're told the reunion went so well, the two even talked about creating some tracks together…

Rihanna Says She "Hates Partying" And Is a "Square"
September 27, 2013 AT 2:40PM - Rihanna said in a recent interview that she "hates partying" Rihanna said in a recent interview that she "hates partying," and considers herself a "square." Maybe watching Miley Cyrus twerk is enough to make even Rihanna tired. The "Diamonds" singer, who is as wont to make headlines for her after-hours shenanigans as her chart-topping hits, told British talk show host Alan Carr on Friday, Sept. 27, that her lifestyle has changed.
"Recently I've become a square. I hate partying. I don't know if it's my heels -- I don't like standing in my heels for hours. I don't know if it's that, but I've been so bored of it. I don't know if it's because it's the same music every night," she continued of hitting clubs around the world. "Maybe we need some more Djs. I am such a bootleg rock star. I do nothing, literally," she said of her lifestyle. "I'm embarrassed to say that actually. That's so disgusting. That's f*****g pathetic."