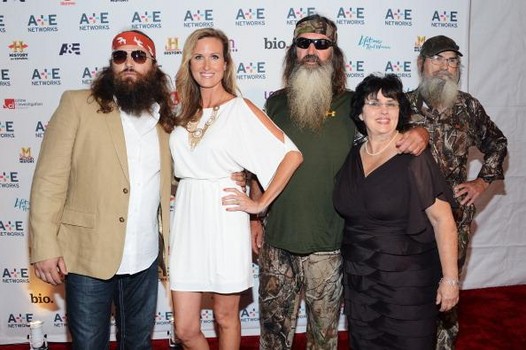 The Robertsons
The delightful Robertson family are back with season five of their very popular reality show "Duck Dynasty." The new season premiere featured a surprise wedding ceremony for Phil and Kay, who have been married for almost 50-years, which is amazing.
They had a beautiful ceremony to commemorate their love. They've had their ups and downs when they were younger and hey none of us are perfect, but it's great to see they've stuck together for so many years. Very admirable.
During the renewal of their vows, Miss Kay told her husband Phil "I'm not going anywhere" and "I will love you forever." That's so sweet. Phil responded he will be with her until they put him in the ground. That's beautiful. I think I'm gonna cry...
Side Bar:
Since I've been watching the show, I've thought Jase's wife Missy looks like country music singer Faith Hill. During this episode, Missy sang beautifully.
Side Bar 2:
Y'all know Miss Kay and Phil, who are in their sixties, are still doing it, right. I'm just saying. Seriously, it's beautiful when couples remain in love.
RELATED ARTICLE