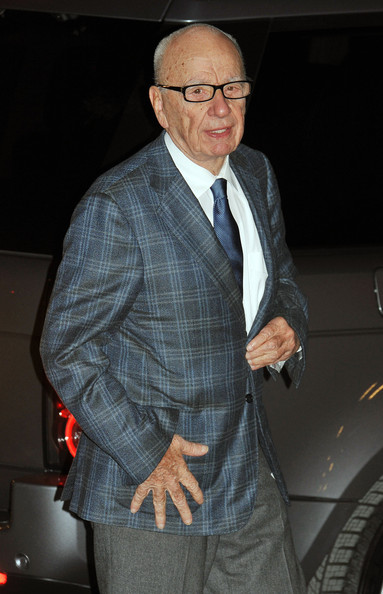 Rupert Murdoch
[Article background: this is another in the series of phone hacking articles the Judiciary Report has published, regarding a scandal I broke first in October 2005, via a
police complaint
I filed with the Metropolitan Police in London, England. 80 people have been arrested by the Metropolitan Police since the time I filed the complaint. However, the Murdochs and other key conspirators remain free and
the FBI
has not arrested anyone, though the crimes began and continue in News Corp's New York headquarters]
A secretly made tape recorded in March 2013 and leaked this week, featuring News Corp CEO, Rupert Murdoch admitting guilt in the police bribery and phone hacking scandal, is officially being demanded by the Metropolitan Police in London, England. The tape was leaked by employees bitter that Murdoch has "hung them out to dry" and is making them take the fall for him and his family.
The police have been investigating Murdoch and co and arrested 100 people in the scandal. Thus far, despite the Judiciary Report's adamant claims since 2005 that Murdoch ordered the crimes being committed at the company, there was no hard evidence of him admitting it, until the aforementioned tape that was leaked this week. In closing, I state with all professionalism, Murdoch, I hope the police put their foot in your butt…
STORY SOURCE
Scotland Yard seeks Rupert Murdoch secret tape
The Guardian, Friday 5 July 2013 13.59 EDT - In tape, Murdoch is heard admitting to Sun journalists that payments to public officials were part of 'culture of Fleet Street. Scotland Yard detectives were on Friday attempting to track down a secret recording of Rupert Murdoch admitting to Sun journalists that payments to public officials were part of "the culture of Fleet Street".
A police officer connected to the Operation Elveden investigation into illicit payments from journalists has made a formal request to Exaro News, the investigations website that broke the story, to hand over the undercover tape. DCI Laurence Smith told Exaro News that the police would seek a production order compelling it to disclose the recording if it did not do so voluntarily. It is understood the police have also approached Channel 4, which aired a small part of the recordings.
The development is the clearest indication yet that police in London are ready to examine Murdoch's private disclosures since the tapes emerged on Wednesday night. Murdoch is recorded saying the culture of paying police officers for stories "existed at every newspaper in Fleet Street. Long since forgotten. But absolutely."…
Evan Harris, the associate director of the group, wrote to the cross-party committee's chairman, John Whittingdale MP, saying: "There is a strong prima facie case that Mr Murdoch may have committed contempt of parliament by misleading your committee over his true response to the police investigations into phone hacking and bribery of public officials.
"As far as the victims of phone hacking are concerned, the appropriate course of action is for the committee
to recall him at the earliest available opportunity to explain the discrepancies between the expressions of remorse he made to you and the defiant and unrepentant tone of his private remarks earlier this year."...