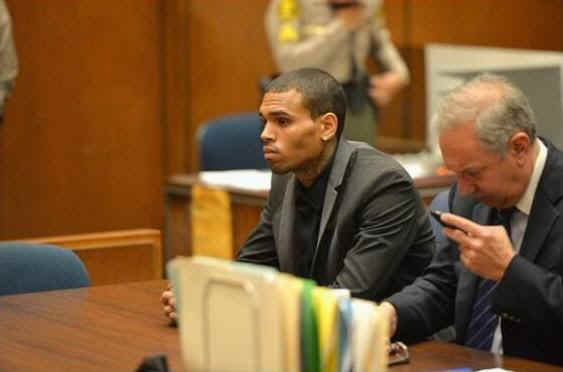 Chris Brown in court hearing the bad news his probation has been revoked
R&B singer Chris Brown has been hit with the revocation of his probation today stemming from the 2009 Rihanna domestic violence incident, over a weak hit and run case that most people would have been given the benefit of the doubt on. A hearing will be held on August 16, 2013, where a judge will determine whether or not to send Brown to jail for up to four years.
Of all the probation violations Brown has been accused of, most believed his fight with gay singer Frank Ocean would have been the likely one to result in a probation violation. However, it was based on hearsay, with no videotape evidence and Ocean changed his mind about pressing charges.
The aforementioned hit and run case was pure hearsay. Brown accidentally rear ended motorist, who stated he provided false insurance information which he disputes. However, the district attorney's office was able to show Brown did not have a valid California driver's licenses, retaining one from his home state of Virginia. However, as stated previously, Britney Spears was accused of the same offense regarding her licenses and the government chose not to file charges.
The Judiciary Report has stated Brown needed to keep a low profile and spend some time away from the industry to get things sorted out in his life. He has real enemies in Hollywood who would love nothing more than to see him locked up. Once again, as stated in the past, if you are going to get someone on something and take their freedom, it should be for something they actually did.
Brown's problems don't end there. Four sponsors have pulled out of the Energy Rush concert he has signed on to perform at in Dartmouth, Nova Scotia, due to the Rihanna domestic violence incident. The case is still haunting Brown to this day, fueling his indifference to Rihanna, resulting in repeated break-ups.
STORY SOURCE
Chris Brown Probation Revoked, Singer Remains Free
July 15, 2013 7:54 PM EDT - Judge revoked Chris Brown's probation on Monday after reviewing the details of an alleged hit-and-run accident involving the singer and his behavior afterward. However, the singer was not ordered to jail. Brown, who came to court with a group of family members, appeared downcast as he sat with his arms across his chest and his head down on the counsel table while his lawyer and a prosecutor went to the judge's chambers to discuss the case.
When they emerged, Superior Court Judge James Brandlin said he had read the file. "In this matter, probation is revoked," he said. Brown's lawyer, Mark Geragos, suggested that perhaps the matter will be resolved informally without a major probation hearing. He said the hit-and-run case would be back in court in Van Nuys on July 23. Deputy District Attorney Mary Murray did not ask for Brown to be jailed, and the judge allowed him to remain free on his own recognizance. Another hearing is set for Aug. 16.
Chris Brown concert loses 4th sponsor
Posted: Jul 15, 2013 1:20 PM AT, Last Updated: Jul 15, 2013 10:49 PM AT - A fourth sponsor has withdrawn support for an upcoming concert in Dartmouth, N.S., to be headlined by controversial American R&B singer Chris Brown. The announcement of Brown as the concert's headline act led to a heated day that saw continuing outrage on social media and even prompted the mayor to vocalize his disapproval of this singer.
Molson Coors Brewing Co., esthetics company Touch of Radiance and the Halifax campus of the Centre for Arts and Technology joined Rogers on Monday in distancing themselves from the Energy Rush summer music festival at Alderney Landing on August 31.