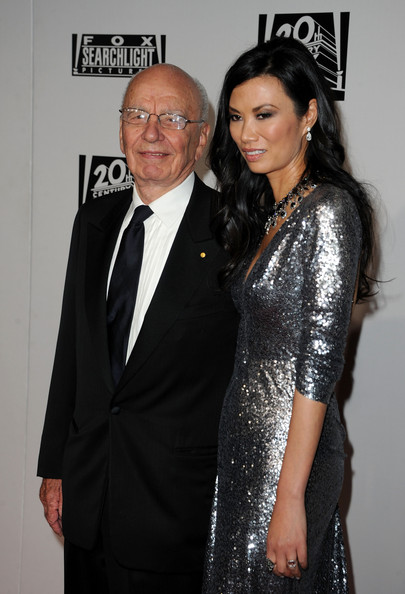 Rupert Murdoch and Wendi Murdoch
The Judiciary Report has stated in the past that Wendi Murdoch, the wife of Rupert Murdoch, is flirty and loves young, hunky men (
Rupert Murdoch's Wife Wendi Sure Loves To Flirt With Younger Men
). Prior to marrying Murdoch, Wendi kept committing adultery as a means of social climbing.
However, she left her previous husband for Murdoch, whom she considered a big catch, even though the two share a 40-year age difference and not much in common. Murdoch, clearly hit that Viagra bottle hard to keep up with her and father the couple's two kids. Now comes word Murdoch has filed for divorce from his flirty wife with the wandering eye. Hmm wonder what happened (rhetorical). Somebody else was doing the plumbing at that house.
I must say, I'm not sorry for Murdoch, as he via some of his publications has damaged and destroyed a number of marriages and families all in the name of profit, causing many people a lot of pain (
The News Corp Phone Hacking Scandal Broke Up Families In More Ways Than One
and
Rupert Murdoch Is A Hypocrite For Breaking Up Many Marriages Through His Tabloids When He Is A Philanderer
).
STORY SOURCE
News Corp. Chief Files for Divorce
Updated June 13, 2013, 8:18 p.m. ET - Chairman and Chief Executive Rupert Murdoch filed for divorce from his wife, Wendi Deng Murdoch, in New York State Supreme Court on Thursday, citing as grounds "that the relationship has broken down irretrievably," spokespeople for Mr. Murdoch confirmed.
The divorce filing, which comes after 14 years of marriage, is unlikely to jeopardize the Murdoch family's control of News Corp., the media conglomerate whose properties range from Fox News to 20th Century Fox and The Wall Street Journal. Nearly all of the Murdoch family's voting stock—a block of 38.4%—is held through the Murdoch Family Trust, whose beneficiaries are Mr. Murdoch's six children, including his two younger girls by Wendi Murdoch, Grace and Chloe, ages 11 and 9, respectively.