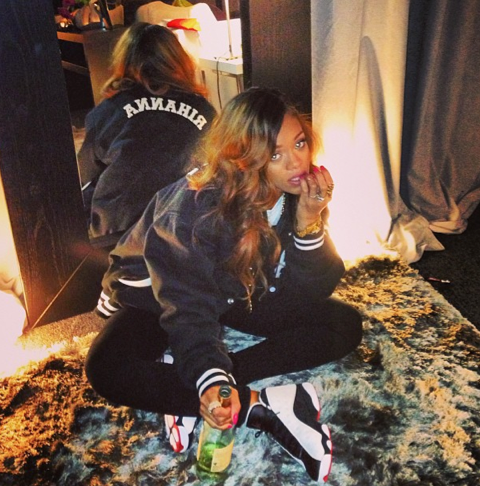 Rihanna with an almost empty bottle of alcohol
Music model Rihanna was spotted getting drunk at All Star Lanes in Manchester, England. The known alcoholic was so sloppy drunk she reportedly "swan dived" down the bowling lane while throwing the ball. What kind of mess is that. Seriously, who does that. Rihanna is in another tailspin after her latest break-up with Chris Brown, made even more difficult for her, as he went right back to her rival, model Karrueche Tran.
STORY SOURCE
Rihanna downs tequila and swan dives down a bowling alley
Thursday 13 Jun 2013 9:00 pm - EXCLUSIVE: Rihanna came close to ending up rolling in the gutter during a booze-fuelled night out bowling. The Barbadian pop babe hurled herself down the alley instead of the ball as she performed a running swan dive.
RiRi bowled up at All Star Lanes with her backing dancers and bouncers in the early hours after the first of her two shows in Manchester. She booked her slot under the alias Badgal and set about living up to the name as she and her crew knocked back tequila and cocktails.