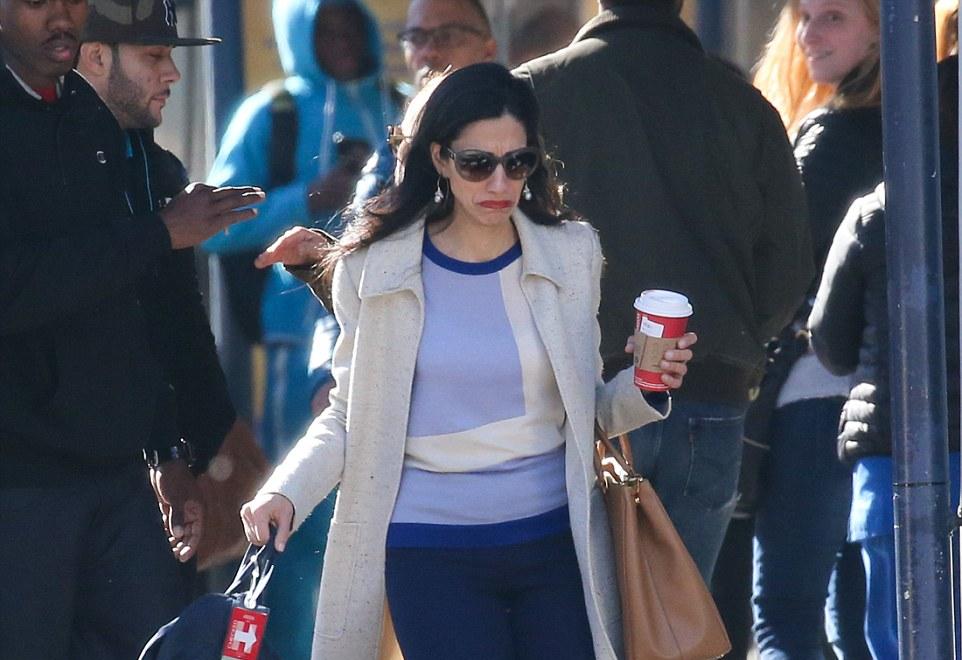 Huma Abedin crying in the streets over Hillary Clinton's defeat to Donald Trump in the 2016 presidential election (Photo credit: Daily Mail)

Huma Abedin, 40, the top aid of former presidential candidate, Hillary Clinton, 69, was seen crying in the streets of New York, after her boss and bisexual lover's sweeping defeat in the election to president-elect Donald Trump. Abedin had visited the Clinton campaign headquarters in Brooklyn, for what is thought to be the last time, before it is dismantled.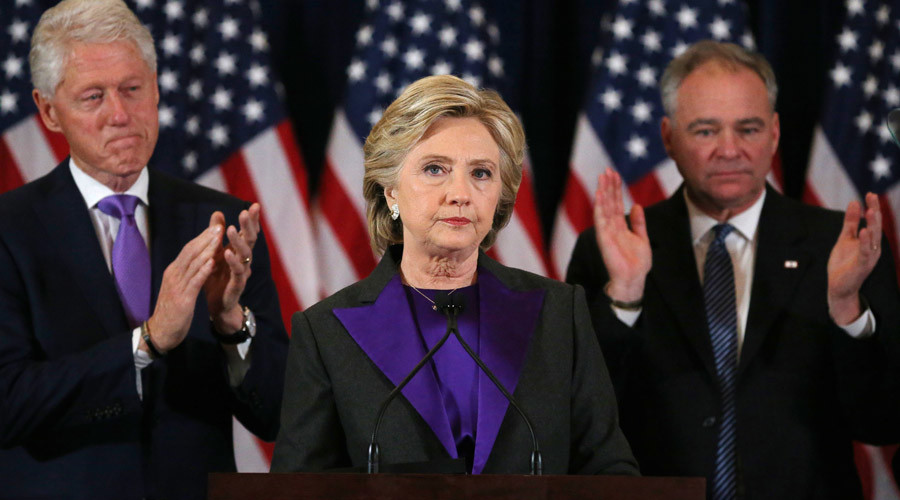 Bill Clinton, Hillary Clinton and Tim Kaine

Abedin could not hold in the tears as she left the headquarters she and other members of team Clinton thought would be a stepping stone into the White House. Some blame Abedin and her husband, pedophile Anthony Weiner, for Clinton's demise, as the FBI reopened an investigation into the candidate 12-days before the election. Others would not vote for Clinton due to the fact she is living a double life with Abedin as her lesbian lover. While some refused to vote for Clinton due to the fact Abedin has ties to terrorists and voters did not want a chief-of-staff with terror ties.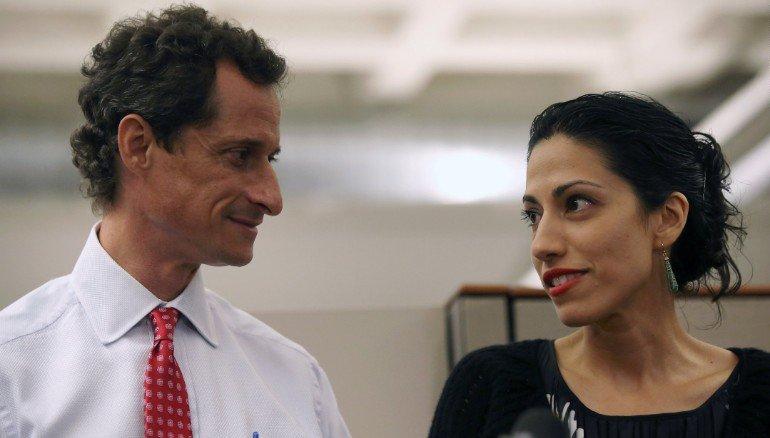 Anthony Weiner and Huma Abedin prior to latest scandal

Abedin took Clinton's defeat worse than Hillary's estranged husband, Bill Clinton and campaign running mate, Tim Kaine. That's because the two are lovers and have been for years. They had plans about occupying the White House that have now been dashed by a man they underestimated, Trump.

Instead of Hillary Clinton and Huma Abedin occupying the White House as a down low couple, it will be Donald Trump (right) as President of the United States and his wife, Melania Trump, as First Lady.

Huma's marriage to Weiner was not going to work, as her lover Hillary was the top priority in her life. Weiner even complained to a woman he was sending sexual text messages that his wife doesn't have sex with him. Huma was too busy having sex with Hillary, while neglecting her marriage.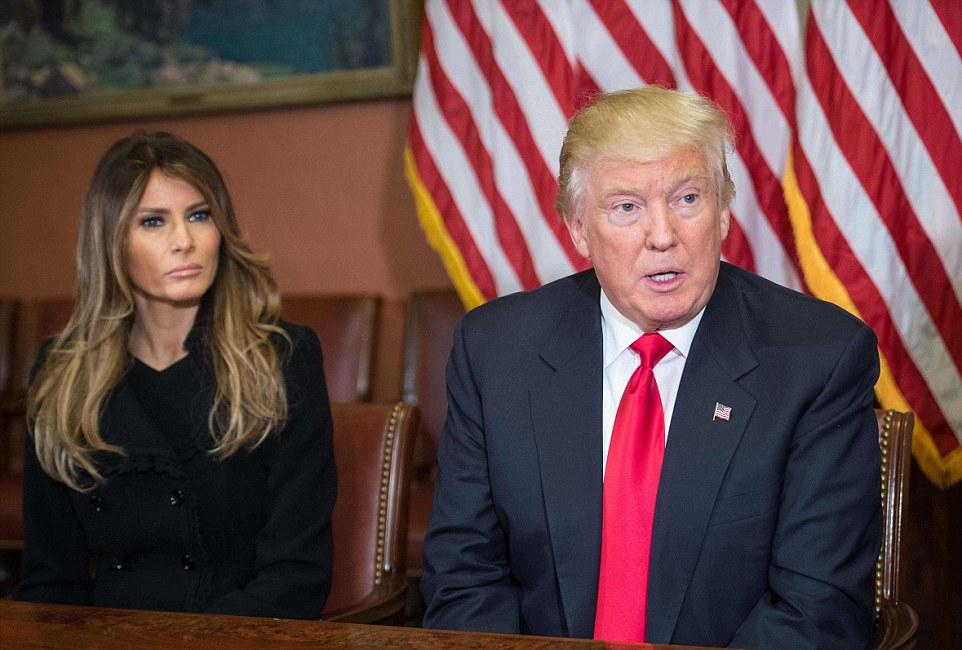 Vice President-elect Mike Pence and President-elect Donald Trump

At the end of the day, that marriage was not going to work anyway. Weiner, introduced to Huma by the Clintons, was a beard, selected to father a child and cover for Hillary and Huma's lesbian relationship. And the biggest problem of all, Weiner had become a pedophile, sending sick sexual text messages to a 15-year-old girl over the past year, which is illegal and immoral.
STORY SOURCE

EXCLUSIVE: Huma breaks down and weeps openly as she returns to campaign headquarters where she and her aides ran doomed bid to elect Hillary Clinton
Published: 12:33 EST, 11 November 2016 | Updated: 15:38 EST, 11 November 2016 - Hillary Clinton's closest aide Huma Abedin wept in the street as she approached the failed campaign's headquarters in Brooklyn. The FBI investigation into her pervert estranged husband Anthony Weiner is being cited as one of the reasons for her boss losing - it led to the Clinton email investigation being re-opened.
It is unclear what Abedin, 40, will do now that her boss's political career is over; she has never worked for anyone else. Abedin made the phone call to Trump's aide Kellyann Conway in which Clinton conceded to the President-elect - minutes after her campaign chairman had suggested there would be no concession. She declared her marriage to serial sexter Weiner over when he sent sexual picture of himself in bed alongside their son to a woman in her 40s - then DailyMail.com revealed his sexts to a girl, 15
Hillary Clinton's closest aide Huma Abedin wept openly in the street on Friday as she returned to the place where the Democratic candidate's campaign was fought - and lost. Abedin looked like she had the weight of the world on her shoulders as she visited the campaign headquarters of the failed presidential candidate – after her own stumbles and her husband's sexting habits helped contribute to Clinton's historic defeat. Abedin ventured out of her Manhattan apartment and went to the office three days after President-elect Donald Trump shocked the world by defeating Clinton...