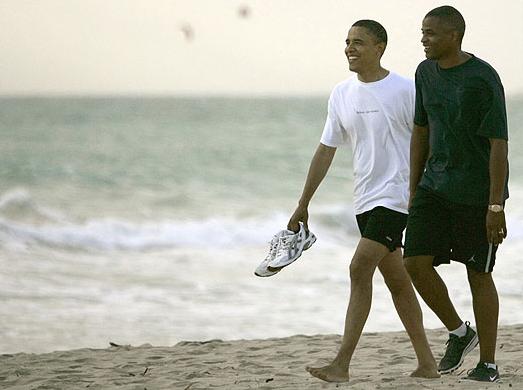 Barack Obama (left)
This is a follow up to the May 23, 2016 article "
Obama Following Gay Porn Stars On Twitter
" in reference to the RentBoy.com prostitution website President Obama's official Twitter page has been following online. When news broke that Obama has been following the gay prostitution website on Twitter it did nothing for rumors swirling around Washington political circles that the president had an affair in the White House with former body man, Reggie Love.
The CEO of Rentboy.com, Jeffrey Hurant, has pled guilty to promoting prostitution through his website. RentBoy.com is known among gays as a website to make arrangements with male prostitutes, who paid RentBoy.com to advertise their illegal services online. In America, it is illegal to advertise prostitution online. Hurant is facing 21-months in prison and a whopping fine of $10,000,000, targeting the proceeds of his crimes.
STORY SOURCE
Rentboy.com CEO pleads guilty to promoting prostitution
October 7, 2016 - NEW YORK (AP) -- The chief executive officer of a once-popular male escort website pleaded guilty on Friday to promoting prostitution in a federal case that prompted accusations of anti-gay bias. Jeffrey Hurant admitted in federal court in Brooklyn that he broke the law by promoting "the exchange of sexual conduct in return for a fee" on his Rentboy.com site.
Under a plea deal, Hurant agreed not to appeal a sentence of two years or less in prison. His company also cannot appeal a penalty of $10 million or less. Sentencing guidelines call for a maximum sentence of 21 months. Hurant, 51, and his attorney left court without speaking to reporters. Sentencing was set for Feb. 2.
Prosecutors had alleged that Rentboy was the equivalent of an online brothel, and what the site called escorts were actually prostitutes. They said part of the proof were in the explicit ads that featured nude photos, listings of all manner of physical attributes and pricing options ranging from $150 an hour to $3,500 for a weekend...