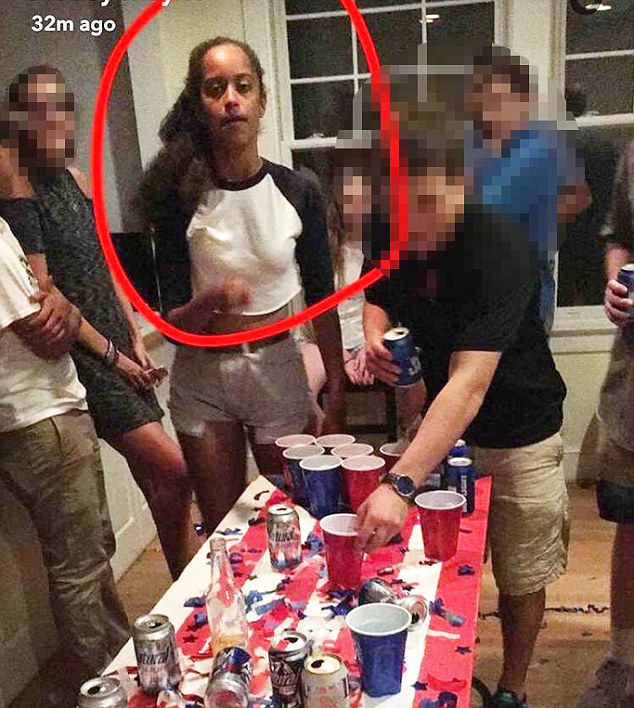 Malia "twerk" Obama looking like a deer in headlights while being photographed without permission at the beer pong table during a party. A mobile phone snap that was quickly uploaded online by a partygoer, shows Malia wearing booty shorts and a cropped top.
Malia Obama, President Barack Obama's 18-year-old daughter, attended a beer pong party, wearing skimpy clothes, as reported in the press. The party took place in Maryland. This is the second wild party Malia has been to in the past few weeks. Police broke up a wild, alcohol fuelled party Malia attended in Martha's Vineyard, due to a noise disturbance. The Secret Service whisked her out of the party to avoid negative publicity, but the press had already discovered she was there. Several weeks prior, Malia was photographed illegally smoking weed and twerking at a concert in Chicago, which embarrassed the White House.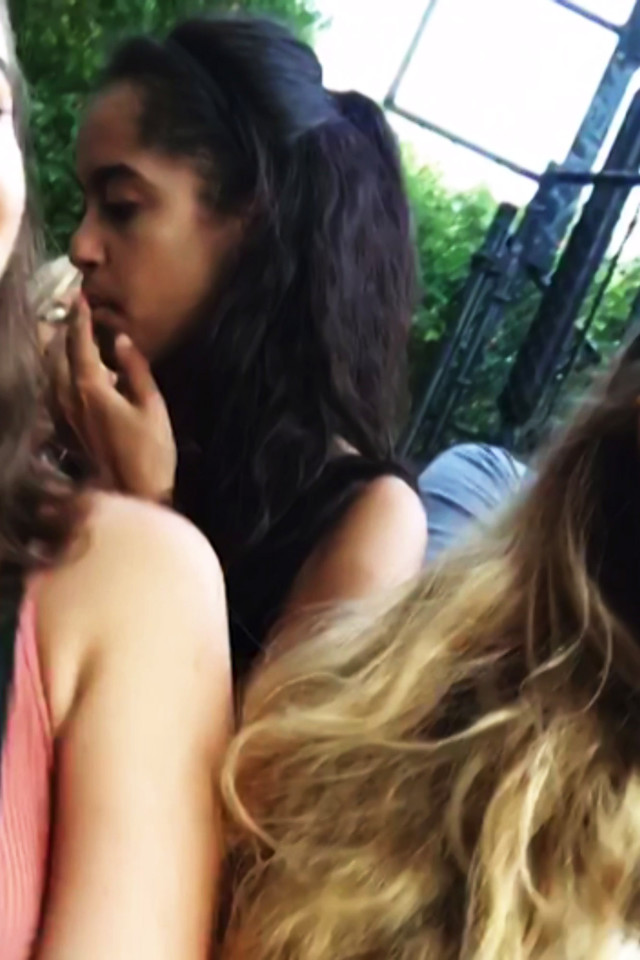 Malia Obama smoking marijuana at Lollapalooza music festival
When the press inquired about the most recent incident, regarding Malia attending a beer pong party, President Obama invoked national security, which was a misuse of his privileges as head of state. One's daughter is engaging in embarrassing behavior for her post, does not mean one can apply national security to the situation. When contacted for comment on Malia's most recent incident, First Lady Michelle Obama, declined to comment.
STORY SOURCE

EXCLUSIVE: Party! Malia Obama pictured playing pong with table full of plastic cups and beer cans just days after arriving home from family vacation
Published: 16:39 EST, 12 September 2016 | Updated: 18:50 EST, 12 September 2016 - Malia Obama appears to be seen playing pong with a group of young people at a party in Maryland last month in a photo obtained exclusively by Dailymail.com. The 18-year-old first daughter, dressed in a midriff-baring baseball tee and pair of cut off jean shorts, looks directly at a fellow partygoer's phone in the photograph, which was later uploaded to the social app Snapchat.
To her left is another young man holding a can of beer in one hand while picking up one of the many plastic cups on the table. There are also cans of Natural Light, Bud Light and Miller Lite on the table, which is decorated with red, white and blue confetti. Malia is not seen with alcohol or drinking in the photo. Michelle Obama's press office did not respond to a request for comment...
RELATED ARTICLES