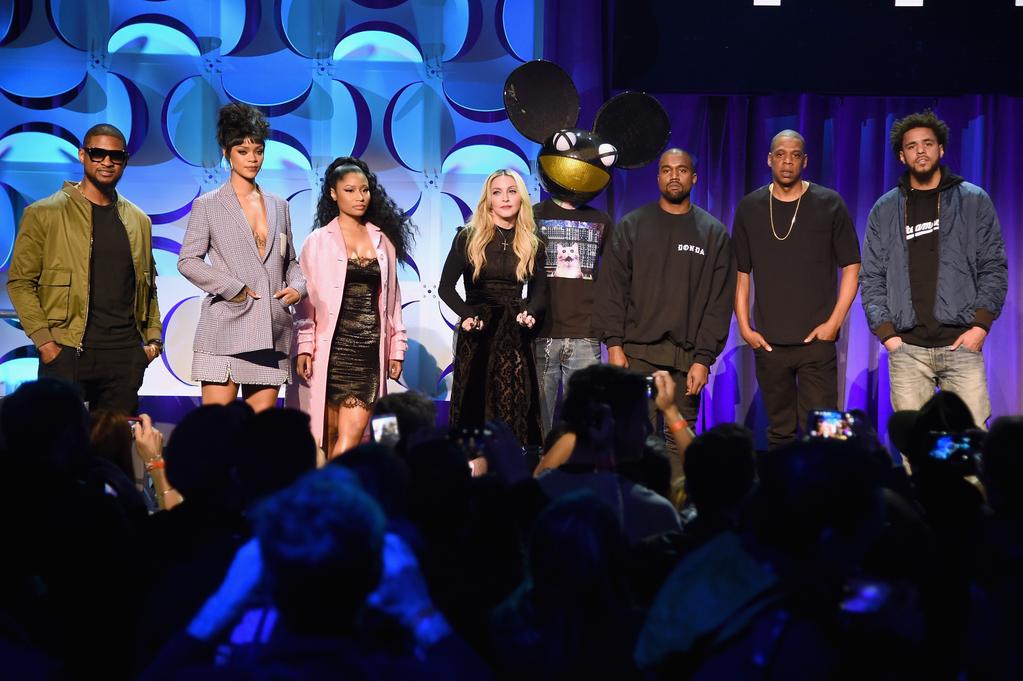 Usher, Rihanna, Nicki Minaj, Madonna, Deadmau5, Kanye West, Jay Z and J Cole (also known as Hollywood's self-professed "Illuminati")
Jay Z and Madonna's failed music streaming service, Tidal, has posted massive financial losses. Tidal, which was purchased for $57,000,000 a year ago, has already lost $28,000,000. That's a significant amount of money for a little company to lose and in one year. The company is also the subject of pending lawsuits. Jay Z and company have desperately been seeking a buyer for the decimated company, overvaluing it at $125,000,000. However, there were no takers.
Jay Z tried to unload Tidal on Samsung, floating a story to the New York Post stating they wanted to purchase it for $100,000,000. However, Samsung immediately slammed the story as a lie. Samsung, who has sponsored projects by Jay Z and his vocally untalented artist, Rihanna, that went on to fail, has seen their fortunes turn for the worst in the face of Samsung 7 phone exploding due to their batteries.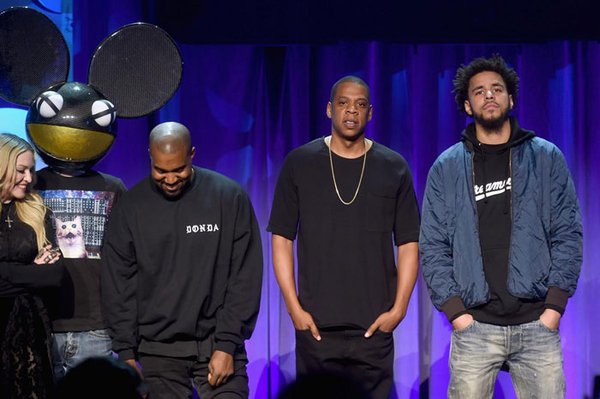 Tidal's Madonna, DeadAmu5, Kanye West, Jay Z and J Cole
Jay Z has overvalued his failed companies in the past, such as Rocafella, in criminal violation of U.S. law. Jay Z stated Rocafella was worth $125,000,000, but after due diligence, the company who sought to purchase it, discovered it was only worth $20,000,000 and had heavy debts that would have to be assumed.
Tidal was a failure the moment it was purchased by Jay Z, Madonna and several other high profile artists, as none of them know anything about business. They just like to pretend for the cameras. Jay Z, his mistress, Rihanna, wife Beyonce and Madonna, are some of the entertainment industry's biggest copyright thieves. They've built their careers on intellectual property theft. Being a thief does not make one a good business person. It makes on a criminal.
STORY SOURCE
Jay-Z's streaming service Tidal 'post huge losses' of almost $30 million
Published: 07:33 EST, 13 September 2016 | Updated: 13:53 EST, 13 September 2016 - Jay-Z's music streaming service Tidal reportedly posted heavy losses and struggled to make payments on time last year. Tidal's parent group Aspiro had a loss of $28 million (239.5 million Swedish kronor) last year, according to the Norwegian business daily Dagens Naeringsliv.
The outlet discovered the huge losses after examining the accounts of the Swedish-based company. Tidal is Aspiro's core holding. According to the newspaper, Tidal received about 100 payment default records since Jay-Z bought the company through his holding group, Project Panther Bidco, for $56 million in March 2015.
RELATED ARTICLES