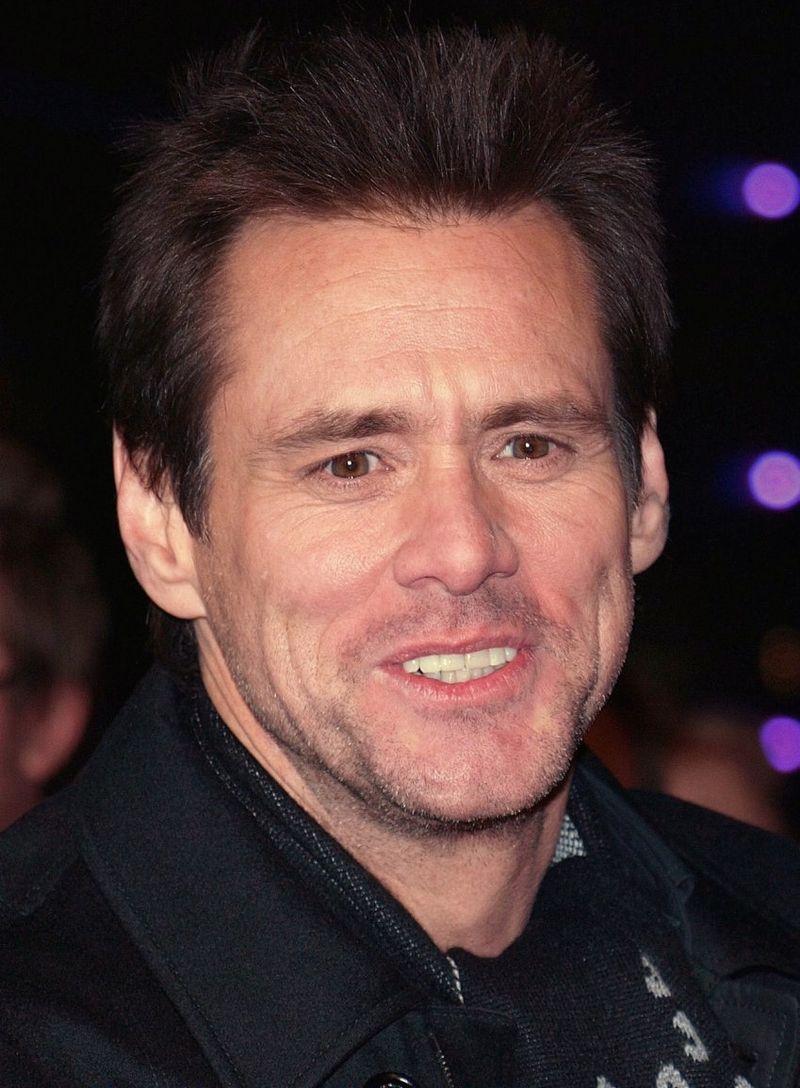 Jim Carrey
Comedic actor, Jim Carrey, has been sued by Mark Burton, the husband of promising photographer Cathriona White, for wrongful death. Carrey belongs to the dangerous, severely mentally ill Hollywood cult Scientology, which he had roped Ireland native White into shortly after she moved to America in 2009. White killed herself in 2014 at age 30, after 54-year-old Carrey allegedly infected her with the sexually transmitted diseases Herpes 1, Herpes 2 and Gonorrhea. Carrey denies the allegations. Carrey was carrying on an affair with married White, whose husband, Burton, blames him for her suicide death, due to her medical diagnosis, the actor dumping her and calling her a "whore" and "ungrateful b***h."
Carrey was giving White money, gifts and career favors, which allowed her to live comfortably in Los Angeles. One day White texted Carrey complaining of feeling sick. A series of text messages submitted to the court reveals the two began arguing when she got sick with Herpes 1, Herpes 2 and Gonorrhea. She was devastated.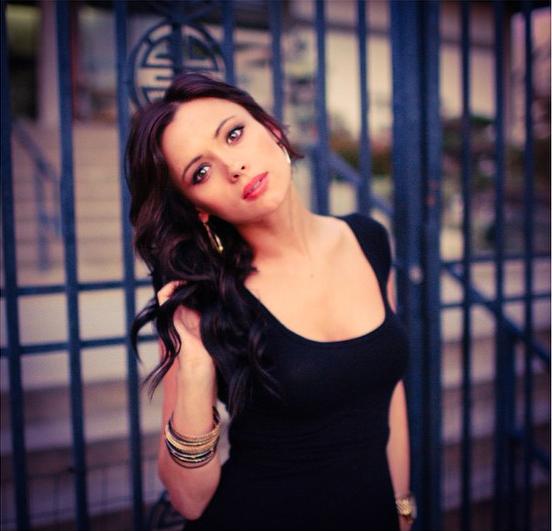 Cathriona White
White angrily slammed Carrey in a letter branding herself "damaged goods" due to the sexually transmitted diseases she blamed him for in the diatribe. Carrey dumped her, branding White "a whore" while stating she contracted the sexually transmitted diseases elsewhere. However, White's estranged husband insists Carrey infected her. White overdosed on strong pain pills prescribed to Carrey under the name Arthur King.
Under the law, one is supposed to disclose if one has sexually transmitted diseases, to give potential sex partners the option of deciding whether they are okay with becoming infected as well. People generally don't want sexually transmitted diseases. However, some don't care and others hope after the partner becomes infected, they will accept it. Some people are of a fragile mental state and do not handle the diagnosis well. However, suicide is never the answer.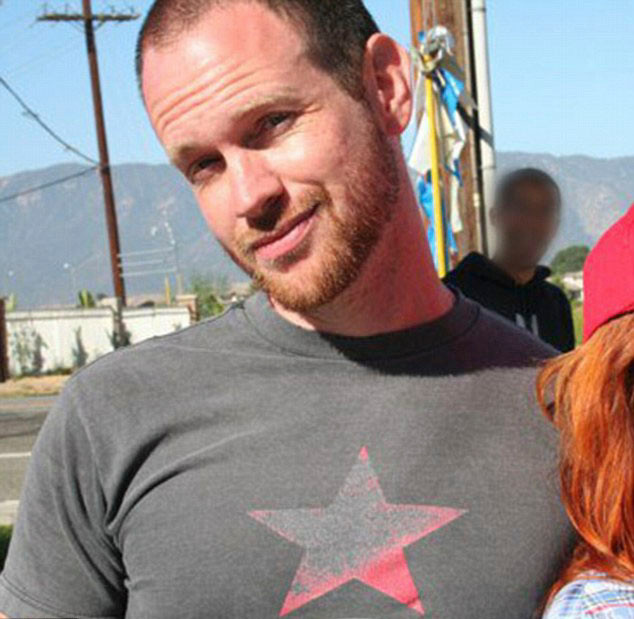 Mark Burton
If the case is allowed to proceed, which it should in light of White's tragic death, in order to obtain facts/closure, Carrey should undergo sexually transmitted disease testing at an independent lab, to obtain the truth regarding the claims presented in the legal action. There are a number of cases of celebrities being sued for infecting women with sexually transmitted diseases. Sometimes it turns out to be true. However, there are cases where it was disproved.
NBA basketball stars Dywane Wade and Gilbert Arenas were separately accused of contracting sexually transmitted diseases that were allegedly obtained from other women while cheating. However, both men underwent testing and the claims were proven false. Wade's then wife Siovaugh Wade, later admitted she began having sex with another man after the basketball star cheated on her, which resulted in a Chlamydia infection. The court ordered the mother of Arenas' children, Laura Govan, to pay him $110,000 when her claims were proven false. Arenas initially demanded $2,000,000.
TEXT MESSAGES BETWEEN JIM CARREY AND CATHRIONA WHITE: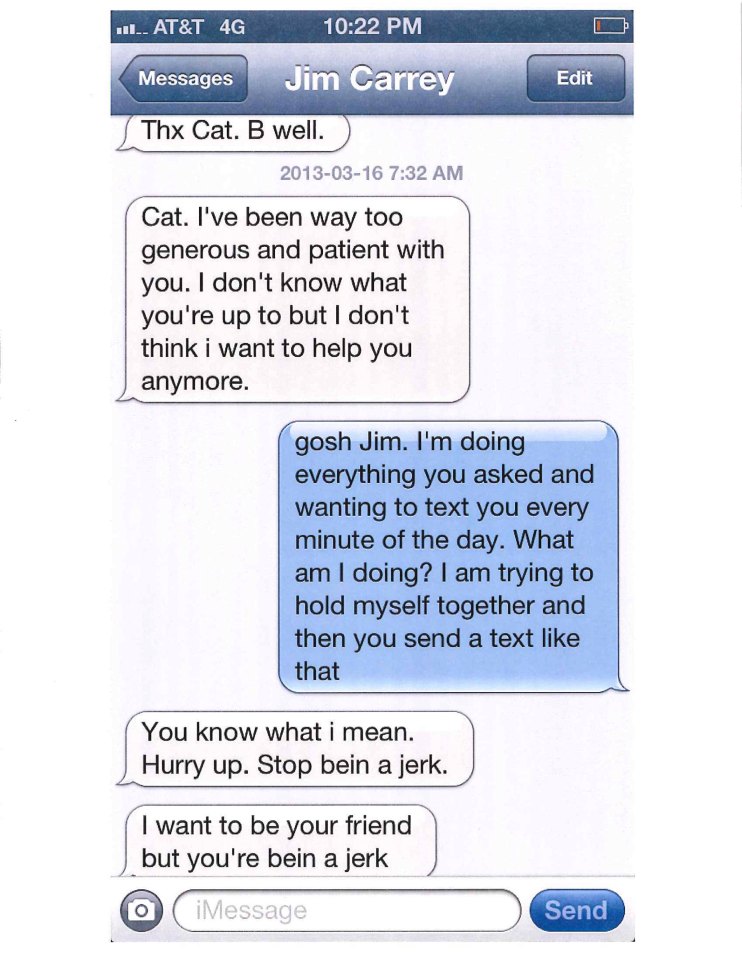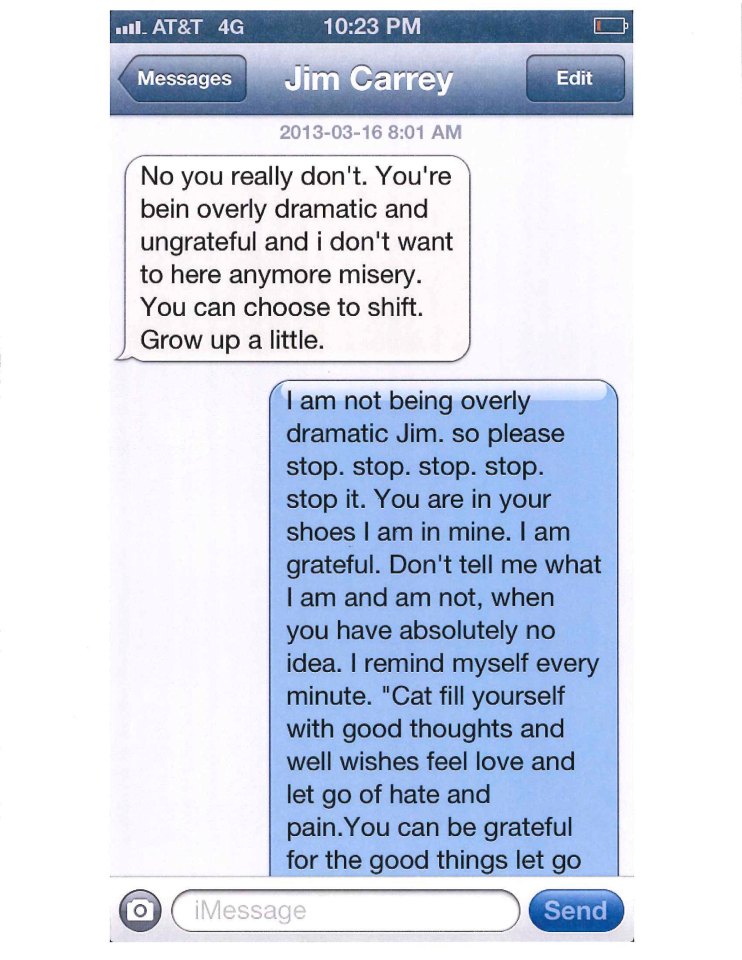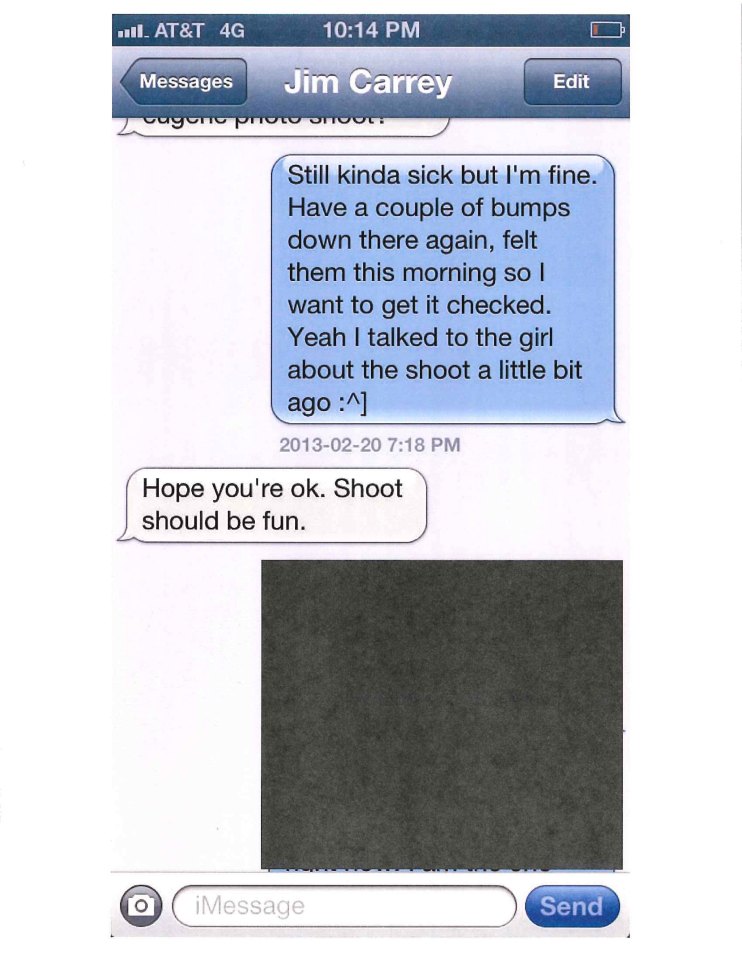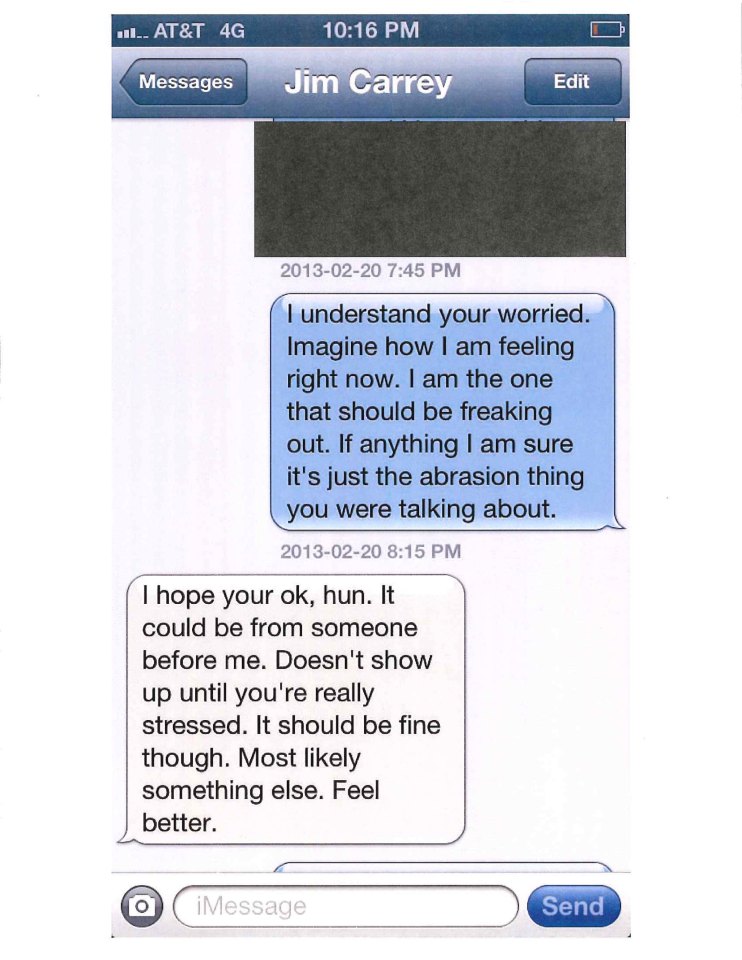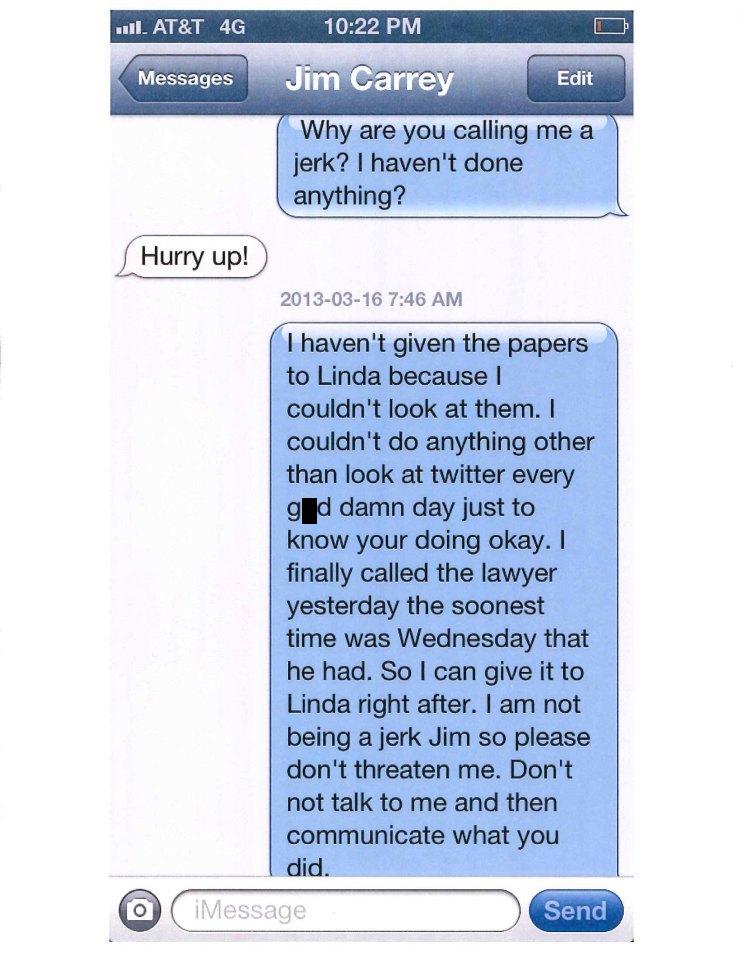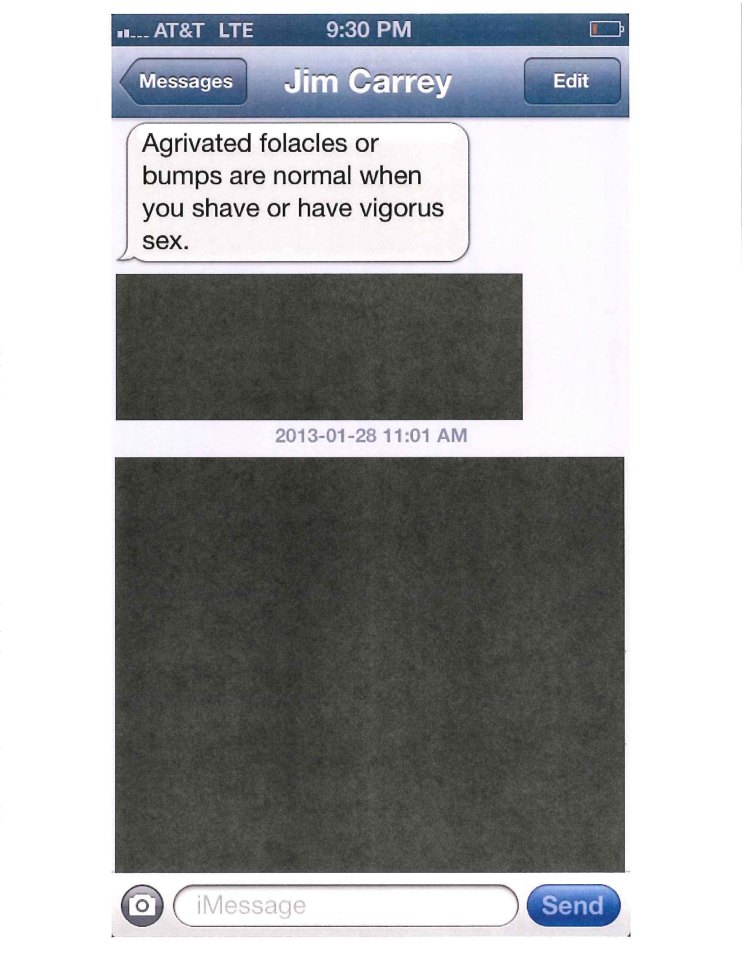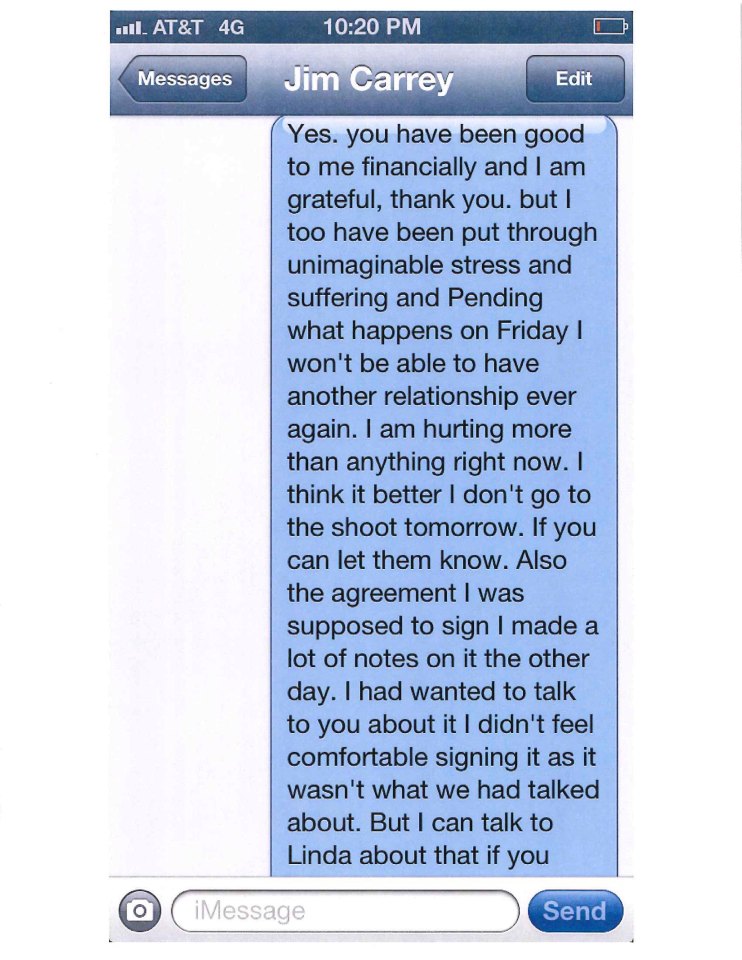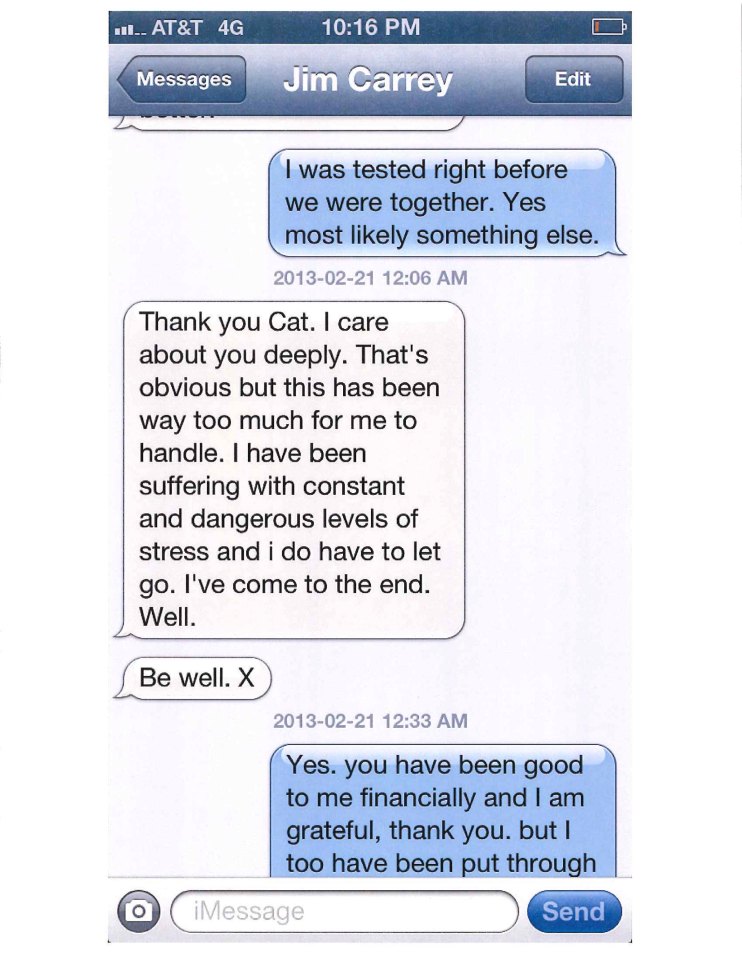 RELATED ARTICLE