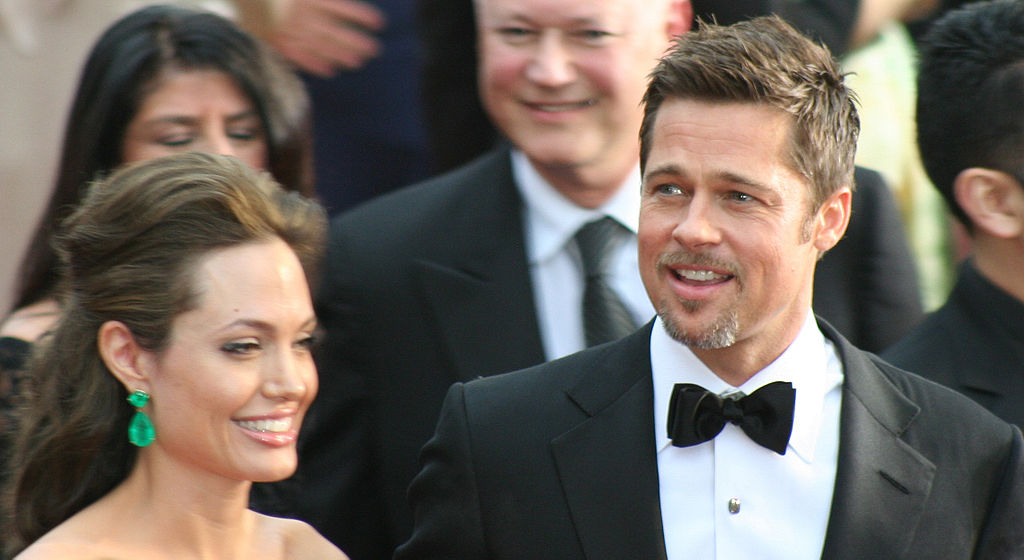 Angelina Jolie and Brad Pitt
The divorce of Hollywood stars Angelina Jolie and Brad Pitt is getting uglier. The actress reported Pitt to the FBI and the Department of Children and Families (child services) alleging her philandering husband yelled at and struck their oldest child, Maddox, during an argument his parents were having on their private jet. Maddox is said to be a handful. However, erupting in a drunken rage at a child is not the answer. Jolie's PR team has been acting on her instructions, leaking information that Pitt is an alcoholic and drug user. Most people posting online do not expect the FBI to do anything in the matter, because the agency is, well, very corrupt.
Jolie also has her issues with drugs, anorexia and self-mutilation (cutting). Jolie was famously accused of incest when she took to the red carpet at the Academy Awards, kissed her brother on the mouth and stated "I'm so in love with him." She also carried around a veil of blood around her neck. Therefore, both Jolie and Pitt have their issues that has made for a very dysfunctional family.
Pitt has cheated on Jolie with a series of women. Jolie was deluded to think stealing a married man meant it was true love. Things got even worse in their relationship when she underwent a double mastectomy in 2013 and an oophorectomy in 2015, due to her mother and grandmother having died of ovarian cancer (her mother had breast cancer as well). Jolie was inconsolable when she lost her breasts. That's a very difficult thing for a woman to go through and it does not eliminate one's cancer risk. The oophorectomy brought on early menopause as well. Pitt changed somewhat after Jolie's surgery, having married a sex symbol whose body had drastically changed. However, their children kept insisting they get married and so the couple wed. Two years later they are divorcing.
Their family life has not been easy. As stated above, their oldest Maddox is a handful. The couple's preteen daughter Shiloh thinks she is a boy and is allowed to dress and behave as such, which
top psychologists state is very harmful and promotes mental illness
. Unverified rumors have repeatedly swirled in the industry that the couple's twins Knox and Vivienne are autistic.
Jolie got Pitt away from his religious side, turning the Baptist into an atheist, which really isn't working out for him, as now he has forsaken praying and turning to drugs and alcohol as a crutch. They sure could use some prayers right now, because their children are in jeopardy. Being in that drug and alcohol environment is terrible for children (
it wreaked havoc on the late Bobby Kristina Brown
). The sad fact of the matter is many drug addicted Hollywood stars' kids are also on drugs as well. It's time for sobriety.