The U.S. Olympic Committee has apologized for the behavior of Ryan Lochte, Jimmy Feigen, Gunnar Bentz and Jack Conger in Brazil, "The behavior of these athletes is not acceptable. On behalf of the United States Olympic Committee, we apologize to our hosts in Rio and the people of Brazil for this distracting ordeal in the midst of what should rightly be a celebration of excellence."
The Rio Olympic committee, the Brazilian government and people of their nation are understandably upset. They pulled together an incredible, memorable Olympics on a tight budget and tried to ensure the safety of all athletes and staff in Brazil for the games. Once again, as the New York Times stated this week, Lochte's claims caused Brazil "embarrassment" that turned into "anger" when they investigated and discovered the robbery story was fabricated by the swimmer.
The truth has now come out regarding Lochte's claims that he and his teammates were robbed at gunpoint during the current Rio Olympic games. Yesterday, sites stated the four swimmers were partying at a club with women, believed to be sex workers, not their girlfriends (I just knew hoes were involved, I stated it
two days ago on Twitter).
The athletes had too much to drink and ended up drunk. This is where the problems began.
On August 18, 2016, the Daily Mail newspaper reported CCTV footage of the gas station Lochte told police he and his teammates caught a cab from, showed no sign of the swimmers. However, Lochte named the wrong gas station. The incident took place at a Shell gas station. Police subpoenaed CCTV footage from the Shell gas station and saw what had actually transpired.
Lochte stated he and his teammates were robbed. However, newly released video revealed Lochte broke down the gas station bathroom (toilet) door and he and his teammates vandalized it. The swimmers peed on the walls and floors. They also damaged and ripped items from the walls. Lochte also ripped down an exterior sign.
The entire incident started due to an act of criminal vandalism by the swimmers. A gas station security guard was alerted to the problem and confronted the men. It is being stated Lochte began fighting the security guard. The guard then drew his gun and told the swimmers to put their hands up. Gas station staff demanded the men pay for the damage they caused to the bathroom. They men gave the staff approximately $50 to fix the damage.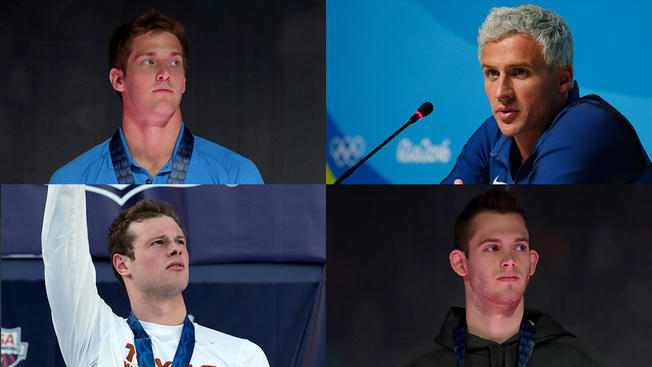 From NBC: (clockwise from top left) Jimmy Feigen, Ryan Lochte, Jack Conger and Gunnar Bentz

A bathroom door is at least $100. Hiring someone to hang the bathroom door is a minimum of $75. Repairing the floors and walls could run from $500 and up. Cleaning up the urine from the bathroom floors and walls is at minimum $50. The swimmers created approximately $750 in damage. $50 was nothing in comparison to the damage done.
Lochte stated he ordered the cab driver to drive them away from the station, but he refused. The implication was the cab driver was in on the alleged robbery Lochte later reported to police. However, the truth was the cab driver was a witness to the vandalism and fighting and was waiting for the police to arrive, who had been summoned by the staff of the gas station.
Lochte's story about being robbed at gunpoint by men dressed as police, with the barrel of the gun being placed on his forehead and having their wallets stolen. is untrue. The swimmers were drunk, disturbing the peace and engaging in criminal vandalism.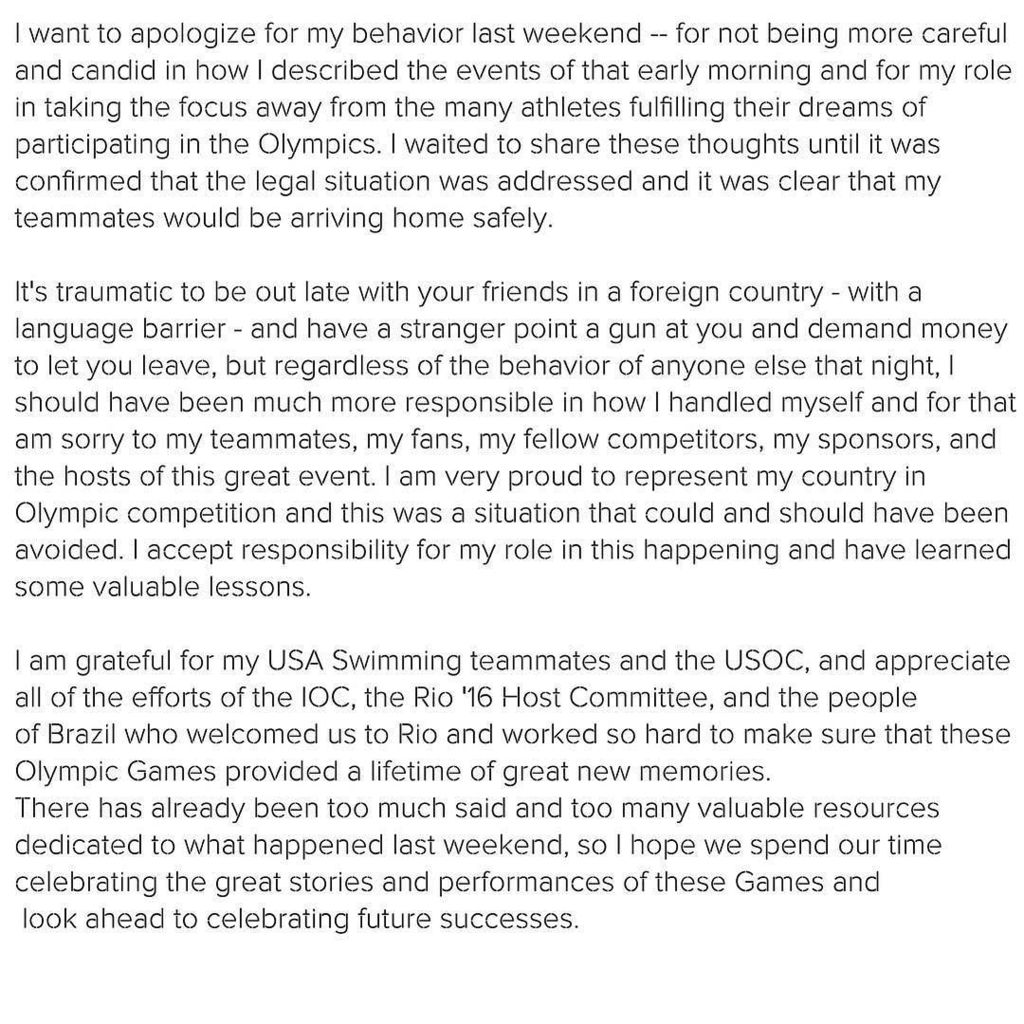 Ryan Lochte posted this apology to Instagram.com and Twitter.com yesterday

In that inebriated state, Lochte and company were hallucinating. Lochte was also seeing doubles and triples to report to police that a group of men dressed as police pulled over their cab, put a gun on his forehead and robbed them. The alleged men dressed as cops, was actually one security guard in uniform. The gun was never on Lochte's forehead. It was pointed at the swimmers, because Lochte started fighting the security guard.
The swimmers wallets were not stolen as Lochte previously claimed to police. They destroyed a gas station bathroom and were told to financially pay for it. They took money out of their wallets and it only amounted to $50, far under the cost of the damage. Hence, when they returned to the Olympic village, they had their wallets while going through security, as seen on CCTV footage.
When Lochte sobered up and saw that his wallet was still in his possession and not stolen as he claimed, the story should have ended there. However, days later when Lochte offered up the robbery story during a globally televised NBC interview, it took on a life of its own that got everyone into legal trouble. It has proven problematic for Lochte, as he knew he and his teammates had their wallets in their possession when he did the NBC interview, which indicates flat out lying. Two of Lochte's teammates have now formally denied his retelling of the night's events and are stating he made the whole thing up. Lochte has since semi-apologized for what happened, but does not outright say he lied, which he did, but rather was not "candid" about what transpired.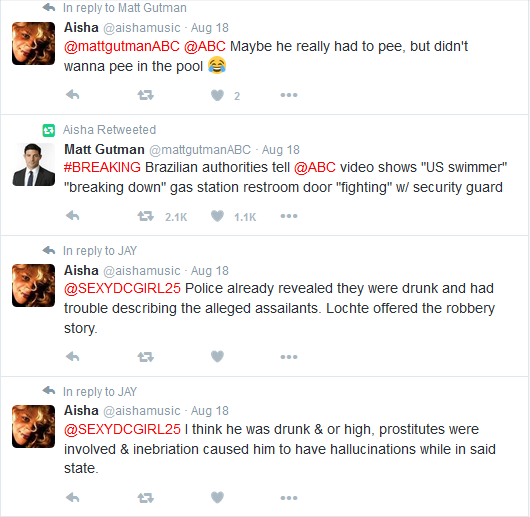 Tweets from my Twitter on August 18, 2016 in the morning
When people get drunk and or high, they do questionable things, especially when they are out in public. Some become angry and aggressive when they've had too much alcohol in what is known as being "a mean drunk" (hence vandalizing the bathroom and fighting the security guard). The Judiciary Report has repeatedly emphasized that people should not get drunk, especially in public settings, as bad things can happen when one is not in control of one's faculties.
There are people who have gotten behind the wheel of a vehicle while drunk and it ended in fatalities. There are drunk people who have fallen out of windows of multi-story buildings and died from the impact. There are women who have been raped and or murdered while drunk. As stated previously and repeatedly on the site, if you choose to drink, do so in moderation and not to excess. Large quantities of alcohol are especially damaging to underage youth and underweight people, as lower body weight can rapidly lead to alcohol poisoning and death.
Lochte and his teammates are expected to pay five figure fines to compensate for the incident. Feigen has donated 35,000 Reals ($10,800) to a Brazilian charity. There has been talk in the press of extraditing Lochte from America to face charges for his criminal behavior in Brazil, after his three teammates were left holding the proverbial bag over the story he made up that turned into a global scandal.
STORY SOURCE

'We Apologize' To Rio And Brazil, U.S. Olympic Committee Chief Says

August 18, 201611:40 PM ET - Announcing that two swimmers have now flown out of a Rio airport after being detained by police, U.S. Olympic Committee CEO Scott Blackmun is apologizing for how the pair and two other swimmers behaved in Brazil. "The behavior of these athletes is not acceptable," Blackmun said, referring to swimmers Ryan Lochte, James Feigen, Gunnar Bentz and Jack Conger.
Bentz and Conger – who were taken off a plane at Tom Jobim International Airport Wednesday and whose passports were seized by police who wanted answers about a reported robbery – gave statements to the authorities and have now been allowed to leave Rio, Blackmun said late Thursday.
Saying that the U.S.O.C. had worked with the U.S. Consulate in Rio to coordinate the swimmers' release, Blackmun said: "On behalf of the United States Olympic Committee, we apologize to our hosts in Rio and the people of Brazil for this distracting ordeal in the midst of what should rightly be a celebration of excellence."
Blackmun said that while U.S. officials haven't seen the formal statements made by Bentz and Conger, who were with swimming star Ryan Lochte last weekend when Lochte claimed they were robbed at gunpoint after a late-night party, he understands that Bentz and Conger's account matches what Rio police said earlier Thursday: that the robbery story was a fabrication.
Here's the version of events Blackmun relayed: "As we understand it, the four athletes (Bentz, Conger, [James] Feigen and Ryan Lochte) left France House early in the morning of August 14 in a taxi headed to the Olympic Village. They stopped at a gas station to use the restroom, where one of the athletes committed an act of vandalism. An argument ensued between the athletes and two armed gas station security staff, who displayed their weapons, ordered the athletes from their vehicle and demanded the athletes provide a monetary payment. Once the security officials received money from the athletes, the athletes were allowed to leave."
That account is similar to what the chief of Rio's Civil Police laid out Thursday, when he said, "There was no robbery."...
http://www.npr.org
Ryan Lochte's night of shame: Two mystery women, a night drinking in a club until 5.47am, public urination, vandalism, an argument with security guards and a measly $53 payoff
Published: 21:23 EST, 18 August 2016 | Updated: 23:06 EST, 18 August 2016. It should have been one of the great nights in Olympic history for Team USA. Michael Phelps claimed his 23rd gold medal, and 28th overall, cementing his place in history as the greatest Olympian of all time.
But while the 31-year-old chose to spend the night with his family, hours later and miles away, his closest rival - Ryan Lochte - began a night of debauchery in what has sadly become the most memorable of the Olympic Games. Here, we chart how Lochte, who has spent four consecutive Olympics in Phelps' shadow, turned Saturday night and Sunday morning into hours and hours of shame for his nation - and threatens to overshadow the brilliance of his compatriot's glory...
Around half an hour later, he shared a video on Snapchat that featured Feigen showing off the inside of the jam-packed venue as lights flash from the DJ booth. What his Snapchat didn't show, police said, was that the men were with two mystery women in the club and authorities believe this may have been their motive for lying if they have girlfriends...