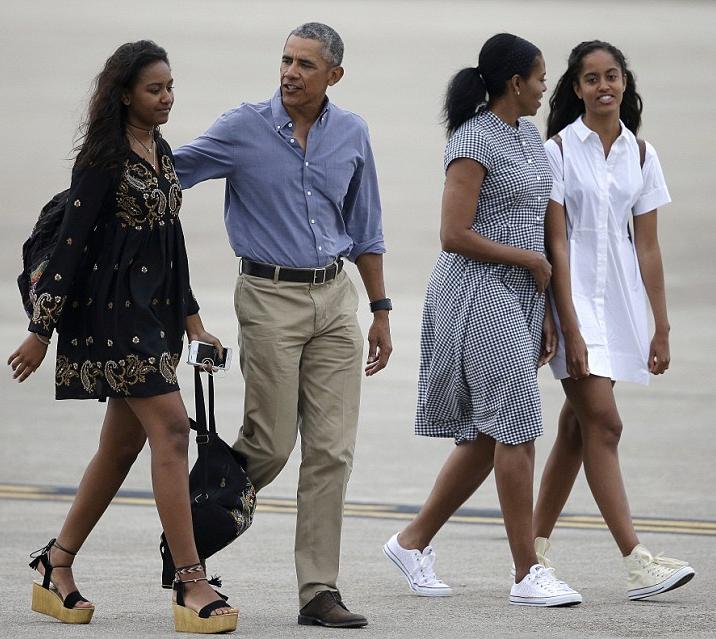 Sasha Obama, Barack Obama, Michelle Obama and Malia Obama returning from a Martha's Vineyard vacation, where Malia attracted controversy again

Malia Obama, the wild 18-year-old daughter of U.S. President Obama, has been attracting negative media attention this summer. First she was videotaped twerking and exposing half her behind at the drug and alcohol fuelled Lollapalooza festival in Chicago, Illinois. Days later, video surfaced of Malia smoking marijuana. Onlookers also revealed Malia went off with a boy to smoke marijuana, without the Secret Service in tow.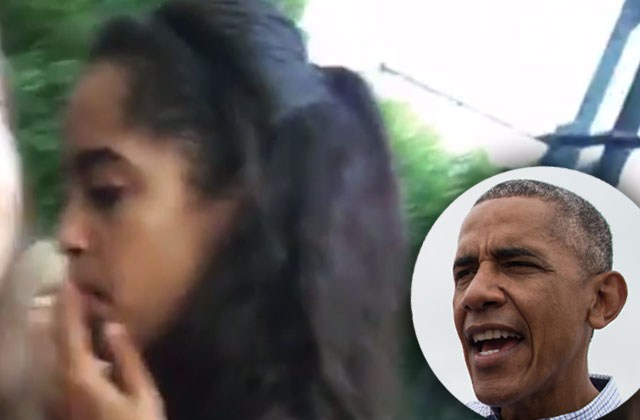 Malia Obama (left) smoking marijuana. Barack Obama (pictured right)
Last week, Malia was also present at a wild party police broke up in Massachusetts. The Secret Service quickly escorted Malia out of the debauched party, trying to deflect any more bad publicity, after the Lollapalooza incident that embarrassed the President and First Lady. Malia is really burning the candle at both ends.
STORY SOURCE

Malia Obama 'attends wild party in Martha's Vineyard and is rushed out by the Secret Service as cops shut it down'
Published: 23:43 EST, 18 August 2016 | Updated: 00:41 EST, 19 August 2016 - Malia Obama was reportedly a guest at a wild party on Martha's Vineyard that police ended up coming to break up last week. The 18-year-old is with parents President Barack Obama, first lady Michelle and sister Sasha on their final vacation as First Family on the Massachusetts island.
Malia went to the party at the private home in West Tisbury near the presidential summer retreat, the Boston Herald reported, but was escorted home right as officers responded to a noise complaint. West Tisbury police declined to confirm if the first daughter was one of the partygoers ushered out of the bash, citing 'national security' to the newspaper.