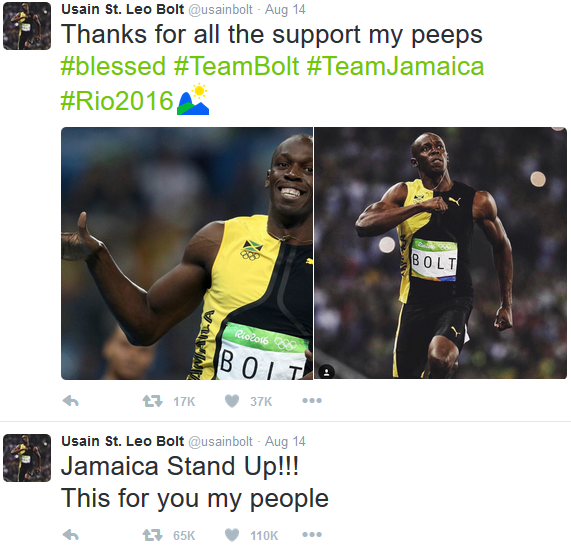 Usain Bolt dedicating his record third gold medal to Jamaica and thanking his fans for supporting his career

On Sunday, August 14, 2016, 29-year-old Jamaican sprinter, Usain Bolt, won the gold medal in the 100m at the 2016 Rio Olympics. Bolt made history in becoming the first athlete to win the 100m in three consecutive Olympic games. This was made all the more impressive due to the fact Bolt was coming off a recent injury. It was a great moment for the track star and his coach, my dad's friend, Glen Mills. Congrats!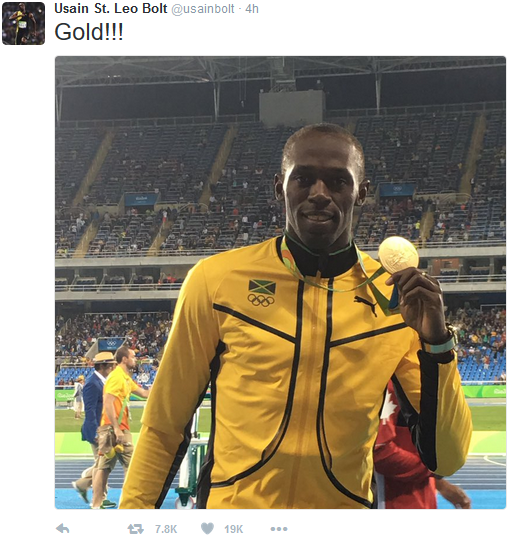 Bolt dedicated his historic win to Jamaica, a small island nation in the Caribbean that has been uplifted by his success and that of his fellow Jamaican Olympians. In a tweet on the social networking website Twitter, Bolt stated, "Jamaica stand up. This for you my people." Bolt also thanked his fans for the support, "Thanks for all the support my peeps. #blessed #TeamBolt #TeamJamaica #Rio2016."