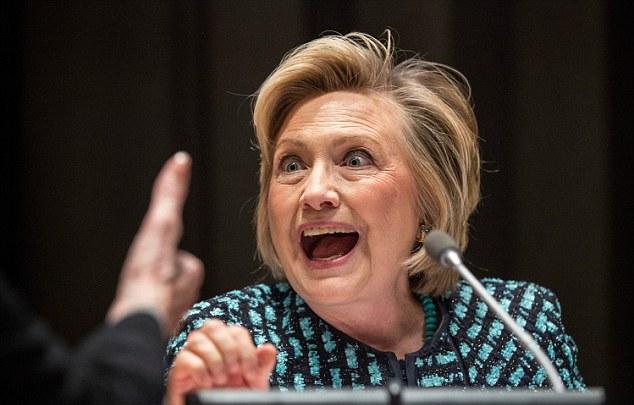 Hillary Clinton has proven she is not good with economic matters

A new report in the Washington Post has slammed Hillary Clinton for her poor handling of the New York economy when she was senator of the U.S. state. Clinton promised to create 200,000 jobs in New York and miserably failed to do so. Clinton is not good with economic matters. The "
Clinton Cash
" documentary revealed, the money Clinton and her husband, former U.S. president, Bill Clinton, are sitting on comes from bribes in exchange for government favors.
Clinton is not financially savvy at all. There are lawyers who legitimately became millionaires and billionaires through companies they created. Clinton was not one of them. You can only collect bribe money in exchange for political favors for so long (
Clinton Cash
). That does not grow an economy. It hampers it. America needs a brilliant businessperson to change its dwindling financial fortunes. America has hit a number of economic lows under current President Barack Obama and needs an aggressive, dedicated financial plan.
STORY SOURCE

As senator, Clinton promised 200,000 jobs in Upstate New York. Her efforts fell flat

August 7 at 7:43 PM - In her presidential bid, Hillary Clinton has made job creation a centerpiece of her platform, casting herself as a pragmatist who would inspire "the biggest investment in new, good-paying jobs since World War II.'' Her argument that she would put more Americans to work has focused on her time in the Senate, when she took on the mission of creating jobs in chronically depressed Upstate New York. As her husband, former president Bill Clinton, put it recently, she became the region's "de facto economic development officer."
But nearly eight years after Clinton's Senate exit, there is little evidence that her economic development programs had a substantial impact on upstate employment. Despite Clinton's efforts, upstate job growth stagnated overall during her tenure, with manufacturing jobs plunging nearly 25 percent, according to jobs data.
The former first lady was unable to pass the big-ticket legislation she introduced to benefit the upstate economy. She turned to smaller-scale projects, but some of those fell flat after initial glowing headlines, a Washington Post review shows. Many promised jobs never materialized and others migrated to other states as she turned to her first presidential run, said former officials who worked with her in New York...
Clinton's pledge to help Upstate New York amid an early 2000s recession was risky, experts say. "To her credit, she really did focus on economic development upstate as a focus and as a purpose,'' said David Shaffer, former president of the Albany-based Public Policy Institute, which compiles New York jobs data.
But Shaffer and other experts faulted Clinton for setting an unrealistic goal by promising to create 200,000 new jobs in a region struggling to retain existing positions. "As soon as I heard that, I thought, 'Okay, some D.C. consultant sat around with focus groups to figure out what would sound good. You wouldn't make a promise like that if you had seriously looked into it,'' Shaffer said.
Clinton also has touted success with cosmetic projects that created few jobs, The Post found.
Nicholas A. Langworthy, the Republican Party chairman in Erie County, N.Y., said he's taken aback by Clinton's repeated references to what he described as "small bore" efforts, such as securing federal money for a Buffalo project called Artspace that created residential living space for artists. Clinton cites Artspace in her list of Senate accomplishments.
"To have someone running for president of the United States bragging about an Artspace apartment building in Buffalo is laughable,'' Langworthy said. "That's a project a city council member or a small-city mayor would champion, not a U.S. senator.''