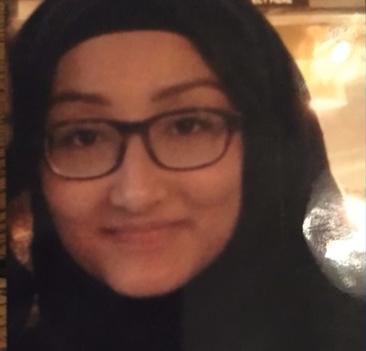 Kadiza Sultana
This is a follow up to the July 5, 2015 article "16-Year-Old Muslim Girl In London Who Tried To Join ISIS Laughs Over Terrorists Killing 30 Britons In Tunisia Attack." One of the underage girls the Judiciary Report wrote of in the article was killed in a drone strike in Syria. ITV News in London is reporting that 17-year-old Kadiza Sultana, who left London, England at age 16 to become an ISIS "jihadi bride" in Syria, was killed in the city of Raqqa.
The girls were led to believe they were going on an adventure, posted photos on social networking of fast food and train rides on the way to join ISIS, but it has come to a very tragic end for one of them. Sultana's parents are devastated. The whereabouts of the two 16-year-old girls who accompanied Sultana to Syria, Shamima Begum and Amira Abase, is unknown.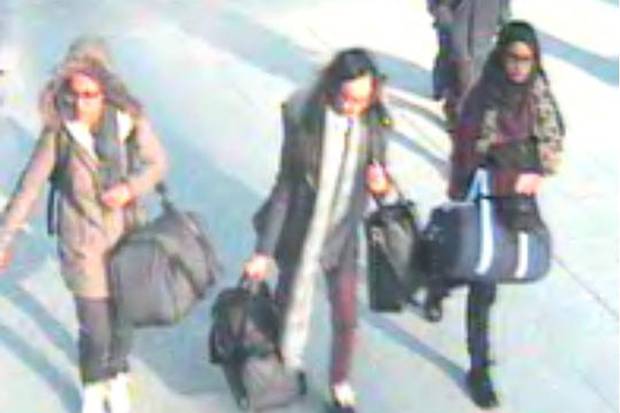 Amira Abase, Shamima Begum and Kadiza Sultana traveling from Britain to Syria to join ISIS and become "jihadi brides"
There are some benefits of youth, such as strength and energy. However, there are some drawbacks, such as making unwise choices and being easily led into dangerous situations. Such is the case of Sultana and others who ran away from home to join ISIS, only for it to end in tragedy ("
Pretty Teenage Girls Who Went To Join ISIS Beaten To Death By The Terrorist Group For Trying To Leave
").
Reports indicate Sultana, Begum and Abase were married off to jihadi soldiers last year, when they were all underage by western standards. It is also being stated their husbands were killed in drone strikes and during fighting. This is not uncommon. Underage girls are being married off to grown jihadi men, only to end up widows shortly after.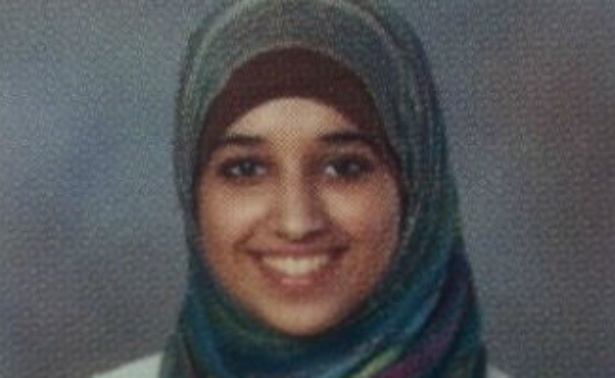 Hoda Muthana
Another such case is pretty Arab American, Hoda Muthana. In 2014 at age 20, while in university, she saw items about ISIS on the internet, became radicalized, then ran away from her parents home in Hoover, Alabama to join the terrorist organization in Raqqa, Syria. Muthana was married off to a jihadist, Suhan Rahman, within one month of moving to Syria to join ISIS. Rahman had moved from Australia to Syria and was killed during an air strike, a few short months after marrying Muthana.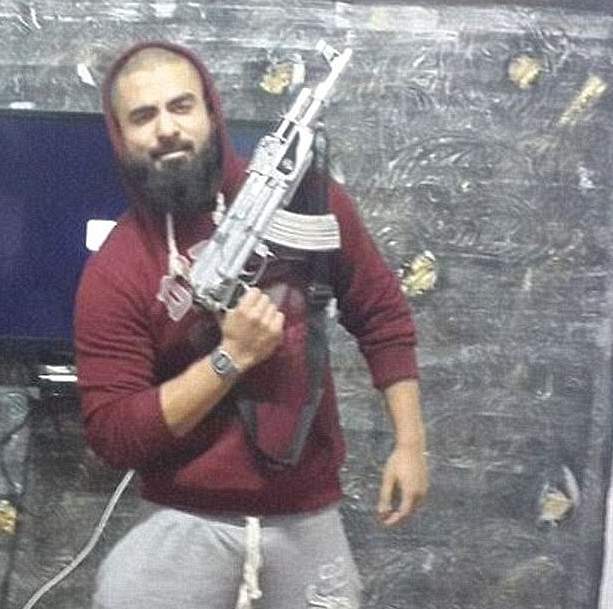 Suhan Rahman
When I read about the Nice, France terrorist attack last month, regarding a man running over and killing people with a large truck, I remembered an article I'd read in the mainstream press about Muthana. She had made a post on Twitter that was excerpted in the mainstream newspaper article, calling for terrorist sympathizers to rent trucks and run over innocent people at public events. Hence, the Judiciary Report immediately attributing the Nice, France attack to ISIS (80 People Dead And 100 Injured In ISIS Terrorist Attack In Nice, France).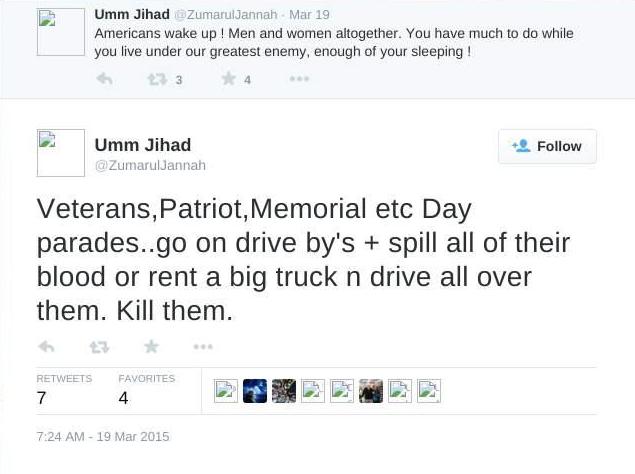 One of Hoda Muthana's posts on Twitter (her account has since been suspended by Twitter for making violent, terrorist related tweets)
The HIV virus is going around ISIS, due to an infected 15-year-old sex slave jihadi soldiers began sexually passing around amongst themselves (
HIV Spreading Through ISIS Terrorist Group Via Wife Swapping And Sex Slaves
). Underage girls and young women are leaving their comfortable homes in the west, joining ISIS and becoming infected with deadly disease, ending up young widows, then dying very early deaths.
STORY SOURCE
Bethnal Green schoolgirl Kadiza Sultana who joined Islamic State 'killed in airstrike in Syria', ITV News reveals
11 August 2016 at 5:29pm - One of three schoolgirls who left their homes in Bethnal Green to join the so-called Islamic State (IS) is believed to have been killed by an airstrike in Raqqa, ITV News can reveal. Kadiza Sultana, 17, is thought to have died earlier this year, after her home in the terror group's stronghold city was hit by a bomb believed to have been dropped by a Russian plane.
The schoolgirl had been living in Syria after leaving her home in east London in February 2015 to join IS. She had travelled with her friends Amira Base and Shamima Begum, who were both just 15, when they fled and are believed to still be in Raqqa. Kadiza Sultana (left), Shamima Begum and Amira Abase are all believed to have fled to IS-held Syria.
The trio became some of Britain's most famous IS recruits and shocked the nation after leaving their A-Level courses and their families to marry fighters in Syria. However, ITV News can reveal that Kadiza Sultana had become disillusioned with life in the medieval terror state and was making plans to flee back to Britain.
Her family were communicating with her from their east London flat to discuss how she might leave Raqqa and cross the border into Turkey, where they hoped to be reunited with the former schoolgirl. But it is believed Kadiza was killed before she could flee after the property she was staying in was obliterated by the airstrike in May.
The reports of her death are unverified and the nature of the Syria conflict means the precise details are impossible to confirm. But it is believed the teenager was inside a residential building when it was struck by the airstrike. Her family were informed of Kadiza's reported death by other people in Raqqa and confirmed details in a statement to ITV News...
It is believed that all three wed fellow foreigners who were fighting for the Islamic State. Kadiza's husband was an American national of Somali origin who died late last year.
RELATED ARTICLES