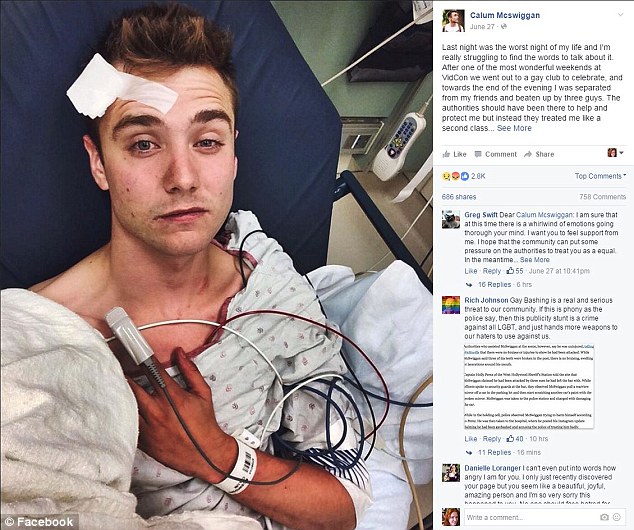 Calum McSwiggan's post on Instagram stating he was the victim of a homophobic assault

Another high profile case of gays faking homophobic attacks has surfaced. You Tube gay vlogger, Calum McSwiggan, has been charged with filing a false police report, for faking a homophobic attack on himself. He has also been charged with vandalism. The charges are misdemeanors, punishable by jail time and fines. He has been released on $20,000 bail pending trial or a plea deal.
McSwiggan filed a police report stating he was attacked by three homophobes outside a gay bar in Los Angeles, but police found no injuries on him. However, they did witness McSwiggan vandalizing a police car. Then, while they had him in custody and he thought no one was watching, police officers observed as he inflicted injuries on himself with "the handle and receiver of a payphone inside the cell."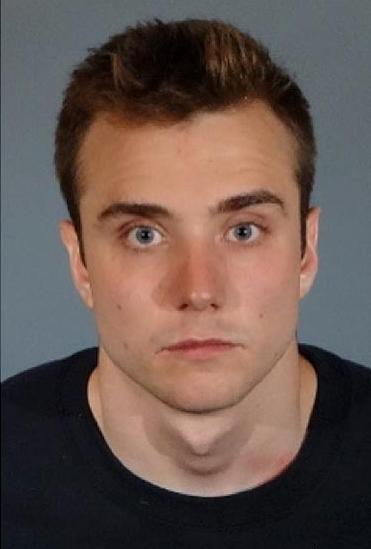 Calumn McSwiggan's mug shot after faking homophobic assault

McSwiggan began to beat himself with the phone receiver, which due to their design and composition, can do a lot of damage to a person. McSwiggan used the payphone receiver to give himself three broken teeth and a head injury that required six stitches. McSwiggan blamed his injuries on homophobes outside the club and stated, "The authorities should have been there to help and protect me." This misconduct resulted in criminal charges being filed against McSwiggan.
STORY SOURCE

YouTube star Calum McSwiggan claims he was assaulted; deputies find no evidence
Wednesday, June 29, 2016 02:40PM - YouTube star Calum McSwiggan, known for his LGBT channel, claims he was brutally assaulted outside a gay nightclub in West Hollywood, but deputies say otherwise. McSwiggan called 911 early Monday morning, saying he was brutally assaulted by three men after leaving a nightclub, authorities said.
Los Angeles County sheriff's deputies who responded to the scene said they could not substantiate the assault claim, saying they could find no visible injuries on McSwiggan. Moments later, deputies arrested him for allegedly vandalizing a car. McSwiggan was booked and placed in a cell by himself at the West Hollywood station. That's when authorities saw McSwiggan injuring himself with the handle and receiver of a payphone inside the cell. He was rushed to the hospital for treatment. Later, he posted a photo on Instagram, saying it was the worst night of his life. McSwiggan claims to have three broken teeth and six stitches on his forehead.